In his last eight games, Jordan Eberle is 3-4-7. Like a fabulous mystery, he appears to have waited until the final possible moment to deliver the key plot twist. Jordan Eberle, Mr. Consistent, is back from the abyss just in time to save Gotham. Well, Edmonton.
THE SECOND LINE, LAST 10 GAMES
Jordan Eberle 3-4-7, 23 shots (all points at evens)
Milan Lucic 3-3-6, 19 shots (2-2-4 at evens)
RNH 2-4-6, 16 shots (2-3-5 at evens)
Eight goals for the line in 10 games, averaging about 6 shots a game, most points at even strength.
FRIENDS DON'T LET FRIENDS TYPE DRUNK
Back in the summer, I ran REs for all of these fellows based on their own past. Each one of them is off by a significant amount and it is getting late.
Jordan Eberle RE (75, 27-34-61 .813) versus actual (65, 14-25-39 .600)
Milan Lucic RE (80, 22-39-61 .763) versus actual (65, 14-22-36 .554)
RNH RE (75, 20-31-51 .680) versus actual (65, 13-19-32 .492)
I was off by a lot on Eberle (14 points), Lucic (14 points) and Nuge (12 points), but there is still time to close the gap a little. All three of these men should be at 50 points without a throw, but with a strong finish maybe they get close. The strange thing? I am going to be pretty close on my RE GF projection from the summer.
Goals For: RE (226, 2.76 per game) versus actual (183 in 65, 2.82 per game)
Goals Against: RE (226, 2.76 per game) versus actual (166 in 65, 2.55 per game)
The GA number is going to require some discussion if it ends up being as low as it appears to be heading. The fun number I am most looking forward to at the end of this season? Final goal differential compared to one year ago.
2015-16: 199-242, -43 goal differential
2016-17: 183-166, +17 goal differential (so far)
Projected 2016-17: 231-209 (+22)
Projected RE 16-17: 226-226 (0)
The Oilers are on pace to improve by 65 goals season over season. That improvement is trending toward breaking down like this: +32 in goals for, -33  in goals against. Huh. That is amazing. Hope it ends up  that way.
CENTERS WITHOUT LEON

The first game of the Desharnais era has all of us discussing the idea of signing him (well, I am talking about it) and then possibly keeping Leon Draisaitl on RW until Jesse Puljujarvi pushes him back to center. I like the idea, and the group sure looked good on Saturday, but one day does not a dynasty make. We also have to factor in the idea of Jordan Eberle possibly being a cap victim in the next 18 months.
PROJECTED OPENING NIGHT LINEUP 2017-18
Maroon-McDavid-Draisaitl
Lucic-Nuge-Eberle
Pouliot-Desharnais-Puljujarvi
Khaira-Letestu-Kassian
One suspects we see an expensive forward out for a less expensive version of the same player (Guerin for Carter) and that may come at the draft. I also remain undecided on which of Khaira, Slepyshev or Caggiula would get a push based on what we know. Caggiula in the lineup over Slepyshev Saturday night may a blue's clue.
Jesse Puljujarvi at a ~ point/gm, 3 shots/gm pace in the AHL since being sent down. Similar to pace of David Pastrnak at the same age.

— Corey Pronman (@coreypronman) March 6, 2017
Jesse Puljujarvi 22, 9-11-20 .909; 64 shots, 2.91 per game
David Pastrnak 25, 11-17-28 1.12; 76 shots, 3.04 per game
Mikko Rantanen 52, 24-36-60 1.15; 140 shots, 2.69 per game
There are definitely similarities between the three men and this is a nice part of town. Pastrnak's most common center appears to have been Alexander Khokhlachev, who was a solid AHL player at the time but well below Anton Lander. I am pleased with Mr. P's progress (NHLE: 82gp, 18-22-40) and watching the game yesterday it was clear the young man is an impact player at that level. That said, we can be sure Lander is zooming the boxcars like a demon, so probably best to temper our expectations in the comparisons to Pastrnak.
STANDINGS THIS MORNING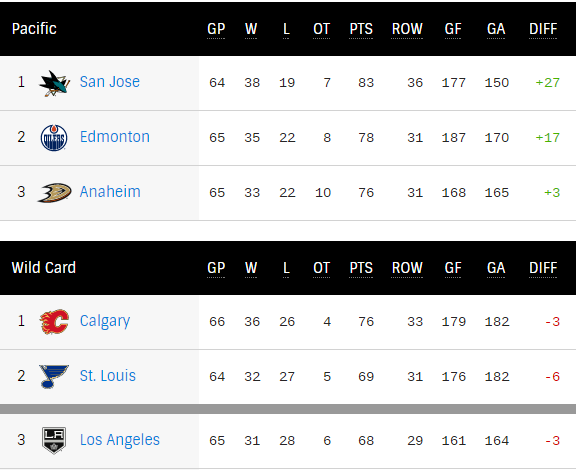 Edmonton leads the division in goals, that is a surprise. You know what saved me RE? Goals from the defense. We will review after the season but it is an impressive leap for the blue, who have real home run power this season. Lots of chatter about facing Calgary in the first round, ideally Edmonton finishes second and hosts Anaheim. That said, getting in the playoffs is the first priority and there may not be time to pick your poison. I will say this: It would be nice to see the Oilers play their first playoff game since 2006 in a city not named Calgary. It is going to be a fun month! A quick note: I use team GF-GA totals from hockey-reference, I find it cleaner.
 WHAT TO EXPECT FROM MARCH
At home to: Detroit, NY Islanders, Pittsburgh, Montreal (Expected: 2-2-0) (Actual 1-0-0)
At home to: Dallas, Boston, Vancouver, Los Angeles (Expected: 3-1-0) (Actual 0-0-0)
On the road to: Anaheim, Colorado (Expected: 1-1-0) (Actual: 0-0-0)
At home to: Colorado, Los Angeles, San Jose (Expected 1-1-1) (Actual: 0-0-0)
Overall expected result: 7-5-1, 15 points in 13 games
Overall current results: 1-0-0, 2 points in one game 
I think the Oilers should be able to secure second place in the division. The best team in the division is San Jose, and then after that we are dealing (imo) in shades of grey. That said, Calgary's strong run is impressive and they appear to have scoring and defensive depth to go along with fine goaltending. They will have a story to tell, but the Oilers do as well. Could Edmonton get more than 15 points out of this month? It might take close to 20 if the Flames continue their hot as Hades run. That said, if a BOA series this spring is the beginning of another decade of raw nerve rivalry with the reds, then bring it on.
LOWDOWN WITH LOWETIDE
At 10 this morning, we kickstart the week with a varied menu of the sports. Scheduled to appear:
Scott Burnside, ESPN. Who won the trade deadline? Are we headed for a battle of Alberta? The Blackhawks appear to be peaking right on time.
Andy McNamara, TSN4Downs. NFL combine went this weekend, what will Cleveland do? Also, the wideout I wanted for the Eagles at No. 14 blew up the speedometer.
Sunil Agnihotri, Copper & Blue plus The SuperFan. Can the Oilers hold off the Flames and finish ahead of them? Desharnais and his role, plus the week to come.
Jared Book, Habs Eyes on the Prize and Bluebird Banter. More on Desharnais, plus the Jays are coming together at spring training.
10-1260 text, @Lowetide on text. Talk soon!