The glory Islanders were one of the best teams I have ever seen. The goalies were a HHOFer and a guy you could build a marginal case for, the defense was led by the tough and frightening Denis Potvin, and the forwards boasted a perfect center in Bryan Trottier and possibly the greatest sniper in history of the game (Mike Bossy). Yeah.
The 1983 SCF was actually closer than you might think for a four-game sweep. Edmonton beat Calgary in the Smythe Division Final (in five games) by outscoring the Flames 35-13, that was domination. Oilers swept the Chicago Blackhawks in the Campbell Conference Final, outscoring them 25-11 in four games. In the four games of the final in 1983, the Oilers were in games 1, 3 and 4 into the third period. Source
The moment I devoted my Oilers fandom to beating the Islanders came after the 1983 Stanley Cup Finals. In an article called 'On the Contrary' Stan Fischler compared the Islanders victory over Edmonton in 1983 to the Battle of Britain and the Battle of Midway, with the Islanders representing Churchill and America, respectively.
Fischler: There are those who believe that someday the Oilers will win the Stanley Cup. Do not believe it. As long as Glen Sather runs the Oilers, they can be stopped. Wayne Gretzky is Ted Williams–a winner but not a champion. That's an important distinction. Williams has no World Series ring and Gretzky–with all of his style and grace–may never have a Stanley Cup ring.
I had just witnessed the Oilers rip through their part of the NHL, and show pretty well against a superior team (the Islanders won 19 straight rounds from 1980 to 1984). If you had seen the series in real time, the storyline would have been great team wins their fourth in a row and team on the rise learned a lot in losing. I still have that copy of The Hockey News these years later. Fischler's words were piercing and memorable, if incorrect. The following season, Wayne Gretzky and the Oilers would win the first Stanley Cup in franchise history. I had a drink to salute Mr. Fischler, and then I had another one.
WHEATFIELD SOUL, YEAR OVER YEAR
Oilers in October 2015: 4-8-0, goal differential -7
Oilers in October 2016: 7-2-0, goal differential +10
Oilers in November 2015: 4-7-2, goal differential -6

Oilers in November 2016: 5-8-2 goal differential -3

Oilers in December 2015: 7-6-1, goal differential -9
Oilers in December 2016: 7-2-5, goal differential +3

Oilers in January 2016: 4-5-2, goal differential -5
Oilers in January 2017: 9-4-1, goal differential +8

Oilers in February 2016: 3-8-2, goal differential -18
Oilers in February 2017: 6-6-0, goal differential -2

Oilers in March 2016: 8-8-0, goal differential +5
Oilers in March 2017: 1-0-0, goal differential +1
Oilers after 65, 2015-16: 24-34-7, goal differential -38
Oilers after 65, 2016-17: 35-22-8, goal differential +17
G66 saw Edmonton put the boots to the Philadelphia Flyers 4-0, Cam Talbot stopping 35 shots. From G66 forward, last year's Oilers finished 7-9-1 to finish 31-43-8, 70 points. If the Oilers finish the same way, their final record will be 42-31-9, 93 points. That will get the playoffs, but maybe not top 3 in the Pacific Division.
 WHAT TO EXPECT FROM MARCH
At home to: Detroit, NY Islanders, Pittsburgh, Montreal (Expected: 2-2-0) (Actual 1-0-0)
At home to: Dallas, Boston, Vancouver, Los Angeles (Expected: 3-1-0) (Actual 0-0-0)
On the road to: Anaheim, Colorado (Expected: 1-1-0) (Actual: 0-0-0)
At home to: Colorado, Los Angeles, San Jose (Expected 1-1-1) (Actual: 0-0-0)
Overall expected result: 7-5-1, 15 points in 13 games
Overall current results: 1-0-0, 2 points in one game 
The Islanders were awful in Calgary on Sunday, suspect we will see a far better effort tonight at Rogers Place. The Oilers should be able to grab another win from this week, and if they grab victory tonight, perhaps we will see an even stronger beginning to the month.
CURRENT STANDINGS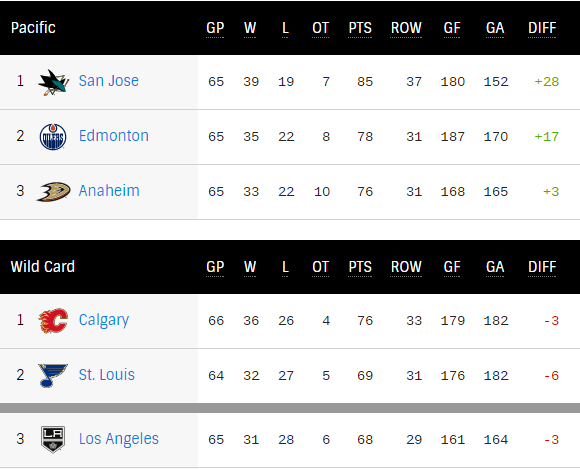 Edmonton has their fate in their own hands, and can help the cause with a win tonight. Calgary looks really good currently, but are unlikely to win 16 in a row to end the season. If the Oilers win tonight, they will be four up on the Flames with 16 to play. It is going to be fun to see this race over the next 30 days.
One area where the southern men have a recent advantage: Goal. In the last 10 Oilers games, Cam Talbot has played nine. He is 6-3-0 with a .907 SP in those games. In the last 10 Flames games, Brian Elliott has played nine. He is 7-0-1 with a .932 SP in those games.
CENTERS

If we can agree that McDavid is the best 1C bet in the land moving forward, and that Letestu should return for 4C, then it comes down to Nuge at 2C and Desharnais at 3C, or vice versa. Could Edmonton sign DD for under $3 million? Would that be a good investment? Would you rather a RHC? Maybe Caggiula will be more capable of winning that job in the fall? I will vote McDavid-Nuge-Desharnais-Letestu unless they can get a righty like Derek Ryan who they think can score 15 goals in the 3C slot. McDavid is getting famous. A brilliant SI article is here.
One area of overlap I see is PP centers. McDavid is going to be 1PP forever, Nuge belongs on a 1PP but there is no room at the Inn. Desharnais duplicates those skills, and if he was a righty it would fit the 5×4 better. Something to consider.
LEFT WINGERS

Milan Lucic and Patrick Maroon have been among the top 9Fs all season, but Benoit Pouliot has been outside the top three lines, and injured to boot. I am wondering if we see him soon, and also wonder if they might be holding him back to make sure he is in peak form. A healthy and effective BP would be a Godsend. Laugh if you wish, this guy was a good hockey player until injury about one year ago. Slepyshev, Khaira and Caggiula are fighting for something, and Caggiula is winning, for now. Pouliot can put this to rest if he returns playing his usual game.
Anton Slepyshev may be a player. It will be difficult for him to push through the competition (Pouliot, Caggiula) but the job is there and his offense this year (over 82gp it would work out to 7-13-20) is encouraging for a rookie on support lines. Khaira seems set to take over 4L duties in the fall.
RIGHT WINGERS

A depth chart next fall of Draisaitl-Eberle-Puljujarvi-Kassian is probably dreaming, and Pitlick may get signed and push his way into the conversation. My preference would be Puljujarvi-Eberle-Pitlick-Kassian but that might be asking too much of JP. I want to mention Slepyshev here too, his name may emerge at this position. Pretty sure the first-round pick will be a winger, but doubt he will be pushing for a job this fall.
DEFENSE (WITH WOODMONEY)

I am really liking the WM numbers for what they bring, and that is a lot. For me, the minutes/game against elites is a tell. There are five men playing five or more minutes a night against elites, and one of them is a rookie. That is a major deal. The only man who faces elite competition more than six minutes a night is Kris Russell. I think Todd McLellan likes Russell on the ice to defend against top opponents, falling back into the age old idea that defending is the most important thing.
Darryl Sutter: "The big thing in today's game is you have to be able forecheck and backcheck, and you have to have the puck. You can't give the puck up. We don't play in our zone, so there's not much defending.  I've coached in three decades now and this stuff where they said Marian had to play in Jacques's system is a bunch of bull-crap. The game's changed. They think there's defending in today's game. Nah, it's how much you have the puck. Teams that play around in their own zone think they're defending but they're generally getting scored on or taking face-offs and they need a goalie to stand on his head if that's the way they play."
It's how much you have the puck. Edmonton has been sliding a little in possession over recent weeks, because they are getting away from that one true thing: It's how much you have the puck. Many folks think Todd McLellan is a poor coach, I don't agree. I do think we all have biases, and Mr. McLellan likes defensemen who can defend well and has trusted Kris Russell a lot this season. Russell's numbers (based on WM) aren't horrible, and I can see a scenario where Edmonton signs the veteran. One thing that may keep the Oilers from a long-term deal with Russell? The McDavid deal. Matt Benning is walking on sunshine, Darnell Nurse doing well on the third pairing. Oilers have 30 goals from the defense, had 24 all last season. Can Oscar finish with 15?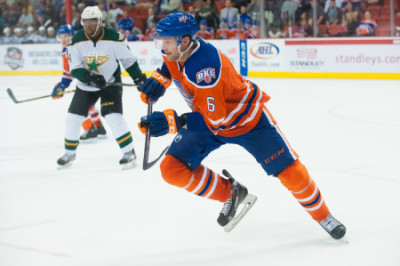 Photo by Rob Ferguson, all rights reserved
SAIL ON, JIHLAVA DUKLA
David Musil came to the Edmonton Oilers in an era of fog an confusion. On the day he was drafted, Musil (and Oscar Klefbom) were looking up at names like Ryan Whitney, Ladislav Smid, Theo Peckham,, Taylor Chorney and then after free agency Andy Sutton and Cam Barker among LHD. Musil didn't pass any of them.
The fall he turned pro, Musil was behind (on the left side) Ladislav Smid, Andrew Ference, Nick Schultz, Anton Belov, Denis Grebeshkov, Martin Marincin, Oscar Klefbom, Brad Hunt, Brandon Davidson. Source
Musil was an excellent defensive player in junior, his intelligence obvious on every sortie defended. Over his time in the AHL, he once again did the mental math in order to become an effective defender despite having average wheels. I think he has earned a chance with another team, and that is what we are seeing. Hat tip to Peter Chiarelli and the Oilers, this was the right thing to do. Sail on, David Musil, I hope you find your place in the sun.
COLLEGE FREE-AGENT SEASON
A month ago I wrote about some possible free-agent signings from CHL and college teams. It is here and includes Ryan Mantha and a few other defensemen as options. I suspect the Oilers are close to their maximum on defense, although a RHD wouldn't go amiss and Musil's exit will make room for another blue. Here is a re-print of my list of college and CHL players who might be interest from my January look.
C-R Zack Aston-Reese, Northeastern University. He is 6.0, 190 and plays a heavy game. Certainly a Chiarelli—McLellan type and has skill. Note: Has emerged as a top FA option now.
LD Daniel Brickley, Minnesota State-Mankato. Oilers have been mentioned in regard to Brickley in the past, and he would certainly merit a roster spot. Can he break through the Leftorium?
LD Gavin Bayreuther, St. Lawrence University. He has been a player of interest for some time and was having a strong season year (more than a point per game) before his injury. Should have a lot of interest.
G Parker Cahagen, Army. He has a .936SP and was .937 a year ago.
C Mike Vecchione, Union. Complete center who may be the most valuable player on this list. He is in his senior year and ripping it up.
R Tyler Kelleher, New Hampshire. A 5.06 senior is only a prospect if he is leading the world in points. Kelleher has 40 points in 22 games and someone will sign him.
RD Ryan Mantha, Niagra IceDogs. He was drafted by the NY Rangers, but they chose not to sign him. Mantha has performed very well as an overager (1996) and someone will sign him.
RD Aaron Irving, Everett Silvertips. It may be just an AHL deal, but I believe he can play pro and he addresses an extreme area of need for the organization.
L Ryan Graham, Swift Current Broncos. Fast winger with a terrific shot, Oilers need a bunch of these guys, maybe one will cash.
RD Darren Raddysh, Erie Otters. Former teammate of Connor McDavid, he is a steady defender with two-way ability. Nothing flashy, but he can play.
RC Austin Glover, Red Deer Rebels. He has good size and speed, enough skill to project to the pro level if he can stay healthy.
L Dawson Leedahl, Regina Pats. Big winger, good speed, skill and plays a responsible game.
L Dominic Zwerger, Spokane Chiefs. Fast and skilled winger blossomed this season.
R Zach Zborosky, Lethbridge Hurricanes. He might be eligible for the 2017 draft (October 15, 1996) so I may have him in the wrong spot. Impressive offense two years in a row, has good speed and has blossomed offensively the last two seasons.
L Scott Eansor, Seattle Thunderbirds. Small (5.09) two-way forward who has progressed through his junior career.
L Evan Polei, Red Deer Rebels. Big winger with skill and a very good shot. I bet the Oilers rate him.
LOWDOWN WITH LOWETIDE
At 10 this morning, TSN 1260. A lot to get to, and we have the men who can do it. Scheduled to  appear:
Jonathan Willis, Cult of Hockey. McDavid's contract, can they afford to sign Russell, is Calgary going to run the Oilers show?
Ryan Holt, Condors PBP. An exciting run for Bakersfield, they are flying down the highway, tearing up the blacktop.
Scott Cullen, TSN. How many Canadian teams make the playoffs? What in hell has gotten into the Ottawa Senators? Is McDavid fast? I think he is fast.
10-1260 text, @Lowetide on twitter. See you on the radio!