The Edmonton Oilers lost at home last night, a 4-1 final that featured the hockey players in Edmonton being at least as frustrated as the fans watching. That is progress! I think Edmonton probably deserved a point last night, there were some brilliant chances. Connor McDavid might have been justified in clubbing at least one of his wingers into a fine white powder, but the interview after the second seemed to indicate he was laying responsibility at the feet of the captain. He is 20, you say? Huh. Must be a different kind of 20.
 THE NO NO SONG, YEAR OVER YEAR
Oilers in October 2015: 4-8-0, goal differential -7
Oilers in October 2016: 7-2-0, goal differential +10
Oilers in November 2015: 4-7-2, goal differential -6

Oilers in November 2016: 5-8-2 goal differential -3

Oilers in December 2015: 7-6-1, goal differential -9
Oilers in December 2016: 7-2-5, goal differential +3

Oilers in January 2016: 4-5-2, goal differential -5
Oilers in January 2017: 9-4-1, goal differential +8

Oilers in February 2016: 3-8-2, goal differential -18
Oilers in February 2017: 6-6-0, goal differential -2

Oilers in March 2016: 8-8-0, goal differential +5
Oilers in March 2017: 1-1-0, goal differential -2
Oilers after 66, 2015-16: 25-34-7, goal differential -34
Oilers after 66, 2016-17: 35-23-8, goal differential +14
A disappointing result, but the chances favored (in my opinion) the home team. Islanders worked hard and earned the win, and I don't think worldwide panic is an appropriate response at this time. Glad to see the comments section didn't erupt into The Towering Inferno. The schedule for the rest of this week is tough, so we might have a little discomfort by Sunday night.
 WHAT TO EXPECT FROM MARCH
At home to: Detroit, NY Islanders, Pittsburgh, Montreal (Expected: 2-2-0) (Actual 1-1-0)
At home to: Dallas, Boston, Vancouver, Los Angeles (Expected: 3-1-0) (Actual 0-0-0)
On the road to: Anaheim, Colorado (Expected: 1-1-0) (Actual: 0-0-0)
At home to: Colorado, Los Angeles, San Jose (Expected 1-1-1) (Actual: 0-0-0)
Overall expected result: 7-5-1, 15 points in 13 games
Overall current results: 1-1-0, 2 points in two games 
Edmonton hasn't posted a truly disappointing month since November, and I doubt they will this time around. Winning one of the next two games is suddenly more important than it was, though. Important to have 5 wins by the end of the Los Angeles home game next week.
DEFENSE LAST NIGHT

Sekera-Benning is my second favorite pairing, real quality. Went 14-5 in 14:21 together 5×5, that is good. Went 7-5 with 97 and 5-0 with Nuge. Went 5-3 against the Tavares (Anders Lee & Josh Bailey) line, but only 4-7 against Ladd-Strome-Chimera. Benning was 1-7 with Nurse, that pairing doesn't have enough NHL experience.
Nurse-Gryba did pretty well in possession, and had some moments of prolonged chaos thrown in. Went 12-7 in 12:03 together, 6-2 with McDavid. Pairing went 4-6 against Tavares and are the most obvious partners for a third pairing on the roster at this time.
Klefbom-Larsson had some high wire moments and both men were in the glue in plus minus on the evening. At 5×5, Went 13-16 in 17:04 together, Larsson was rubbing bumpers all night. Oscar had some chaos in his game, that is going to happen when teams chase the score. Just 6-7 in 8:25 with McDavid, and went 8-8 against Ladd-Strome-Chimera.
I am seeing more and more verbal about Klefbom as a negative, which is actual full crazy. Although he has some defensive lapses, Klefbom has improved in leaps and bounds and is a perfect fit with Larsson. If you bunch run him out of town, I will never forgive you. Why can't Oilers fans embrace the idea that a guy like Klefbom is a net positive. They don't let you hold anymore, people. Gaining position and using man strength to defend the net front is a combination of strength and experience. He will get there, please don't bugger this up! Doesn't excuse the mistakes, but let's remember he has played 172 NHL games. Still young, still learning.
It's possible to have good numbers and get noticed for negative things—single moments and events can have super importance while being exactly single moments and events.
Cam Talbot stopped 23 of 26, .885.
Numbers via NHL.com, HockeyStats.ca and NaturalStatTrick.
1LINE

This line had a large number of good chances, but the puck was bouncing (ice) and the motor skills seemed a little off on the wingers. I will guess that they should have scored twice with reasonable luck.
Went 5-4 (7:22) against the Kulemin-Beauvillier-Clutterbuck line, 8-10 (6:19) against Ladd-Strome-Chimera. Went 6-4 against Leddy-Pelech. McDavid was 6-6 against Hamonic in 6:28. It looks like there was very little line matching, which runs counter to my viewing (I noticed the Tavares line and Hamonic far more than the numbers at 5×5 reflect).
I think the Islanders got under McDavid's skin, the first team to do so since the Flyers. There were times when the young captain and his mates seemed to lose the script and started chasing hits, but I thought they recovered for the push that never came.
2LINE

This line was strong for long periods last night, they should have scored but pucks were jumping and credit the goalie he was fine.
These last games have been the most encouraging all year for this trio, it would be grand to see these three men go on a hot streak down the backstretch. The line was 13-5 together, and that includes 7-4 against the Tavares line in 6:10.
3LINE

This line scored the goal, a nice bit of work for a trio that is getting chances every night. They look dangerous when in possession in the offensive zone, and do not turn over the puck immediately (something that has happened this winter for this line).
Went 6-5 against Ladd-Strome-Chimera,  but were challenged by the Tavares line 2-8 in three minutes. Line matching by the coach looks like an unused tool by morning light.
4LINE

This line got fed all night long. They were 0-4 against Ladd-Strome-Chimera  and were not close to getting a good look. I don't believe the Oilers should make wholesale changes, but the 4line could use a freshening. Perhaps  moving out Matt Hendricks and inserting Anton Slepsyhev will do the trick (doubt the club will break up the 3line).
CURRENT STANDINGS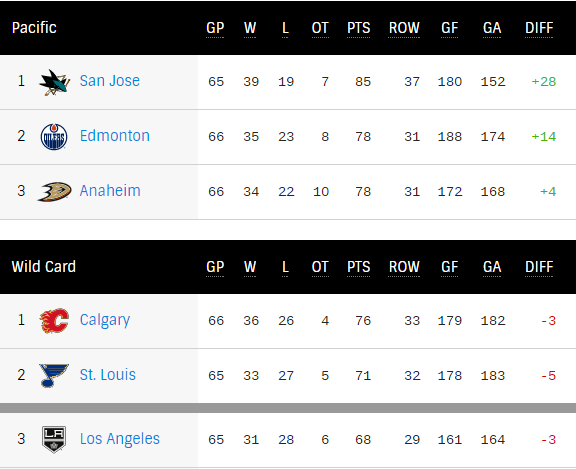 Opportunity missed, but still no danger here as long as the points come along at a reasonable pace. My expectation of the month is a little more than a point per game, but even 13 points in 13 games allows the Oilers to finish the month with 89 points on the season (after 77 games). Not perfect, but the Kings would need 21 points in their next 12 games to get to even. Such a tough thing, making up 10 points in the NHL.
SIGNING SEASON
Last spring and summer, Peter Chiarelli took action in the amateur procurement department. Leon Draisaitl had been long signed, but the rest of the draft crop (William Lagesson, Zach Nagelvoort, Liam Coughlin, Tyler Vesel, Keven Bouchard) were either years away from signing, would never be signed, or had been traded.
So, he cast about looking for college and CHL free agents, finally bringing in Matt Benning, Drake Caggiula and Nick Ellis (among others). That is a pretty impressive haul, and put the 2014 draft signing season in a new light. Leon is a fine first-round selection, and Benning in the second round would have been an extreme bargain.
Fast forward to this spring and summer, and the 2015 draft. Connor McDavid has already ascended to elite impact status in the NHL, and two defensemen (Caleb Jones and Ethan Bear) have been signed from that draft. At some point, we should see John Marino, Ziyat Paigin and Miroslav Svoboda signed, some of them this spring.
That said, and this should be a flood this spring and summer, Chiarelli needs forwards for the giant procurement beast. The team has signed RHD Ryan Mantha as a graduating CHL free agent, so defenders are unlikely to be a target now. Forwards? Oh my. Here are the AHL-level forwards with contracts for next season:
Jesse Puljujarvi (likely in NHL)
Anton Slepyshev (may be in NHL)
Patrick Russell
Kyle Platzer
Greg Chase
Braden Christoffer
No doubt PC will sign several RFA forwards (eligibles include Joey Laleggia, Bogdan Yakimov, Jere Sallinen, Henrik Samuelsson, Anton Lander, Jujhar Khaira), but a guy like Khaira will have to clear waivers and most of the rest are less than 50 percent based on performance. I will guess Laleggia, Khaira and Lander return.
LANDER
At this point, I think we are looking at a real problem. Anton Lander, he of the impact scoring in the AHL, cannot get a regular job in Edmonton to save his soul. Right now, on the current roster, Lander could help on the PK and possibly 3L, if given a chance.
As is the case with Mark Fayne, I believe we are dealing with actual NHL players whose foot speed (or lack of) is enough of an issue for Edmonton to consider them fringe NHLers (or worse). At some point, both men will be cast out of the organization and move on. Fayne is of an age where one assumes a full reboot and recovery is a distant bell.
Lander? Well, he may catch on somewhere, due to his unique set of skills. An NHL team looking for an inexpensive utility forward might find him to be a Swiss Army knife. They may also unlock his offense in the higher league. I have been using all 10 of my brain cells to find a comparable, and have none. How many players in AHL history have his skill set and cannot find regular work? Not many, I believe. Speed is becoming more important by the hour.
LOWDOWN WITH LOWETIDE
At 10, TSN1260. Scheduled to appear:
Darcy McLeod, Because Oilers. A look back at last night, ahead to the McDavid deal, and where should Matt Benning play?
Scott Mitchell, The Toronto Sun. A new CFL mock draft from Scott! Love it. We will discuss.
Simon Boisvert, Prospect Insider. Puljujarvi in Bakersfield, when should he get the call? Plus the Lander Mystery.
10-1260 text, @Lowetide on twitter. Talk soon!