The Edmonton Oilers are going to need to find a shooter for Connor McDavid. I have no quarrel with either of his current wingers, nor with Milan Lucic or Jordan Eberle, but a volume shooter is required by the fall.
OILERS F'S, SHOTS PER 60 (5X5) (400 MINS)
Ryan Nugent-Hopkins 8.75 (No. 51 among all forwards)
Connor McDavid 8.08 (No. 82 among all forwards)
Zack Kassian 8.04 (No. 83 among all forwards)
Jordan Eberle 7.87 (No. 93 among all forwards)
Patrick Maroon 7.52 (No. 120 among all forwards)
Milan Lucic 5.93 (No. 245 among all forwards)
Drake Caggiula 5.83 (No. 254 among all forwards)
Leon Draisaitl 5.55 (No. 278 among all forwards)
McDavid's common linemates currently are both below 8/60 at 5×5. Sidney Crosby's most common linemates? Patric Hornqvist (12.28) and Conor  Sheary (8.94). Oilers need a shooter. There are 42 forwards in the NHL this season who have played over 400 minutes and have a 9.0/60 or better. Jesse Puljujarvi is at about 10.6/60 at 5×5 according to this website and that is encouraging. Does JP play in Edmonton again this season? It might take an injury. We are getting a nice sample size in the AHL though, and that is a very good thing.
CAM TALBOT, BY MONTH
October: 9gp, .936
November: 13gp, .902
December: 12gp, .924
January: 12gp, .923
February: 11gp, .918
March: 2gp, .882
I think the Oilers should have brought in a veteran backup, not to make the playoffs, but to give Talbot some rest down the stretch here while also posting a strong finish. Suspect Edmonton is going to ride Talbot heavy early now, these are the big days of the regular season.
If you are wondering about Ziyat Paigin, here is an update from Patrick C (Chunklets Hockey):
Ak Bars start their second-round series on Thursday against Avangard Omsk. Paigin hasn't been playing, though, and I'm not 100% sure why.  He practised with the team yesterday, so he's not injured — must be just the coach's decision.
Patrick is a brilliant resource and a worthwhile follow if you are on twitter. Great blog, too. There may be a window of opportunity for Edmonton to sign the big man this summer, hope they do. Paigin has a big shot but is not a puck transporter, but rather a big, mobile defender with a howitzer. Stylistically, he might fit with a Matt Benning in the same way as Adam Larsson fits with Oscar Klefbom. This is what the scouting reports, anecdotes and scouts have told me. Would love to see him in NA this fall.
EXPANSION DRAFT
There are a lot of words being written currently about the expansion draft, and in the last 24 hours about the protected lists not being made public. This is an interesting conversation to have, because it speaks to the modern world and how terribly the NHL fits it. Gary Bettman says the lists won't go public, but Clarence Campbell said it in 1967 and the entire draft was splashed on the pages of newspapers coast to coast on a same-day basis.
Bettman may be correct in that the lists won't see the light of day before the draft, but my guess is that in the hours before expansion occurs someone will leak the lists. If not, shortly thereafter. On the other hand, there are legit reasons to keep the lists private and they all involve the players.
In the original 1967 expansion draft, Bernie Geoffrion threatened to retire if any expansion team called his name. Quoting the June 6, 1967 Montreal Gazette "Geoffrion claims he will retire rather than play for any other club if drafted. The Rangers have made overtures to the expansion owners that Geoffrion should pass through the draft."
I can understand that, veteran with HHOF resume would prefer to avoid the embarrassment of being publicly available to an expansion team. That said, the NHL is entertainment and the cheques will cash in Vegas, too. I am just glad the NHL rules do not favor one team over another. Back in 1967, that was not the case, as Sam Pollock of the Montreal Canadiens devised a strategy (and no one said a word) that would cook the books on the league for the next 12 years. Only the most diabolical of men could cut the line so fine as to allow the protection of all of his front liners–past, present and most importantly future, while also freeing enough line to expose his enemies best young men. It was beyond impressive; I would suggest it was the single most effective example of a GM acting on  improving his team compared to the competition in the entire history of the game. How could a man stack the deck so thoroughly in his own favor and not be imprisoned? And what's more, how would a professional hockey league allow such an enormous travesty? Believe me, the 2017 draft, whatever its sins, is absolutely pristine compared to the past.
JONAS GUSTAVSSON
According to Linus Hugosson,via Aftonbladet, Jonas Gustavsson plans to play in Sweden this coming season. It has been a difficult year for the Monster and a less than outstanding end to his NHL career should this be it. I remember being surprised the Oilers chose him over the still available names on July 1 and this was no doubt a gut feel signing. Not every  problem finds an easy solution, but I think we had this one figured out early. Wish him the best.
HAVE YOU CHANGED YOUR MIND?
No.
MY CURRENT EXPANSION LIST
Goal: Cam Talbot
Defense: Andrej Sekera, Adam Larsson, Oscar Klefbom
Forwards: Leon Draisaitl, Ryan Nugent-Hopkins, Milan Lucic, Jordan Eberle, Patrick Maroon, Zack Kassian, Jujhar Khaira
Ineligible: Connor McDavid, Darnell Nurse, Matt Benning, Jesse Puljujarvi, Anton Slepyshev, Drake Caggiula, Nick Ellis
Eligible: G Laurent Brossoit, D Mark Fayne, D Kris Russell, D Griffin Reinhart, D Jordan Oesterle, D Dillon Simpson, D David Musil, C Mark Letestu, C David Desharnais, L Benoit Pouliot, R Tyler Pitlick, R Iiro Pakarinen.
If I were George McPhee, I would probably take Mark Letestu because he can help next season and doesn't cost a lot. My suspicion is that Griffin Reinhart will be a Golden Knight after the expansion draft.
STANDINGS THIS MORNING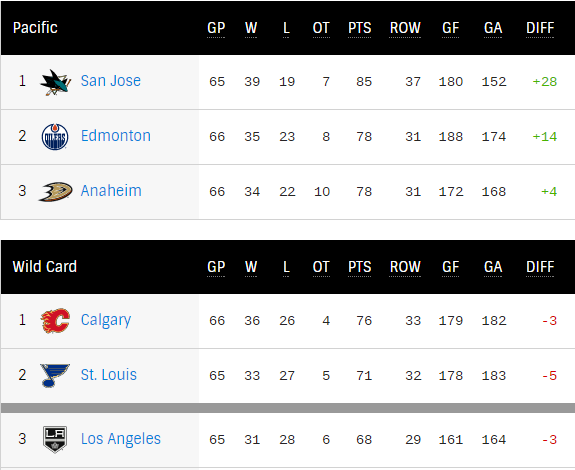 If Calgary wins tonight, they will be tied with the Oilers in points, and a game behind in terms of remaining schedule. Anaheim plays Chicago tonight and Los Angeles plays Nashville, so by the time we chat tomorrow morning this table will have some changes in it. As of now, all remains the same as it was: Oilers are in, we can see them finishing anywhere from No. 2 the Pacific to grabbing one of the two wildcard spots. A tough schedule for the rest of this week offers Edmonton a real test, and gives the Flame a chance to (finally) catch their Alberta rivals.
LOWDOWN WITH LOWETIDE
A busy show with a lot of movement. TSN1260, 10 this morning, giddyup:
Bruce McCurdy, Cult of Hockey. Oilers still in a good spot, can they hold off the Flames?
Rod Pedersen, voice of the Saskatchewan Roughriders. Vince Young is a Roughrider. BIG story.
Andy McNamara, TSN4Downs. NFL free agency! It's all happening!
Kent Wilson, Flames Nation. Calgary is rolling, will it continue tonight?
10-1260 text, @Lowetide on twitter. 90 minutes!