The truth is that the Edmonton Oilers have been impressive for every month this season but November. I remember touting February as Pikes Peak and the Oilers drove that hill with impressive power. Now, as we reach what surely must be a breezy March, there is concern from Oilers fans. It has been a long time since the Oilers were truly in a playoff race, and perhaps we need to remind ourselves about what is important. For instance: The Flames are a quality team coming together at the exact right moment, and their winning streak is real and spectacular. For the Oilers? Doesn't matter. You see, the key is getting into the playoffs, and after that we can worry about what team they face. Secondly, we shouldn't forget the impressive season delivered by an Oilers team that is still developing and not yet balanced. Perhaps we should go back and look at our discussions back in August.
SLOW TRAIN, FAST TRAIN, YEAR OVER YEAR
Oilers in October 2015: 4-8-0, goal differential -7
Oilers in October 2016: 7-2-0, goal differential +10
Oilers in November 2015: 4-7-2, goal differential -6

Oilers in November 2016: 5-8-2 goal differential -3

Oilers in December 2015: 7-6-1, goal differential -9
Oilers in December 2016: 7-2-5, goal differential +3

Oilers in January 2016: 4-5-2, goal differential -5
Oilers in January 2017: 9-4-1, goal differential +8

Oilers in February 2016: 3-8-2, goal differential -18
Oilers in February 2017: 6-6-0, goal differential -2

Oilers in March 2016: 8-8-0, goal differential +5
Oilers in March 2017: 1-1-0, goal differential -2
Oilers after 66, 2015-16: 25-34-7, goal differential -34
Oilers after 66, 2016-17: 35-23-8, goal differential +14
A year ago G67 was a 6-3 loss to the Columbus Blue Jackets, as Laurent Brossoit stopped 21 of 27 and Connor McDavid went 1-1-2.  Edmonton would go 6-9-1 from G66 to finish 31-43-8 on the year. If the Oilers go 7-7-2, more than reasonable, they will finish 42-30-10, 94 points. That probably gets them in, as Los Angeles would need to grab 25 points in their last 16 games to pass Edmonton. First things first. Edmonton, Calgary and Anaheim need one of LAK or STL to lose three in a row. I also think folks are waiting for the Flames to snap the fever, while missing an important point: Calgary is one of the best teams in the NHL right now. Full stop.
 WHAT TO EXPECT FROM MARCH
At home to: Detroit, NY Islanders, Pittsburgh, Montreal (Expected: 2-2-0) (Actual 1-1-0)
At home to: Dallas, Boston, Vancouver, Los Angeles (Expected: 3-1-0) (Actual 0-0-0)
On the road to: Anaheim, Colorado (Expected: 1-1-0) (Actual: 0-0-0)
At home to: Colorado, Los Angeles, San Jose (Expected 1-1-1) (Actual: 0-0-0)
Overall expected result: 7-5-1, 15 points in 13 games
Current results: 1-1-0, 2 points in 2 games
No worries so far, beyond what looks like two very difficult weekend games against powerhouse Pittsburgh and the Price Canadiens. Fans should expect a strong effort in both games this weekend, but the town team could provide exactly that and go home empty. It could happen, and I would encourage you to resist decapitating pink flamingos and drinking goat's blood from Imelda Marcos' shoe. Perhaps a more quiet desperation, like candlelight and wine with G7 1991.
LET'S REVIEW
Back in late August, I picked the Oilers to finish 82GP, 38-36-8 84 PTS. This was before Kris Russell's addition, before Nail Yakupov had been sent away, before Matt Benning emerged. The RE is here. I predicted 226-226 GF-GA and a .913SP. I recently did an update on the RE defense and forward and skill forward group if you are interested.
I had the Oilers posting 1.02 points-per-game, and they are currently running at a 1.18 points-per-game rate. If they continue, and they should, Edmonton would finish with 97 points. I think that number was not reasonable in late August when I did the RE, meaning this team performed at a higher than expected level. It is the first Oilers team  to do so since 2005-06, and that is an accomplishment no matter where the club finishes. Calm your tits, panic over something worth the panic. I don't believe the Oilers have the kind of balance they should, but the current standings and the Oilers schedule from here to the end of the season suggest only a giant collapse by the Oilers can save the Kings. I can't see it from here.
FILIP BERGLUND
Filip Berglund: "I do not think I'm done here in Skellefteå in any way. This is where I want to be next year." Source
That link is to a very informative story about young Berglund, and contains the quote above. No real surprise, since RHD's Ethan Bear and Ryan Mantha have already been signed and will turn pro in NA this fall. Berglund is already pro, and it sounds like the second half of the season has seen a spike in performance. Good arrows.
TAKES ONE TO KNOW ONE
About Connor McDavid: "I've never seen a player skate like (McDavid) with the puck. Watch how he beats guys from a standstill. That's different from anybody else." -Bobby Orr. Source.
I am beginning to prepare the RE's for the coming offseason, won't start until after the playoffs but it will be happening rapido once we start. A couple of items that may be of interest: Looking for an artist to feature. My early favorite is The Band, but they are always the early favorite. Any thoughts? Let me know. Also, I plan to post some tweaks in the player cards. Here is Connor McDavid:
5×5 points per 60: 2.66
5×4 points per 60: 5.46
Woodmoney 5×5 DFF vs elite: 54.4 percent
Woodmoney 5×5 DFF REL vs elite: 8.0
Shots on goal/percentage: 194 shots/11.3%
Boxcars: 66gp, 22-52-74
Anything else you would like to see? I am keeping all of this, because it shows how astounding this player is as a sophomore. I will also add in where players stand among Oilers forwards in categories that involve points, and if he wins the scoring title that portion will be in bold. Would you like to add anything?
STANDINGS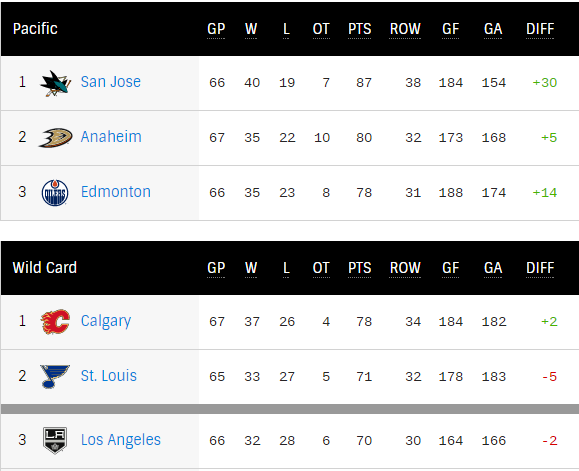 This represents an outstanding turn north season over season for the Oilers, although the way we got here offers less comfort than many Oilers fans would like. One thing I do believe fans have a right to be worried about? Cam Talbot has played a lot of hockey, and this club will need him to be brilliant this weekend and through the end of the month. We talk about balance a lot on this blog, and there are reasons for it.  Eight points up with 16 to play? I take that all day. ALL day.
POSSIBLE LINEUP
Maroon-McDavid-Draisaitl
Lucic-Nuge-Eberle
Pouliot-Desharnais-Kassian
Hendricks-Letestu-Pakarinen
Klefbom-Larsson
Sekera-Russell
Nurse-Gryba
Talbot (Brossoit)
That is a veteran 20 and they will sleep well tonight, as the Penguins are a skilled crew with rugged rising and they skate, skate, skate. Pouliot back in should be a positive and Russell back in gives Todd McLellan two pairings he feels he can count on. Remember, the DFF vs.elites suggests the coach has no hesitation in playing the top two pairings against the elites. Pittsburgh has enough depth to give that third pairing fits, and my guess is we see the 4line play fewer than 8 minutes at evens this evening.
LOWDOWN WITH LOWETIDE
A busy, fun morning with a lot to get to, so we will speak quickly beginning at 10, TSN1260. Scheduled to appear:
Steve Lansky, BigMouthSports. Flames are getting higher, will Oilers prevail in the Pacific and grab one of the three top spots? Plus World Baseball Classic: Must see tv?
Frank Servalli, TSN. What a difference a year makes: Canada in the Stanley Cup playoffs.
Matt Iwanyk, TSN1260. Is it time for Oilers fans to panic? Plus NFL free agency.
Paul Almeida, SSE. Oilers-Flames playoff series imagined: How good would it be?
10-1260 text, @Lowetide on twitter. Friday!