A giant walks among us, and last night Connor McDavid shone like a diamond on a giant stage. It was a beautiful game, one I will remember for a long time. Edmonton lost in the shootout, but won a lot of respect from me in regulation. In a stunning evening for entertainment, the Oilers supplied enough excitement for one hundred heart attacks before they tied the game.  The lesson from last night? When involved in an old fashioned western shootout, bring Connor McDavid and Cam Talbot. Then again, that has been the formula all year.
BANG THE DRUM SLOWLY, YEAR OVER YEAR
Oilers in October 2015: 4-8-0, goal differential -7
Oilers in October 2016: 7-2-0, goal differential +10
Oilers in November 2015: 4-7-2, goal differential -6

Oilers in November 2016: 5-8-2 goal differential -3

Oilers in December 2015: 7-6-1, goal differential -9
Oilers in December 2016: 7-2-5, goal differential +3

Oilers in January 2016: 4-5-2, goal differential -5
Oilers in January 2017: 9-4-1, goal differential +8

Oilers in February 2016: 3-8-2, goal differential -18
Oilers in February 2017: 6-6-0, goal differential -2

Oilers in March 2016: 8-8-0, goal differential +5
Oilers in March 2017: 1-1-1, goal differential -2
Oilers after 67, 2015-16: 25-35-7, goal differential -37
Oilers after 67, 2016-17: 35-23-9, goal differential +14
We are witnessing greatness in the person of Connor McDavid. Nine shots. NINE! Need a goal? Got it! There are times in the world of sports when single performers, touched by God, can reach out and change the current, impact real time. Connor McDavid is such a player. We saw it, last night.
 WHAT TO EXPECT FROM MARCH
At home to: Detroit, NY Islanders, Pittsburgh, Montreal (Expected: 2-2-0) (Actual 1-1-1)
At home to: Dallas, Boston, Vancouver, Los Angeles (Expected: 3-1-0) (Actual 0-0-0)
On the road to: Anaheim, Colorado (Expected: 1-1-0) (Actual: 0-0-0)
At home to: Colorado, Los Angeles, San Jose (Expected 1-1-1) (Actual: 0-0-0)
Overall expected result: 7-5-1, 15 points in 13 games
Current results: 1-1-1, 3 points in 3 games
Looking good, last night was the tough game this week and the club grabbed a point. Sunday 5pm games are not exactly the wheelhouse for this young Oilers team, but early to bed and let's get these two points and put the also-rans on the run out of town riding donkeys.
DEFENSE, LAST NIGHT

Sekera-Russell went 17-12 in 15:49, including 14-7 with Connor McDavid. That combination hasn't always been successful but had the possession edge in last night's game. Went 15-7 against the Crosby line, impressive with a who's zooming who warning.
Klefbom-Larsson went 28-23 in 17:19, that is a lot of playing time for one pairing. Went 12-12 with 97, and 17-7 with Nuge. The pair was  -2 on two weird goals, and the Run Klef off a Kliff bunch were out in full voice. Keep running these men, Mr. McLellan. Went 17-9 against the Malkin line, good work in possession. As far as the GA, maybe you want Oscar to close quickly once Talbot is out of the play on the first goal, but that is asking a lot in real time.
Nurse-Benning went 10-9 in 13:25 as a tandem and 5-1 with the Desharnais trio. Went 6-2 against the Bonino Congregation, played a safe game together.
Cam Talbot stopped 28 of 30, .933. I thought he recovered well after the first period.
Numbers via HockeyStats.ca, NaturalStatTrick and NHL.com.
THE MCDAVID LINE

The line went 20-23 and were especially effective with the Sekera-Russell pairing (14-7).
Went 15-12 against the Crosby line (main match) and 1-6 against Malkin and his group.
The line had 14 shots.
Took 4 offensive and 5 defensive zone draws.
Connor McDavid is a truly amazing player. His goal was timely and brilliant, and his shootout goal was fire.
THE NUGE LINE

Line went 20-11 together, including 17-7 with Klefbom-Larsson.
Nuge had an insane chance late, no idea how he didn't cash that chance.
Went 19-5 against Malkin. That is the kind of line worth remembering. Malkin is a fantastic player, Kessel and Hagelin aren't far behind.
This line has chemistry now. It takes time to move a mountain.
THE HABS LINE

David Desharnais scored a goal in his third game, now 1-1-2. Excellent production so far.
Zack Kassian is getting his name on the scoresheet frequently of late.
Benoit Pouliot's return looked good to me. Maybe a little rusty with the puck on his stick but good work overall.
The line went 12-5 together in just under 10 minutes.
Went 9-7 against Kunitz-Bonino-Wilson. I think that represents a successful evening for the group.
THE GAG LINE

The line played 6:49 together and went 5-4. Quiet.
Letestu jumped up to the Nuge line for one minute, went 0-3.
Went 5-2 against the Oscar Sundqvist line. I know. Me either.
This line tells us the Oilers depth still  has a ways to go before true balance is achieved.
STANDINGS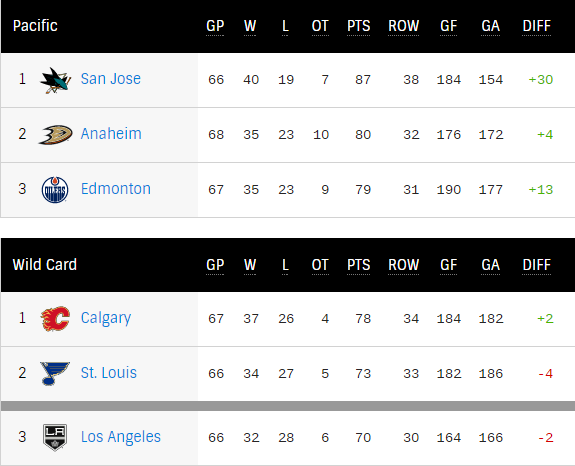 A big point last night, Edmonton stays ahead of Calgary while also putting pressure on the Anaheim Ducks. St. Louis with a big win makes life more difficult for the Los Angeles Kings and of course a bunch of games impact the race today. This is fun! Flames play  the Jets tonight, betting against Calgary lately is a bad idea, Capitals play the Kings in the late game and if LAK lose, the club would be nine points down with 15 to play.
@Condors @CondorsHolty @Lowetide Back and forth, 1-1 going to the 3rd period… pic.twitter.com/Nhz50Kw28x

— Mark I Williams M.D. (@CameraGuyBakoCA) March 11, 2017
Joey Laleggia scored in overtime for the win, and the Condors have a real chance at making the postseason now. Still a few weeks to go but the club has been winning consistently and the PK is the best in the division. If they can get the power play untracked, they might be able to make some noise in the postseason.
PROSPECTS LAST NIGHT
Ryan Mantha: one goal (63, 17-39-56)
Evan Campbell: one assist (32, 1-4-5)
Ethan Bear: one goal (63, 27-42-69)
Caleb Jones: one goal (58, 8-47-55)
Kyle Platzer: one assist (47, 1-7-8)
Joey Laleggia: one goal (52, 15-13-28)
Jordan Oesterle: one assist (33, 4-19-23)
Zach Nagelvoort interview is here.
zach aston-reese is the only hobey candidate worth voting for https://t.co/4VAzHg3PpV

— ryan lambert (@twolinepass) March 7, 2017
Ryan Kennedy of The Hockey News is reporting that as many as 15 teams are after Aston-Reese, who appears to be a substantial NHL prospect.