One of the things we could see over the next three weeks is a recall of first-round pick Jesse Puljujarvi. The Big Finn has been performing well in Bakersfield and the big club could use a boost. A down arrow for the potential move is that the Oilers are not firing on all pistons. If JP is recalled, and struggles, it  might wear on his confidence and undo some good Condors work.
SHE NEVER SPOKE SPANISH TO ME, YEAR OVER YEAR
Oilers in October 2015: 4-8-0, goal differential -7
Oilers in October 2016: 7-2-0, goal differential +10
Oilers in November 2015: 4-7-2, goal differential -6

Oilers in November 2016: 5-8-2 goal differential -3

Oilers in December 2015: 7-6-1, goal differential -9
Oilers in December 2016: 7-2-5, goal differential +3

Oilers in January 2016: 4-5-2, goal differential -5
Oilers in January 2017: 9-4-1, goal differential +8

Oilers in February 2016: 3-8-2, goal differential -18
Oilers in February 2017: 6-6-0, goal differential -2

Oilers in March 2016: 8-8-0, goal differential +5
Oilers in March 2017: 1-2-1, goal differential -5
Oilers after 68, 2015-16: 26-35-7, goal differential -36
Oilers after 68, 2016-17: 35-24-9, goal differential +11
G69 one year ago was a 3-0 loss to the San Jose Sharks, Logan Couture got loose twice and James Reimer got the shutout. Edmonton would finish (including tonight) 5-8-1 to run their final record to 31-43-8, 70 points. If the Oilers end this season the same way, the club's final record would be 40-32-10, 90 points. I think they will do better than that, and it goes without saying this is a very big week.
 WHAT TO EXPECT FROM MARCH
At home to: Detroit, NY Islanders, Pittsburgh, Montreal (Expected: 2-2-0) (Actual 1-2-1)
At home to: Dallas, Boston, Vancouver, Los Angeles (Expected: 3-1-0) (Actual 0-0-0)
On the road to: Anaheim, Colorado (Expected: 1-1-0) (Actual: 0-0-0)
At home to: Colorado, Los Angeles, San Jose (Expected 1-1-1) (Actual: 0-0-0)
Overall expected result: 7-5-1, 15 points in 13 games
Current results: 1-2-1, 3 points in 4 games
A win this evening and we are back on track for the month, and the playoffs get that much closer. Remember, teams winning who are behind Edmonton actually lose ground because they are burning daylight. Edmonton could do themselves a giant favor by winning all three games this week in front of the Monday game against LAK.
JESSE PULJUJARVI IN BAKERSFIELD
Eric Rodgers is well known to readers who were here during the OKC days, he along with Patricia Teter, Neal Livingston and Rob Ferguson gave us a real flavor of the Barons in their seasons in Oklahoma. Eric does a lot of good work on the Condors in terms of TOI and generously shares it with me a few times each season. I will spend a little more time on this tomorrow for the 5pm (looking at all estimates for prospects) but wanted to drill down on the Puljujarvi numbers. All TOI and GF numbers below are via Eric, and the boxcars are AHL.com.
Boxcars: 25gp, 9-11-20
Evens: 25, 6-8-14
Power Play: 25, 3-3-6
Total GF-GA On Ice: 34-17
Total EV GF-GA On Ice: 21-17
Estimated Total Time on ice (all situations): 20:47
Estimated points-per-60 (all situations): 2.31
I think Eric's estimates are very strong, and if true, tell us a couple of things. First, coach Gerry Fleming is playing the Finn a lot more now than he did earlier in his time with Bakersfield. Second, JP is scoring well overall and coming on. I think a recall may come, but keeping the young man in the AHL has its benefits.
STANDINGS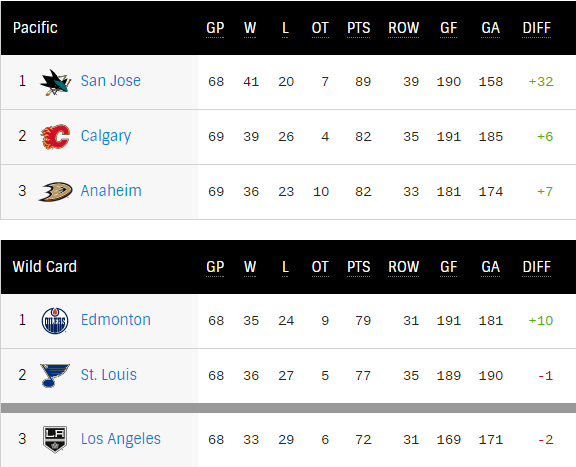 This is shaping up as a gigantic week in the Western Conference, and the LAK stumbled out of the gate. The club is seven points back of Edmonton with 14 to play, and that is a difficult mountain to climb. The Oilers have to post some wins this week, and let's be honest here they could end up as the No. 8 seed pretty easily, but making the postseason looks a bit more certain today.
WOODMONEY CENTERS

I wanted to talk about the centers today, if that's okay. At some point Leon may be coming back, but for now let's concentrate on these fellows. Back on February 20, I posted the percentage of minutes against elite for the centers. At that time Connor McDavid was playing 36 percent of his minutes against elites, Nuge 42 percent. We have some anecdotal evidence (Woodguy mentioned it on the Lowdown, it makes sense visually based on what we are seeing) that Edmonton is running 97 even harder and trying to find clean air for the Nuge.
The problem is that the 1line appears to be tiring, specifically Leon Draisaitl. You would like to see a third line that could take on  more of the load.
Maroon-McDavid-Eberle
Lucic-Draisaitl-Kassian
Pouliot-Nuge-Letestu
Lander-Desharnais-Slepyshev
The Oilers get a terrific third line (Letestu can take right side faceoffs) that should be able to take on a bigger load, and hopefully that second line can bull its way through on sorties. Eberle should be able to cash some of those McDavid passes and the fourth line houses interesting replacement options should someone get hurt.
COLLEGE FREE AGENTS
Here is my list of possibles, this is about the fourth time I have published, but there are some who have signed or will return to school, so are deleted. I have also cut out the defensemen.
C-R Zack Aston-Reese, Northeastern University. He is 6.0, 190 and plays a heavy game. Certainly a Chiarelli—McLellan type and has skill. Note: Has emerged as a top FA option now.
G Parker Cahagen, Army. He has a .933SP and was .937 a year ago.
C Mike Vecchione, Union. Complete center who may be the most valuable player on this list. He is in his senior year and ripping it up.
R-C Spencer Foo, Union. Edmontonian posting a strong season (36gp, 24-35-59), Foo brings a combination of speed, aggression and skill to the game. Like Vecchione, you could make a case for him being the best available.
RYAN LAMBERT TALKS ASTON-REESE
The thing you have to keep in mind about Aston-Reese is that even beyond all the scoring — he had 10 games in which he scored at least three points and was only held off the scoresheet eight times — he's also the most NHL-ready undrafted free agent in college hockey today. He's going to sign with an NHL team the second Northeastern's season is over and go play not because he negotiated to have a year burned off his ELC, but because his game is extremely close to complete. Source
Bob McKenzie reported that Aston-Reese will make his decision soon, maybe even today. If the Oilers grab him, it will be interesting to see where he lands for the rest of this season, and in the fall. Peter Chiarelli earned a lot of credit by grabbing Matt Benning, Drake Caggiula, Patrick Russell and Nick Ellis a year ago, can he add one or two forwards this spring? It is very important to stock the prospect cupboard, and the truth is Aston-Reese (or Vecchione, or Foo) would be arriving at a time when the depth chart is not overwhelming. Interesting days ahead.
TONIGHT
I think it is ridiculous to panic, but it is also true that the Oilers need to pile up some wins this week. Tonight they face a team in the Dallas Stars that has goaltending and penalty-killing issues. We should look for an aggressive start and hopefully two points. This isn't over, but Edmonton remains in control of its own destiny.
LOWDOWN WITH LOWETIDE
A busy, fun show this morning. Begins at 10, TSN 1260:
Jonathan Willis, Oilers Nation. Calm words from the north? We will see!
Kirk Luedeke, Red Line Report: Aston-Reese and these other college men.
Scott Cullen, TSN. Flames, Oilers, Leafs, what a fantastic finish!
10-1260 text, @Lowetide on twitter.