The Edmonton Oilers romped over the Dallas Stars 7-1 last night, most everyone chiming in on the scoreboard and posting a crooked number. The power play cashed, the penalty kill killed and the evens went bigly. At a time of year when the tension was perhaps running higher than it should be among the fans, last night surely let everyone find some release. It was a good night.
 WALKING AFTER MIDNIGHT, YEAR OVER YEAR
Oilers in October 2015: 4-8-0, goal differential -7
Oilers in October 2016: 7-2-0, goal differential +10
Oilers in November 2015: 4-7-2, goal differential -6

Oilers in November 2016: 5-8-2 goal differential -3

Oilers in December 2015: 7-6-1, goal differential -9
Oilers in December 2016: 7-2-5, goal differential +3

Oilers in January 2016: 4-5-2, goal differential -5
Oilers in January 2017: 9-4-1, goal differential +8

Oilers in February 2016: 3-8-2, goal differential -18
Oilers in February 2017: 6-6-0, goal differential -2

Oilers in March 2016: 8-8-0, goal differential +5
Oilers in March 2017: 2-2-1, goal differential +1
Oilers after 69, 2015-16: 26-36-7, goal differential -39
Oilers after 69, 2016-17: 36-24-9, goal differential +17
The year over year gap is incredible, really a canyon now. It is not an historic gap, falling well short of the Snake River Canyon. That said, this is a good NHL team and we haven't had one in our town in over a decade. After 69 games last year, Edmonton had 59 points, and this season the total is 81. A 22-point increase is massive, with the remaining question being how high can they fly?
 WHAT TO EXPECT FROM MARCH
At home to: Detroit, NY Islanders, Pittsburgh, Montreal (Expected: 2-2-0) (Actual 1-2-1)
At home to: Dallas, Boston, Vancouver, Los Angeles (Expected: 3-1-0) (Actual 1-0-0)
On the road to: Anaheim, Colorado (Expected: 1-1-0) (Actual: 0-0-0)
At home to: Colorado, Los Angeles, San Jose (Expected 1-1-1) (Actual: 0-0-0)
Overall expected result: 7-5-1, 15 points in 13 games
Current results: 2-2-1, 5 points in 5 games
We are now back in normal range, not quite halfway through the month. If Edmonton grabs two points tomorrow night, they will be right on track with expectations. Big games tomorrow and Saturday, and Monday looms large.
DEFENSE, LAST NIGHT

Darnell Nurse stepped up when Oscar Klefbom went down and played (to my eye) very well. His goal came on one of his timely sorties and offered another example of why he has value as a piece of the defensive puzzle. His speed and ability to transport mean opponents have to be aware of the possibilities. Offers another dimension.
Nurse-Benning went 8-3 in 7:21 together, Nurse was 4-4 in less than three minutes with Adam Larsson. He even went 1-0 with Kris Russell. Benning went 1-3 with Sekera. Most successful line for the Nurse-Benning pairing was the Desharnais  line (7-0) and they faced Benn-Eakin-Hemsky most often (6-4 in 5:03). I will tell you that some of these numbers are going to be a little off, Lindy Ruff was busy line shuffling like a crazed madman.
Klefbom-Larsson went 5-9 in 6:07 together, Larsson also playing an extended period with Darnell Nurse. Oscar had the big shot, but made a few wobble passes, one of which resulted in a fantastic block by Larsson. The former NJD continues to impress me with his calm feet, physical play and smart decisions. A fine player. Larsson went 5-6 against Benn, Klefbom went 2-5. Pairing went 4-1 against Elie-Spezza-Seguin.
Cam Talbot stopped 22 of 23, .957. We will forget this and it will be lost forever, but the goalie made some big stops on the night.
Numbers via HockeyStats.ca, NHL.com and NaturalStatTrick.
1LINE

Interesting night for the top line. Maroon's goal was a brilliant solo effort, while 97's goal featured a gorgeous pass from Maroon to McDavid.
Overall, I thought the line had a tough time getting a handle on the puck, despite not being targeted by a shutdown line or pairing.
McDavid went 4-7 against Dan Hamhuis-Stephen Johns in 4:37, 3-5 against Elie-Spezza-Seguin.
The real problem was that blasted 4line (Shore-Faksa-Hemsky), 97 going 4-10 against Faksa in 4:13.
We aren't going to see this line split up after they grabbed two goals, but the puck wasn't going in a great direction, even considering score effects.
2LINE

Great to see this line post four points on the night, and for everyone to be involved.
After spending much of the year swearing to God these two wingers were oil and water, it appears they can in fact make beautiful music on the same line.
Line went 2-7 against Lindell-Klingberg, which I believe is the top pairing for Dallas (Mr. Ruff appeared to be trying to obscure his opinion of his best players based on matchups).
Line went 4-7 against Benn-Eakin-Hemsky, meaning this trio faced the toughest opposition by my estimate.
Jordan Eberle worked hard all over the ice. Determined on the rush, he back checked, retrieved pucks and had eight shot attempts. It was a good night for the veteran.
3LINE

A third scoring  line? Come on down!
The best player on this line is Zack Kassian, and recently (including last night) he has been the best forward on the team. Great hockey play with Pouliot for the first goal, he was rolling.
Line went 4-1 against Faksa and 6-0 versus defensemen Oleksiak-Nemeth.
The Pouliot goal was a long time coming, but also showcased his range of abilities. We can talk until Easter about Desharnais and his offensive start, but getting BP untracked could be the biggest post-deadline addition.
4LINE

One addition to the line and things look much better. A fourth line has to bring some options that can be plugged in higher up the order if push comes to shove. Anton Slepyshev is a fine option to slide up the batting order, and he was useful on this line last night.
Slepyshev's assist came on the Desharnais goal, and featured a great individual effort that perfectly showcased him. This guy can play. Oilers, a team badly in need of young inexpensive wingers, got one from that crazy trade, it appears.
Matt Hendricks is still in the lineup and Jujhar Khaira is still in the pressbox. One of the reasons is that Khaira was just okay in his last appearances. Make a positive impact next opportunity, young man. The job is there for you.
STANDINGS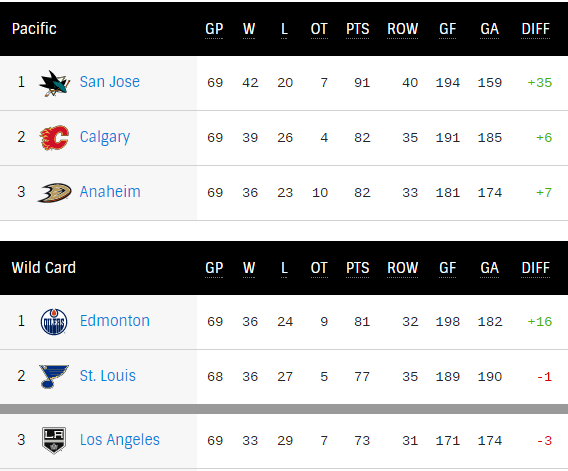 We have discussed the importance of this week and last night was a very good one for the Oilers. Winning allows the club to keep pace with the Calgary Flames and Anaheim Ducks, setting up a fantastic three-way race for two spots and a first-round playoff series that could be epic. I am writing this in the moments after the LAK lost in a shootout, and that feels like the kind of good fortune this franchise hasn't been privy to for a very long time. Stay tuned, this crazy train has some more turns before we reach the end of the season.
AHL NUMBERS
At 5pm today, unless something breaks, I will publish Eric Rodgers' estimated time on ice totals for Oilers prospects in the AHL. It is important work, and I thank Eric for doing it. What we are looking for is some sign of offensive spark from these young prospects. Jesse Puljujarvi (who picked up an assist last night) is now 26, 9-12-21 on the season and may see NHL action before the end of the year.
Another player we may want to watch? Jaedon Descheneau. He scored again last night, now 2-3-5 in his last five Condors games. We have discussed procurement for the fall, and Descheneau should be a candidate for an NHL contract. He isn't scoring at the rate Josh Winquist did a year ago, but he is a name to add to the list. More at 5.  I wrote about college procurement and other ideas at ON this morning, that item is here.
LOWDOWN WITH LOWETIDE
At 10 this morning, TSN 1260. A fun show with interesting people! Scheduled to appear:
Darcy McLeod, Because Oilers. Last night's game, McDavid's best linemates, Puljujarvi recall?
Chris O'Leary, CFL.ca. Well known writer gets job with a favorite league! Music!
Sarah Connors, The Grid Girls. Brad Marchand reaches prime scorer at 28. Plus a fabulous racing site.
10-1260 text, @Lowetide on twitter.