From time to time, one of our younger members will ask me a question about the 1980's. I do my best to describe it, but great hockey moments are best witnessed and shared and pressed into our collective memory. I asked the elders about the greats, and even saw Gordie Howe play, but not the Howe of youth. It seems to me that this team, should it become a great one, will have two rabid fanbases: The elders, who are thrilled to watch greatness the second time around, and the youngers, who fell in love with the team somewhere along the line and stubbornly stood on the edge of a dream for a decade or longer. Last night reminded me of the 1980's, but it was also new and fresh and I look forward to those memories to press from this team, starting now. I have been blessed. I wish the same for you.
  PICTURES OF HOME, YEAR OVER YEAR
Oilers in October 2015: 4-8-0, goal differential -7
Oilers in October 2016: 7-2-0, goal differential +10
Oilers in November 2015: 4-7-2, goal differential -6

Oilers in November 2016: 5-8-2 goal differential -3

Oilers in December 2015: 7-6-1, goal differential -9
Oilers in December 2016: 7-2-5, goal differential +3

Oilers in January 2016: 4-5-2, goal differential -5
Oilers in January 2017: 9-4-1, goal differential +8

Oilers in February 2016: 3-8-2, goal differential -18
Oilers in February 2017: 6-6-0, goal differential -2

Oilers in March 2016: 8-8-0, goal differential +5
Oilers in March 2017: 3-2-1, goal differential +4
Oilers after 70, 2015-16: 27-36-7, goal differential -38
Oilers after 70, 2016-17: 37-24-9, goal differential +20
The Last time Edmonton won 37, Craig MacTavish was thinking he had been too long at the fair. The team is on track for 43 wins now, the most since 1988. It was a fun time at Rogers Place last night, and the year over year looks damned fabulous. We're on to Abbotsford.
 WHAT TO EXPECT FROM MARCH
At home to: Detroit, NY Islanders, Pittsburgh, Montreal (Expected: 2-2-0) (Actual 1-2-1)
At home to: Dallas, Boston, Vancouver, Los Angeles (Expected: 3-1-0) (Actual 2-0-0)
On the road to: Anaheim, Colorado (Expected: 1-1-0) (Actual: 0-0-0)
At home to: Colorado, Los Angeles, San Jose (Expected 1-1-1) (Actual: 0-0-0)
Overall expected result: 7-5-1, 15 points in 13 games
Current results: 3-2-1, 7 points in 6 games
This is about what we expected from March, the Oilers are now on track with what we projected. The goals for has gone crazy lately, and that's a good thing for sure. The Edmonton Oilers are a fun team to watch and we are probably going to have playoff games involving this group in April. Feels so good.
DEFENSE, LAST NIGHT

Klefbom-Larsson looked good to my eye, with the understanding that it was not your ordinary 2017 game. I thought the pairing was especially effective at 5×5, going 10-11 in 12:39. Went 6-4 against Stafford-Krejci-Pastrnak, the pairing finished +1 on a night when Edmonton outscored the opposition 4-1 at evens.
Klefbom made another Serge Savard move last night, where he waited for the Bruins rusher to get close to him and then deked him to go on his merry way. He reminds me so much of Savard. Seriously.
Sejera-Russell were chasing too much but they also faced very tough opposition (almost 10 total 5×5 minutes against the Bergeron and Krejci lines combined). They went 11-15 in 11:58 and it looked even more chaotic in real time. Went 4-7 against Marchand-Bergeron-Backes in 6 minutes and 7-6 against Pastrnak.
Nurse-Benning had an adventure, but Benning was +2 and Nurse +3 with two assists on the night. Suspect we may see Mr. Gryba in on Saturday night. Pairing went 10-20 in 12:40 while managing to go 7-1 with McDavid. Fabulous rush by Nurse on the Slepyshev goal, really effective in puck transporting. Pairing went 4-11 against Belesky-Spooner-Vatrano but 6-3 against the Krecji line. A weird night for the pairing, Nurse had many good moments, young Benning seemed in a hurry to get to the wrong spot. Bruins are a devilish team when they are on.
Cam Talbot stopped 32 of 36, .889.
Numbers via Natural Stat Trick, Hockeystats.ca and NHL.com. Check out further brilliance from Oilers Nerd Alert below. The guy kicks ass.
The differentiation between the three pairings is hilarious! pic.twitter.com/1SH7ZIeckX

— Oilers Nerd Alert (@OilersNerdAlert) March 17, 2017
1LINE

The McDavid line went 11-12 Corsi for (Leon and CMD, Maroon spent extended time in the sin bin).
The trio had seven shots, and three goals. That is unusual.
McDavid went 10-8 against the Krejci line,  in 9:25 head to head. If a player faces the opposition center 60 percent of his 5×5 time, chances are someone is line matching or both men are happy enough with the match.
Chara was a bull against 97, going 7-3 and thwarting a few sorties with that blasted wingspan.
Anton Slepyshev scored while playing on this line Patrick Maroon in the penalty box.
All three regular members of this line have 24 goals on the season. That makes 72 goals, or a goal-per-game plus a little. GAG line? Already taken, but few of us remember that fantastic Rangers trio.
McDavid's recent surge has him No. 2 in the NHL among forwards (750+ minutes) in 5×5/60 scoring.
2LINE

Two goals for this line and they played tough minutes effectively. Eight shots on goal and two goals, there are 45 goals this season from the trio.
Nuge line played 10:58 together and went 10-15. Nuge was 0-10 with Darnell Nurse at 5×5/60, that is hard to do. The line went (Nuge) 7-15 against the Marchand-Bergeron-Backes line, toughest assignment on the board and it was their responsibility for almost 10 minutes last night. Lordy.
3LINE

David Desharnais started a fire on the 3line and the result is increased offensive opportunities at both ends of the ice.
Benoit Pouliot has come alive, and Zack Kassian is driving too.
Wonderful to see, the chances against are going to be a concern come playoff time. DD reminds me of Derek Roy, in style and results.
Trio went 5-9 Corsi 5×5 in about nine minutes. They went 5-5 against the Spooner line, satisfactory performance.
4LINE

We talked earlier this week about having options on the 4line who can step up and contribute. We saw it in live action last night, as Anton Slepyshev took a few spins with the McDavid trio. There is a dramatic element to his game and he didn't look out of place with 97. I hope we get to see him there again soon.
The line went 6-10 on the evening at 5×5, including 2-7 against the Spooner line.
STANDINGS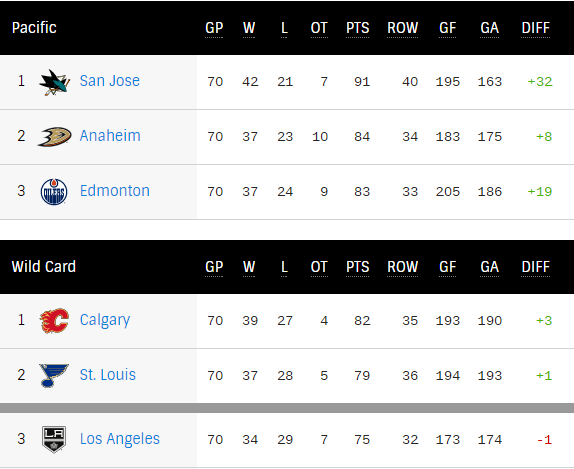 This is a good table, although the Blues and Kings won last night, too. Edmonton is up on LAK by eight points, with 12 to play. If the Oilers grab a point per game, and that seems reasonable, they would finish with 95 points. The Kings would need to go 10-1-1 to beat Edmonton. This is the bleeding out period, some proud players in those Kings uniforms but they may have left it too late. The Flames play the Stars tonight, so drink in the current standings.
Connor McDavid's tied Sam Gagner for 3rd on this #Oilers list, but in a lot fewer games (though he'll be hard pressed to challenge for #1!) pic.twitter.com/cJmjhBFVWP

— StatsCentre (@StatsCentre) March 17, 2017
LOWDOWN WITH LOWETIDE
At 10 this morning, TSN1260. It is going to be a fun morning, very cool guests:
Steve Lansky, BigMouthSports. Canada's NHL team is ripping it up, and the Leafs are doing well, too!
Alex Thomas, The Oilers Rig. Boston's most prominent Oilers blogger is in our fair city, we will ask him about his Edmonton experience so far.
Matt Iwanyk, TSN1260. Is Matt's NCAA bracket still intact? Plus, when do you give Talbot a rest?
Paul Almeida, SSE. Oilers close to clinching a playoff spot, how far can they fly?
10-1260 text, @Lowetide on twitter. Talk soon!
TODAY AT 5
Condors have a big weekend ahead, at 5 this afternoon I will have a post about the AHL men who have made enough progress this season to push ahead of the field. Think Joey Legs.