We already have most of the players for the rest of this decade, and in some cases beyond. Connor McDavid, Leon Drisaitl, Darnell Nurse, Jesse Puljujarvi and Matt Benning are at the young edge of the cluster, and maybe Drake Caggiula, Jujhar Khaira and Anton Slepyshev will join in and become part of the group. A quick note about this matter and what history tells us: Not everyone makes it. I know we have our favorites (I certainly do) but the truth is there are contract pressures and trade pressures and we all thought Brandon Davidson would be here a lot longer. Right? Remember when we spent days and days discussing Davidson's contract, and how it might have been better to pay a little more for a longer deal? Turns out, it didn't matter at all. That is a lesson for us, and that truth (not all young players will emerge as long-term answers) is going to become a common theme as time rolls along. Why? Edmonton badly needs inexpensive players who are useful and will pay for them in trade if they do not develop in the system.
 GIRL FROM THE NORTH COUNTRY, YEAR OVER YEAR
Oilers in October 2015: 4-8-0, goal differential -7
Oilers in October 2016: 7-2-0, goal differential +10
Oilers in November 2015: 4-7-2, goal differential -6

Oilers in November 2016: 5-8-2 goal differential -3

Oilers in December 2015: 7-6-1, goal differential -9
Oilers in December 2016: 7-2-5, goal differential +3

Oilers in January 2016: 4-5-2, goal differential -5
Oilers in January 2017: 9-4-1, goal differential +8

Oilers in February 2016: 3-8-2, goal differential -18
Oilers in February 2017: 6-6-0, goal differential -2

Oilers in March 2016: 8-8-0, goal differential +5
Oilers in March 2017: 3-2-1, goal differential +4
Oilers after 70, 2015-16: 27-36-7, goal differential -38
Oilers after 70, 2016-17: 37-24-9, goal differential +20
G71 last season was a 3-0 loss to the Arizona Coyotes, Mike Smith stopping 44 shots for the shutout. For this season, we are now into the final lap and with 12 games left 40+ wins and 90+ points should be the expectation. The turn north began early, and the season has produced many positives and a few disappointments along the way. For me, this is a better hockey club than the night the train left the station, and I would mention that game against the Penguins as confirmation that this team is a contender to win a round, and maybe a little more than that. The Oilers may exit the playoffs in a quick hurry, but that is not a slam dunk (and I think it was in the fall).
 WHAT TO EXPECT FROM MARCH
At home to: Detroit, NY Islanders, Pittsburgh, Montreal (Expected: 2-2-0) (Actual 1-2-1)
At home to: Dallas, Boston, Vancouver, Los Angeles (Expected: 3-1-0) (Actual 2-0-0)
On the road to: Anaheim, Colorado (Expected: 1-1-0) (Actual: 0-0-0)
At home to: Colorado, Los Angeles, San Jose (Expected 1-1-1) (Actual: 0-0-0)
Overall expected result: 7-5-1, 15 points in 13 games
Current results: 3-2-1, 7 points in 6 games
It is tempting to add up all of the winnable games and project the end of the month, but the importance of each game can and will change as we arrive at each game day. For instance, the Monday game against the Kings is a giant story on the horizon, and from this vantage point the road game to LAK later in the month would seem to have similar probable impact. The truth is that the road game in California is very likely to be either far more or far less important than the Monday game. We'll know when we know.
CENTERS, WOODMONEY

Connor McDavid leads the league in points, is No. 2 in 5×5/60, has a fantastic possession number against elite competition, and he plays 36 percent of his 5×5 time against the toughest opposition. Anything else, bitches?
I feel like we are close to the "Horcoff is climbing Everest" defense of the Nuge, who spends 41 percent of his time against giants. RNH needs to deliver more offense, but the severity of his playing state needs to be recognized. It is reasonable to contemplate acquiring a less expensive (and less potentially offensive) option for this job next season, especially if the plan is to put Leon back at C.
David Desharnais reminds me of Derek Roy so far, magic in the offensive zone but not so much in the defensive zone.
Mark Letestu is work the money, full stop. I do think the Oilers are better off using him on special teams and fading his EV time.
LEFT WINGERS, WOODMONEY

Patrick Maroon is a helluva story. He has delivered superior performance on the McDavid line for a reasonable dollar. Honestly, if the NHL had a 'Value Contract of the Year', Maroon would be a very strong candidate.
Milan Lucic has the best boxcars in the group, owing mostly to a newfound power-play ability after all these years. He has improved in recent weeks, and a strong playoff could redeem the early struggles.
Benoit Pouliot has had a difficult season, but he isn't 50 and he hasn't slowed his step and he is healthy now. His recent upswing hasn't moved the needle much yet, but I hope the rest of this season and playoffs gives him a chance to change the script.
Anton Slepyshev can play either wing and showed really well in the Boston game. He could be an important part of next year's team, and one of the few inexpensive forwards on the roster in 2017-18.
Drake Caggiula has a weird 5×5 versus 5×4 number set. I don't honestly know if he brings offense in enough quantity to be considered a top 9F option. Suspect we will find out, but the 5×5 number says no and the 5×4 number says giddyup.
RIGHT WINGERS, WOODMONEY

Leon Draisaitl is posting an outstanding season, he has an outside chance at 70 points. Leon's 5×4/60 scoring has been fantastic, and his passing ability is a big part of his line's offence.
Jordan Eberle's boxcars are beginning to resemble previous totals, although time is running out for the normal 25-30-55 Eberle year. He has performed well in possession against elites, despite much time with from Nuge during a difficult season for the center.
Zack Kassian is going to get a raise and he has earned it. I have been very impressed with his abilities while in possession of the puck. His 5×5/60 number is slightly ahead of Leon's, and Kassian doesn't play with 97. Kassian's change in focus may be revealing a new player on the ice, meaning the Oilers might be looking at a more substantial player. Note: He has had a few goals called back, so that 5×5 scoring number could be even higher.
Tyler Pitlick and Jesse Puljujarvi are not on the roster, but will have a story to tell in the fall (if Pitlick signs).
ROLE PLAYING FORWARDS, WOODMONEY

Jujhar Khaira and Anton Lander (still) are trying to establish themselves, while veteran Matt Hendricks is posting a strong year in possession and scoring a little, too. Have to give him credit.
DEFENSE, WOODMONEY

Darnell Nurse is posting a solid sophomore season, a quality step up from his rookie campaign. The Oilers have handled him well (he is playing just 24 percent of his TOI 5×5 against elites), and like Eric Gryba (the other pure third pairing defender) there is a capable duo every night.
Matt Benning has a good line in every column, and is a perfect fit for this team. Unlike Nurse and Gryba, he has been spending substantial time against elites, and sawing off the competition at around 50 percent. Solid scoring in both disciplines, mobile and effective. He has been less impactful since the concussion but that's understandable.
Andrej Sekera is posting a very strong season, nice numbers across the board. At one point in the season, it was easy for me to identify him as the best defender on the roster. Not as easy now but Sekera is quality.
Kris Russell performs well in WoodMoney relative to team, no doubt about it. What's more, he and Sekera play against the elites most often (compared to their own time-on-ice totals). His ability to defend makes him effective and he is going to get a big raise in the summer. I wonder if Edmonton can afford him.
Adam Larsson has surprised in some ways (rugged) while being an effective defender and providing the team with an edge. He took a little time to settle in, but is part of a solid top  4D and is young enough to fill that role for years to come.
Oscar Klefbom's offense has been very helpful for the Oilers. The young man is also growing into his role with Larsson as top pairing and showing flashes of what will come as he matures. Still takes too many risks, but his range of skills and growing confidence with the puck has me pretty pumped about his future.
STANDINGS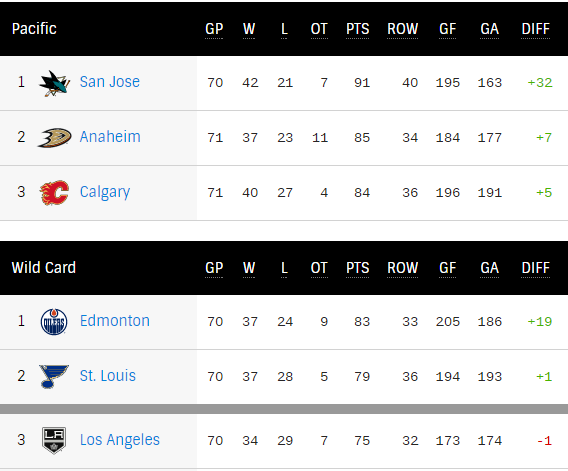 This week keeps getting better for the Oilers. Anaheim grabbed just one point from Buffalo last night, so if Edmonton beats Vancouver tonight they will be in second place in the Pacific Division by midnight. Music!
WILLIAM LAGESSON
It is very difficult to track Oilers prospects in the NCAA, mostly because Canadian coverage of the various divisions is basically nonexistent at this time. SB Nation does an annual Top 100 college players each year, and they are counting down as we speak. Among Oilers prospects, William Lagesson shows up at No. 69.
Lagesson is a bright spot on a UMass team that is consistently out-manned and out-played in a deep Hockey East conference. He's a tough defensive defenseman capable of laying out big hits. He hasn't shown a lot of progression in his offensive game from his first to second year in college hockey, which could potentially limit his upside in the pro game, but he definitely has potential as a shutdown defender at the NHL level. Source
CRYSTAL BALL
At the beginning of the 1980 training camp, Wayne Gretzky, Mark Messier, Glenn Anderson and Paul Coffey were all 19 years old. Jari Kurri and Andy Moog were 20, Kevin Lowe 21. During 1980-81, players under 23 (and not established as NHL players) were Charlie Huddy, Tom Roulston and Roy Sommer. The 1980-81 Wichita Wind (Edmonton's minor league team) housed Don Ashby, Walt Poddubny, Huddy, Cal Roadhouse, Mike Toal, Mike Forbes, Roulston, Sommer, George Pesut, Paul Messier, Guy Lash, Blair Barnes, Ken Berry, Jim Crosson, Gord Garbutt.
If you and I found a time machine and went back to Wichita (people train runs through Stubbville), would we be able to identify Huddy and Poddubny as the future quality NHL players? No. Some of those young men left us early, others had terrible injuries that ended careers. The future isn't known to us, so in any conversation involving future success of Anton Slepyshev, Jujhar Khaira and Drake Caggiula, words like guarantee should not be part of the conversation. We don't know what we don't know.