On a night when little rhymed, there was no need to tell Tchaikovsky the news. Rembrandt left during the first period, and Picasso fell asleep. No matter. Two points secured, with the captain posting the game winner and Cam Talbot delivering a wonderful performance. Screw the style points, there is a playoff berth to be won.
 NO PARTICULAR PLACE TO GO, YEAR OVER YEAR
Oilers in October 2015: 4-8-0, goal differential -7
Oilers in October 2016: 7-2-0, goal differential +10
Oilers in November 2015: 4-7-2, goal differential -6

Oilers in November 2016: 5-8-2 goal differential -3

Oilers in December 2015: 7-6-1, goal differential -9
Oilers in December 2016: 7-2-5, goal differential +3

Oilers in January 2016: 4-5-2, goal differential -5
Oilers in January 2017: 9-4-1, goal differential +8

Oilers in February 2016: 3-8-2, goal differential -18
Oilers in February 2017: 6-6-0, goal differential -2

Oilers in March 2016: 8-8-0, goal differential +5
Oilers in March 2017: 4-2-1, goal differential +6
Oilers after 71, 2015-16: 27-37-7, goal differential -41
Oilers after 71, 2016-17: 38-24-9, goal differential +22
The year over year is fantastic, Edmonton sitting at 85 points after 71 games and projecting a final record of  44-28-10 for 98 points. On a night when there were 19 (!) giveaways, and the all situations Corsi was 46-71, it is fair to say the Oilers played down to the level of their opponent. No news there, we have seen it before. The difference? Edmonton won the game. That's important.
 WHAT TO EXPECT FROM MARCH
At home to: Detroit, NY Islanders, Pittsburgh, Montreal (Expected: 2-2-0) (Actual 1-2-1)
At home to: Dallas, Boston, Vancouver, Los Angeles (Expected: 3-1-0) (Actual 3-0-0)
On the road to: Anaheim, Colorado (Expected: 1-1-0) (Actual: 0-0-0)
At home to: Colorado, Los Angeles, San Jose (Expected 1-1-1) (Actual: 0-0-0)
Overall expected result: 7-5-1, 15 points in 13 games
Current results: 4-2-1, 9 points in 7 games
Edmonton is right on track now, a .500 record from here on in gets the club 15 points and that was  our line in the sand. There is an encouraging consistency to this season, a certain satisfaction in watching the team gobble up points in all manner of ways. Miles to go, but winning is something this team can do now.
DEFENSE, LAST NIGHT

Nurse-Benning were 14-13 in 12:46, but 2-10 against Baertschi-Horvat-Granlund. Nurse went 2-5 with Russell and played a little with Larsson, too. No. 25 had a really nice look driving in as the trailer, if he can get an accurate shot in that situation there are goals there. He can wheel, and that should have uses on offense.
Matt Benning is not as creative since the concussion, but is also playing a simpler game. I expect we see that offensive flair return when he gets comfortable again, but he isn't costing the team with his current level of play. Fantastic rookie.
Sekera-Russell went 11-22 in 16:06, including 1-8 with the Desharnais line. I am about one week away from writing some negative things about that 3line's Corsi, by the way. Went 1-11 against Sedin-Sedin-Chaput, those twins can drive a fan insane. Pairing played the Horvat line to a draw.
Andrej Sekera saves this team a lot of heartbreak with heady plays, he is a key component on this team.
Klefbom-Larsson 6-20 together, including 2-7 with McDavid and 1-6 with Nuge. Le holy. Went 1-6 against the Sedins, 0-6 against Horvat. Despite all that, I really didn't think the good chances favored Vancouver, but will say that the possession numbers fairly reflect the field position. Edmonton couldn't get the McDavid line heading north with this pairing, and that needs to not happen.
Cam Talbot stopped 33 of 33, and has a SP of .921, which ranks him No. 7 among starters. His EV strength save percentage, .930, also ranks him No. 7, and his PP SP is .874 (No. 16). You may recall his special teams SP has been a strength this season and in the past, but that number has been falling for some time now.
Numbers via NHL.com, HockeyStats.ca and NaturalStatTrick.
1LINE

The goal was gorgeous, terrific shot and we should never take him granted. The Oilers needed that goal, imagine losing a game to VCR and how differently this next week would have set itself up if he doesn't score.
Line went 10-11 and got the most done with Nurse-Benning on the ice. Knocked the Cramarossa-Sutter-Magna line 9-4, but were 3-7 against those blasted Sedins. Canucks ran McDavid against Sbisa most often among defensemen, I have no explanation beyond experimentation.
Leon Draisaitl had a fine night by my eye. Passing well, he also had a goal-mouth chance where the puck was dancing and then another later in the game. He has 63 points now, wonderful season.
2LINE

Until McDavid's goal, this line was my choice to get the first one. Played well and at a fast pace, Nuge had a full tank last night.
Line went 12-17 together and just 3-6 with the Swedish pairing. Went 4-10 against Baertschi-Horvat-Granlund and I thought that Canucks trio was dangerous against the RNH line. I am not certain Baertschi is going to score enough to stay on that line, but the other two have real chem.
3LINE

Line went 11-9 together and had an interesting split with two pairings. Trio went 1-7 with Sekera-Russell and 7-2 with Nurse-Benning. A lot of that probably has to do with opponent, but an interesting line.
Went 0-3 against the Sedins but 7-3 against Horvat.
There is quite a bit of chaos and some assignment issues right now with this line. Does that have to do with Desharnais being new? Important stuff, because if the Oilers lose to LAK Monday night due to a missed assignment or poor communication, how much is the increased offense worth?
Pouliot is getting back to his right place. Aggressive on the check, getting in the way. Good player.
4LINE

Mark Letestu, fourth liner, has 14 goals, nine on the power play. That is one more power-play goal than Sam Gagner, for those who are following along.
Drake Caggiula played well in my opinion, Anton Slepyshev too. The line didn't play that much, but I like this 4line quite a bit.
The line went 6-7 together, that's good considering they were crushed (0-5) in 97 seconds against the Sedins. Went 6-3 against Boucher-Shore-LaBate.
STANDINGS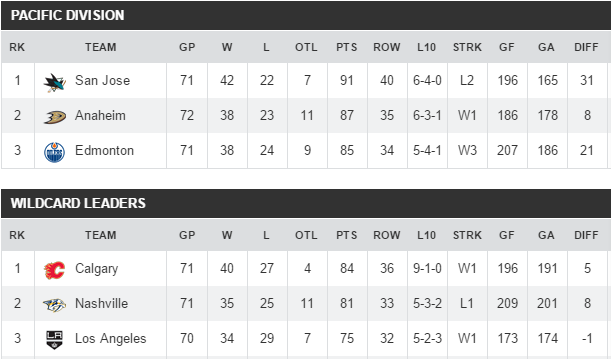 Edmonton has the poorest performance of these teams over the last 10 games, but as the last remnants of February melt away the Oilers should have a better record than several clubs (in last 10). Massive game tonight, you can cheer for either team to lose, but pray it is in regulation. Anaheim hasn't disappeared either, that will be a story to watch.
SUNDAY NOTES
Markus Niemelainen scored twice for Saginaw last night, has three on the year. The mobile defender with size could find his way to Bakersfield after his junior season is over. Patrick Williams covers the AHL for NHL.com and Sportsnet, and tweeted this out yesterday.
Tyler Benson will soon see a specialist about his groin injury according to Rick Dhaliwal of 1130 Sports. Williams speculates about Benson also heading to Bakersfield, but that might be conditioning or testing his possible availability if the injury is coming around. Guy Flaming had WHL broadcaster Bill Wilms on this week, he mentioned that the injury to Benson may be similar to the one Kevin Lowe and Marc Pouliot had as Oilers. Podcast is here.
Mark Divver of The Providence Journal is a worthwhile follow, he always has interesting items. He reports that Oilers scouts Kelly Buchberger and Scott Harlow were in to see draft prospects Vincent Deslauriers and William Lagesson.
Graham McPhee scored a shorthanded goal for Boston College last night.
Caleb Jones and Ethan Bear went head to head in WHL action last night. Bear had blank boxcars, but Jones picked up an assist and was +4.
Condors won again last night, Jesse Puljujarvi with an assist and five shots on goal.
Greg Chase had a goal and an assist in that game, now 42, 3-8-11 on the year.