The Edmonton Oilers and Los Angeles Kings have played some huge games over the last four decades, and met often in the playoffs during the 80's glory days for Edmonton.  The last time LAK-EDM played in the postseason, the rosters were overundersidewaysdown. The Kings deployed Wayne Gretzky, Paul Coffey, Jari Kurri, Charlie Huddy and Marty McSorley. Edmonton? Bernie Nicholls led both teams in scoring during the 1992 matchup, which is the last time these two clubs met in the second season. The teams have met seven times in the postseason, Edmonton winning five and losing in 1982 and 1989. Tonight could go a long way to making sure the two  teams don't see each other in the playoffs this spring.
 PIKES PEAK, YEAR OVER YEAR
Oilers in October 2015: 4-8-0, goal differential -7
Oilers in October 2016: 7-2-0, goal differential +10
Oilers in November 2015: 4-7-2, goal differential -6

Oilers in November 2016: 5-8-2 goal differential -3

Oilers in December 2015: 7-6-1, goal differential -9
Oilers in December 2016: 7-2-5, goal differential +3

Oilers in January 2016: 4-5-2, goal differential -5
Oilers in January 2017: 9-4-1, goal differential +8

Oilers in February 2016: 3-8-2, goal differential -18
Oilers in February 2017: 6-6-0, goal differential -2

Oilers in March 2016: 8-8-0, goal differential +5
Oilers in March 2017: 4-2-1, goal differential +6
Oilers after 71, 2015-16: 27-37-7, goal differential -41
Oilers after 71, 2016-17: 38-24-9, goal differential +22
G72 a year ago
was a 3-2 loss to
the Nashville Predators
James Neal. Year over year the Oilers are +63 in goal differential and have 24 more standings points. Music! Miles to go and we are heading for another summer of change (imo) but the team is better by a lot based on the standings.
 WHAT TO EXPECT FROM MARCH
At home to: Detroit, NY Islanders, Pittsburgh, Montreal (Expected: 2-2-0) (Actual 1-2-1)
At home to: Dallas, Boston, Vancouver, Los Angeles (Expected: 3-1-0) (Actual 3-0-0)
On the road to: Anaheim, Colorado (Expected: 1-1-0) (Actual: 0-0-0)
At home to: Colorado, Los Angeles, San Jose (Expected 1-1-1) (Actual: 0-0-0)
Overall expected result: 7-5-1, 15 points in 13 games
Current results: 4-2-1, 9 points in 7 games
If the Oilers win tonight, the month of March sets up very well. Two games against Colorado coming up, along with 11 points in the first eight games, should mean 15 points (or more) await us at the end of the month. Climbing Pikes Peak has been easier than anticipated so far, but there are traps and hazards to the right and left.
50-MAN LIST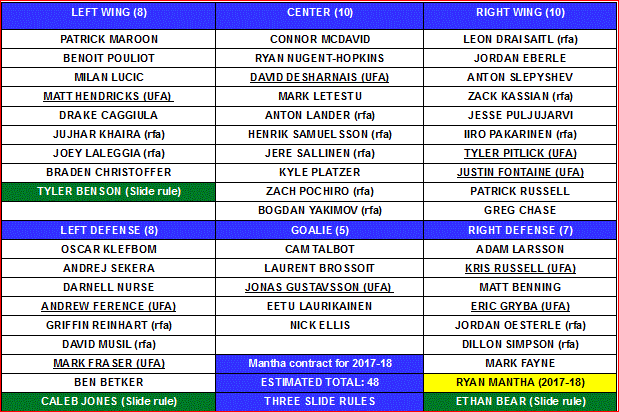 I thought it might be an idea to go over each of these names and project the summer line by line, or, more to the point, contract by contract.
UFA's (10): I don't think the Oilers will have enough to sign Kris Russell, unless a more reasonable number will satisfy his demands. Even then, the length of the deal is likely to rich for Edmonton. David Desharnais is showing well offensively in these early days, but we can probably agree it is too early to offer any kind of opinion. Andrew Ference, Matt Hendricks and Jonas Gustavsson are unlikely to return, and Eric Gryba would  likely be a training camp invite (again) or a late summer value signing. Jordan Oesterle (listed incorrectly on this graph as an RFA) and Tyler Pitlick are two of the more likely signings from Edmonton's group. Mark Fraser and Justin Fontaine are later items, say August, but Fontaine probably fits the Oilers needs pretty well on a two-way deal.
RFA's (14): Leon Draisaitl is the top priority and I think we have talked ourselves into a bridge. This will be the free agent contract of summer for Oilers fans. Zack Kassian's deal is also important, and I'm not saying it writes itself, but we should be able to get it surrounded by saying two years times something reasonable. A bunch of no-brainers: Griffin Reinhart, Jujhar Khaira, Joey Laleggia, Dillon Simpson, are followed by an even longer list of players who are likely to ease on down the road: Anton Lander, Bogdan Yakimov, Henrik Samuelsson, Jere Sallinen, Zach Pochiro, David Musil, Eetu Laurikainen. I will tell you, the only difficult decision for me is Iiro Pakarinen, and only because Todd McLellan appears to value him. Then again, maybe the call is to move him along because the coach relies on him.
Signed but in junior for one more year (1): Tyler Benson remains a substantial prospect if he can stay healthy, but he is already losing precious development time due to injury ala Marc Pouliot.
New Hires (3): Caleb Jones, Ethan Bear, Ryan Mantha all begin their pro careers in the fall and each of them should be considered bona fide prospects. We learned a long time ago, during the Jeff Petry-Taylor Chorney-Cody Wild era, that when three arrive at the station chances are only one will ride it to the end of the line. I do think this is a very promising group.
Matriculating from way back in pro (5): Braden Christoffer, Kyle Platzer, Greg Chase, Patrick Russell, Ben Betker. I'm not saying these five men are doomed to fail, only that their pro resumes don't resemble those of previous NHL players during their development years. We haven't seen them emerge as strong and productive AHL players on a consistent basis.
Signed Players Maybe Probably Leaving (2): Mark Fayne is probably going to get bought out, and I think Peter Chiarelli will try to move Benoit Pouliot. That is not the same as me saying it is a good idea, but BP will go if they can find a way imo.
Leaving if Necessary (2): Ryan Nugent-Hopkins or Jordan Eberle may have to go in order to re-set the cap. Based on rumors and discussion, Nuge to Carolina for Justin Faulk seems to be the kind of move we could see. Eberle? Maybe to Brooklyn for Hamonic? Maybe it's a bigger deal and Strome comes over, too? We wait, and of course the playoffs could change everything.
Pushing for bigger roles (5): Drake Caggiula, Jesse Puljujarvi, Anton Slepyshev,Laurent Brossoit, Nick Ellis.
Heart of the Order (10): Connor McDavid is going to sign a contract with many numbers and several commas. He will be worth more than the contract. The other nine men in the heart of the order look like this: Patrick Maroon, Milan Lucic, Mark Letestu, Oscar Klefbom, Adam Larsson, Andrej Sekera, Darnell Nurse, Cam Talbot, Matt Benning.
POSSIBLE 50-MAN AFTER THE CULLS, BEFORE THE PROCUREMENT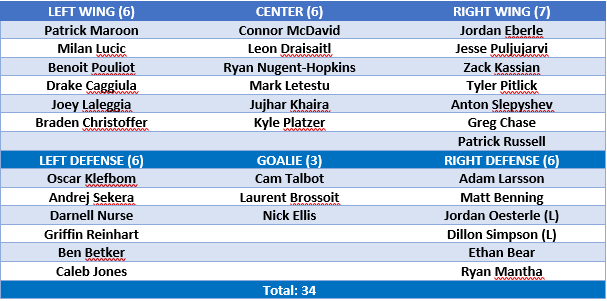 If Peter Chiarelli sandpapers the 50-man down to 34 (one slide rule: Tyler Benson) that should give him plenty of room to wheel.
I think the Oilers are going to count on Jesse Puljujarvi for a second-line role, but also have plenty of backup in Tyler Pitlick, Anton Slepyshev and even Zack Kassian. For this reason, I think Eberle is the less likely of the Steve Austin's to be moved this summer.
The Edmonton Oilers have a criminal lack of depth in terms of scoring wingers. It's really a concern. I think we will see a substantial number of CHL and NCAA free-agent forwards signed (like three or four if you include AHL deals).
If they can afford to move Leon back to center, and keep Nuge, that is the best center depth chart east of Pittsburgh, in my opinion.
I kept Benoit Pouliot because there is no obvious replacement for him. Seriously. If Benson had drilled the WHL for 92 points (that was his pace), or Drake Caggiula had scored 15 goals, or Jujhar Khaira had a little more offense, we could talk. The one guy on the roster who may have the chops to do it? Anton Slepyshev, but we still don't have him surrounded offensively.
Zack Kassian may have more offense in him than previously shown. His 5×5/60 numbers over his career suggest a full 82-game schedule with skill might bring out a 15-goal man at evens. That has value. With scoring wingers at a premium, I think Kassian and Pitlick are signed and make the team in the fall.
In looking at this list, one thing Peter Chiarelli has been doing from day one of arrival: Build up the middle.
The Cam Talbot trade was filthy.
Puljujarvi is going to be dangerous from that spot for years to come with McDavid feeding him one-timers. #Oilers https://t.co/RaB1tmXP4X

— Eric Friesen (@EricJFriesen) March 20, 2017
Eric's statement is going to be a key element for the 2017-18 season. The Oilers will have fewer bonus contracts (Leon, Reinhart) to deal with, so JP can run free and of course he has an additional year of experience. If the Oilers can replace this year's RW skill lines depth chart (Leon-Eberle) with Eberle-Puljujarvi and get 45-50 goals, that will go a long way to solving the scoring riddle on this team. That's one reason why the theme on this blog through spring and early summer is going to be Nuge as more vulnerable to trade than Eberle.
STANDINGS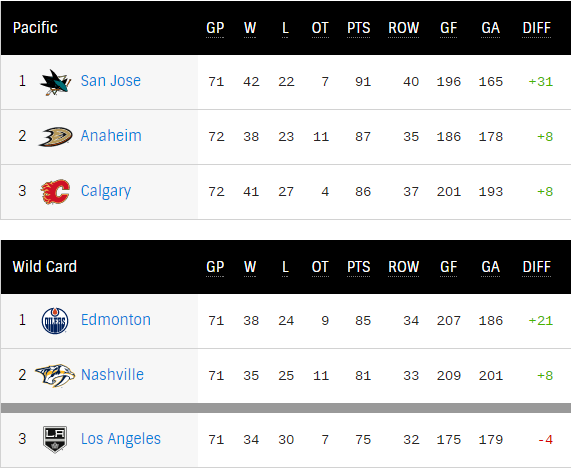 I haven't talked about it much this morning, because it is so obvious. The loss in Calgary last night was devastating for the Kings, and a loss in regulation tonight probably brings out the death rattle. Are the Oilers a team that can close? We see the Flames put that game away impressively last night, let's see if Edmonton can do the same.
LOWDOWN WITH LOWETIDE
It's Monday, rise and shine! Spring too, people! We hit the air running at 10 this morning, TSN1260. Scheduled to appear:
Scott Burnside, ESPN. The Art Ross and Hart race are on fire! Plus, we are getting closer to knowing who makes the playoffs, but matchups are still a blur.
Kent Wilson, Flames Nation. Calgary looks very, very good.
Jason Gregor, TSN1260. Brady jerseys, NCAA brackets, Oilers-Kings.
Sunil Agnihotri, Copper & Blue plus The SuperFan. What to expect from this week.
10-1260 text, @Lowetide on twitter.