On a night when the Los Angeles Kings arrived desperate and left frustrated, the Edmonton Oilers were all business and the result was never in doubt. Midway through the second period, I felt some frustration that the home team wasn't pushing for more, and by the third expressed open concern about it. Todd McLellan's Oilers couldn't hear me, and kept doing their responsible work, as a former champion bled out and the curtain closed on (probably) several careers on the coast. The Edmonton Oilers have arrived as an NHL team. They can rip it up and they can grind it out, and they have two impact players who consistently lead the way. I will tell you that last night's performance by McDavid in the first 20 was several miles beyond fantastic, one of the best individual performances I have ever seen.
BACKSTREETS, YEAR OVER YEAR
Oilers in October 2015: 4-8-0, goal differential -7
Oilers in October 2016: 7-2-0, goal differential +10
Oilers in November 2015: 4-7-2, goal differential -6

Oilers in November 2016: 5-8-2 goal differential -3

Oilers in December 2015: 7-6-1, goal differential -9
Oilers in December 2016: 7-2-5, goal differential +3

Oilers in January 2016: 4-5-2, goal differential -5
Oilers in January 2017: 9-4-1, goal differential +8

Oilers in February 2016: 3-8-2, goal differential -18
Oilers in February 2017: 6-6-0, goal differential -2

Oilers in March 2016: 8-8-0, goal differential +5
Oilers in March 2017: 5-2-1, goal differential +8
Oilers after 72, 2015-16: 27-38-7, goal differential -42
Oilers after 72, 2016-17: 39-24-9, goal differential +24
There are 10 games left in this season and all kinds of things are now coming into view. The Oilers, if they continue, are going to finish with a win total (44) that hasn't been seen this far north in 30 years. McDavid changed everything.
 WHAT TO EXPECT FROM MARCH
At home to: Detroit, NY Islanders, Pittsburgh, Montreal (Expected: 2-2-0) (Actual 1-2-1)
At home to: Dallas, Boston, Vancouver, Los Angeles (Expected: 3-1-0) (Actual 4-0-0)
On the road to: Anaheim, Colorado (Expected: 1-1-0) (Actual: 0-0-0)
At home to: Colorado, Los Angeles, San Jose (Expected 1-1-1) (Actual: 0-0-0)
Overall expected result: 7-5-1, 15 points in 13 games
Current results: 5-2-1, 11 points in 8 games
The Oilers are cooking with petrol now, and as we will discuss below, the Pacific Division is up in the air this morning. The rest of this week could see breaking news with this emerging team and we can officially begin the discussion about ideal playoff matchups.
DEFENSE, LAST NIGHT

Klefbom-Larsson went 20-19 in 16:28 and the pairing went 14-11 in over nine minutes with the Nuge line. That resembles a unit. Went 14-10 against Brown-Kopitar-Iginla and this pairing finished +1 on the evening. On a night when the Corsi for 5×5 for Edmonton was 40.83, both men had math on their side.
Nurse-Gryba went 13-14 in 13:51 and that standstill ratio reflects what I saw from them. Several moments of chaotic play, but overall the duo seemed able to get themselves out of trouble most of the time. Were caved 3-10 David Desharnais line (we talk about that line a lot in this context) but performed well with other lines. Nurse handled the giant LAK forwards well, winning battles and making good decisions.
Sekera-Russell went 8-29 in 13:13 and that includes 5-13  with Connor McDavid. The only real job the Oilers have is getting (and keeping) 97 in the offensive zone and in possession of the puck. If you do that enough, he will create goals. Does anyone doubt this? Went 4-12 against Pearson-Carter-Toffoli, that is the trio I regard as the No. 1 line.
Cam Talbot grabbed his second straight shutout. He has a .922SP overall and .931EV SP(No. 7 among starters), and .875 (No. 15 among starters defending against opposition PP's.
Numbers via NHL.com, NaturalStatTrick and HockeyStats.ca.
1LINE

I think last night's first period was the best 20 minutes in Connor McDavid's young career. He defined the game, created several chances and posted two assists. I thought the Maroon fight in the second was a mistake, because that line was rocking and then the rhythm went away. Probably just my mind making it up, but we believe what we believe. Anyway, 97 was breathtaking.
Line went 15-21 (97 and Leon) together but the breakdown by pairing is incredible. McDavid went 7-10 with Klefbom, 5-13 with Sekera and 4-2 with Nurse. I know we have to look at matchups, but this line needs to be heading north with full steam and good headman passes.
Line went 13-16 against Pearson-Carter-Toffoli, that's a good night considering the mindset of the Kings. A hard match (11:13).
Jeff Carter went 12-4 against Sekera and 3-5 against Larsson.
McDavid went 12-8 against Doughty, walked him like he was a mailbox.
Nine shots, one goal and 5 points for the line in a 2-0 game. A giant walks among us.
2LINE
I thought this line was effective, with and without the puck.
Line went 17-20 and spent extended time with the Klefbom-Larsson duo. I was so impressed by the defensive acumen, especially Nuge net front on a very good chance and Lucic with an effective check on Kopitar at the goal mouth with the puck waiting to be shoveled.
Went 17-20 against Kopitar in 14 minutes, that is as hard a match as you will see in the current NHL.
Lucic scored a nice goal, very quick reaction and he is playing his best hockey of the season. Impressive without the puck, including the Kopitar push, a shot block early and moving the puck to safe places several times.
Jordan Eberle is getting chances and making creative passes, I like his game over the last month.
Nugent-Hopkins is a cerebral center and defensively thinks the game so very well. I wish he would push offensively again, maybe that will come. Very valuable even if he plays at this level, especially for a team about to enter the playoffs.
3LINE

The line went 8-15 in 11 minutes, 3-1 with Klefbom and 3-10 with Nurse. Kings were shuffling lines so it is tough to spotlight specifics (Oilers Nerd Alert does a dandy job of it) but Desharnais did go 0-9 against Nic Dowd and that's pretty stunning. He did in 2:34, too. Lordy.
I like this line in the offensive zone and on the forecheck, but DD seems to have some recognition issues in the defensive zone. Hopefully it gets ironed out, he certainly adds a lot to the lineup.
4LINE

Line went 6-7, although it wasn't really a line for the whole night. Letestu went 4-1 with Nuge, Hendricks 2-0. The Maroon fight may have cost Caggiula in a strange way.
Lots of chatter everywhere about the Oilers not playing Slepyshev last night. I would like to remind you that not all of these guys make it, and every team has a Slepy and a Caggiula and a Khaira. They all have talent, but are going to need a little luck, too. Every team has a few fringe players who become favorites for fans, but generally speaking there is something they need to work on. All three Oilers prospects have something to recommend them, and I do like Slepyshev as a guy who can step up to a skill line. That said, he does lack some consistency and that may be the issue for Todd McLellan. No doubt in my mind he is a lock for the Oilers next season based on ability and performance, but I think you can say the same thing about the other two and there may not be room.
STANDINGS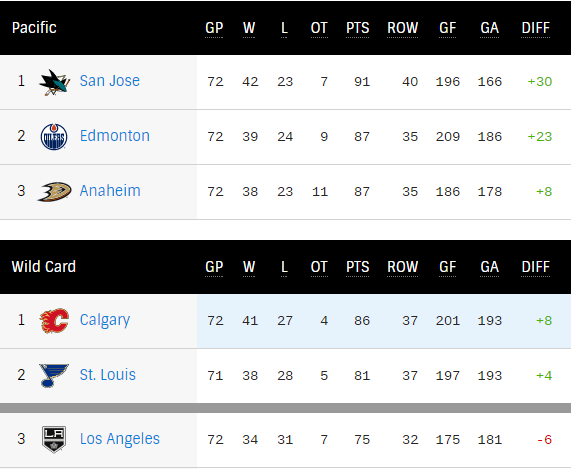 Edmonton is 12 points up on LAK with 10 to play, I think it fair for us to change our focus now. Can Edmonton climb to second in the division? That would mean the first postseason game since 2006 would be at home. The goal differential among these teams suggests the Oilers earned this spot and the schedule this week sets up pretty well. I have them going 1-1 this week, this team's road trip is shorter and easier than Calgary's and that may be enough to open up a gap.
LOWDOWN WITH LOWETIDE
A fun morning on the way, TSN1260 beginning at 10. A fluid guest list that will include Jonathan Willis of Oilers Nation and I have a few other items planned (including curling!).
JESSE PULJUJARVI
I don't read Finnish, but this is an interesting article based on google translate. More at 5.