Sometimes in life, when you need it, God gives you a Colorado—and it turns into an Avalanche, the good kind. Such was the case in Denver. For much of last night, I reverted to 'grumpy Lowetide' and turned the air blue. The dog learned some new phrases, and if there were a swear  jar, I wouldn't have enough for my morning coffee.
 HELP ME RHONDA, YEAR OVER YEAR
Oilers in October 2015: 4-8-0, goal differential -7
Oilers in October 2016: 7-2-0, goal differential +10
Oilers in November 2015: 4-7-2, goal differential -6

Oilers in November 2016: 5-8-2 goal differential -3

Oilers in December 2015: 7-6-1, goal differential -9
Oilers in December 2016: 7-2-5, goal differential +3

Oilers in January 2016: 4-5-2, goal differential -5
Oilers in January 2017: 9-4-1, goal differential +8

Oilers in February 2016: 3-8-2, goal differential -18
Oilers in February 2017: 6-6-0, goal differential -2

Oilers in March 2016: 8-8-0, goal differential +5
Oilers in March 2017: 6-3-1, goal differential +10
Oilers after 74, 2015-16: 29-38-7, goal differential -38
Oilers after 74, 2016-17: 40-25-9, goal differential +26
The Oilers reach the 40-win mark for the first time since 2007-08, and the 89-point level first time since the Stanley Cup Final team of 2005-06. Whatever we get out of this, I know I will never forget.
 WHAT TO EXPECT FROM MARCH
At home to: Detroit, NY Islanders, Pittsburgh, Montreal (Expected: 2-2-0) (Actual 1-2-1)
At home to: Dallas, Boston, Vancouver, Los Angeles (Expected: 3-1-0) (Actual 4-0-0)
On the road to: Anaheim, Colorado (Expected: 1-1-0) (Actual: 1-1-0)
At home to: Colorado, Los Angeles, San Jose (Expected 1-1-1) (Actual: 0-0-0)
Overall expected result: 7-5-1, 15 points in 13 games
Current results: 6-3-1, 13 points in 10 games
March is almost secure as a good month now, just one more win before we can check off our expectation. It didn't go exactly as planned, but then again looking back it's pretty close. Edmonton scored five goals in the third period last night, after entering the final frame in a real hole. Don't ask me if they deserved these two points or I'll have to tell you, but it's in the books and that's all that counts.
DEFENSE, LAST NIGHT

Klefbom-Larsson went 6-9 in 11:09 through the first two periods, and 12-5 in the third period (18-12 overall). They were poor in single moments. Honestly, I prefer to watch the game from 200 feet, counting Corsi and trusting that tilting the ice will give you a chance to win. For this pairing, on this night, those single events told a big part of the story. Larsson went dog whistle on the first goal, just took off like a bat out of hell. Klefbom's follies were less obvious, but they were not what they need to be in big moments. Went 4-7 against Landeskog-Duchene-Nieto, but 7-4 against Rantanen-MacKinnon-Andrighetto. Two games in a row we have seen unusual blue moves from this pair.
Sekera-Russell went 6-10 in 9:36 through two, 4-5 in the third, ending up 10-15 for the night. Both men posted crooked numbers in the scoring column. Russell had a dandy assist early, and made some fine mad dash defensive plays. He reminds me a little of M-A Bergeron, who was so accustomed to chaos he seemed to thrive on it. Sekera was brilliant with the puck, he's a very creative skill player and a Godsend for this roster. Went against 7-4 against Soderberg-Mitchell-Comeau, but 4-8 against Rantanen-MacKinnon-Andrighetto.
Nurse-Benning went 4-8 in 11:03 through two, and 2-1 in the third when hell was a popping. Pairing was on the ice only three minutes at evens in the third period. Played mostly with the Nuge and Letestu lines. McLellan used them liberally in the first two periods at 5×5, far less in the third period. Went 4-4 against the Soderberg-Mitchell-Comeau line.
Cam Talbot struggled for the second straight night, stopping 11 of 15. Laurent Brossoit was flawless for the second straight night, stopping six shots. I imagine Todd McLellan at least thinks about Brossoit as a starter on Saturday, but it could easily go the other way.
Numbers by NHL.com, HockeyStats.ca and NaturalStatTrick.
FORWARDS, LAST NIGHT

This is sorted by TOI, and replaces my 1line, 2line because there was so much movement on the evening.
Lucic-McDavid-Eberle went 11-9 together and frankly it felt like someone opened the window to let fresh air into the room. McDavid went 5-9 with Leon and 1-9 with Maroon. I wonder if we see these new lines Saturday? 97 was 10-13 against MacKinnon, 6-9 against Erik Johnson.
Caggiula-Nuge-Draisaitl went 8-8 together and Caggiula had a call me lightning moment on the GWG. What a pass from Leon! Oh my! Nuge was 1-9 with Eberle and 1-5 with Lucic before the change. Nuge was 4-7 against Duchene.
Pouliot-Desharnais-Kassian, the one line I identified as possibly needing a change, stayed together and scored a massive goal. Went 10-7 as a trio, pleased for all three of these men and their recent success. DD went 5-2 against Compher-Colborne-Bourque.
Letestu went 4-3 with Caggiula and Pakarinen, and 4-1 with Maroon and Eberle. It was a crazy game.
There were all sorts of combinations last night, and the shuffle worked very well. I do wonder if we see these new trios on Saturday.
STANDINGS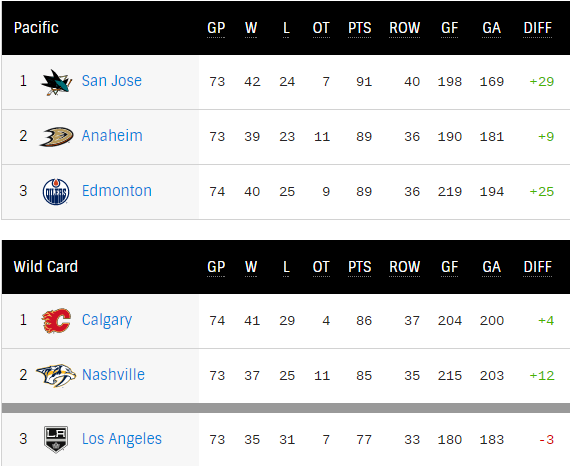 One of the reasons I was throwing seat cushions in the living room last night was what looked like a giant opportunity missed. Winning last night gives Edmonton some room to wheel now, and some very good things could result from the two points. Consider:
Edmonton is 12 points up on the Los Angeles Kings with nine to play. It's over, but we are also nearing the point where an x-Edmonton will appear in the standings.
Edmonton is three points up on the Flames with eight games to play. If the fever is broken, it will mean the young Oilers endured a hot streak by Calgary for the ages, and still came out on top. Too early to call it, but that would be a nice bullet point on the season resume.
BUZZFEED QUIZ: Which Edmonton Oiler Are You? https://t.co/UxPzupWdTf

— Loxy (@loxyisme) March 24, 2017
I enjoyed doing this (Nuge is my spirit animal, confirming what I suspected) and suspect you will as well. No pressure, but I consider Loxy a friend and it would be nice if you took her survey. No pressure, but if you don't I'm not picking up ice cream on the way home from work.
TOP 10 SCORERS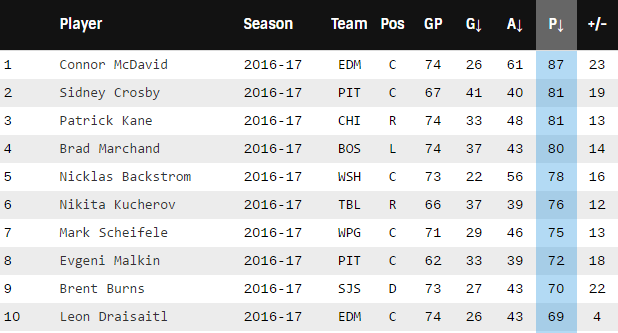 This is pretty cool, reminding me of the glory Oilers and the beloved Bruins of my youth. The Oilers have some major scoring at the top of the depth chart, pretty cool to see this kind of success for the heart of Edmonton's cluster (2014 and 2015 draft picks).
1970-71 FINAL SCORING
Total. Dominance. Didn't count for a hill of beans in the playoffs, but it would have to do until 1972. Notice the Frank Mahovlich acquisition by Montreal mid-season, that was a big deal. I had waited forever to see one of the expansion scorers reach the heights, and not just Red Berenson who was a veteran who moved to the other division. Lo and behold, Gilbert Perreault as a rookie! Time has faded the memory, but he was an enormous talent in 1970.
GOD'S FLASHLIGHT (FORWARDS)
Nothing shines a light on forwards like 5×5/60 scoring. If you are a top line player, 2.00/60 is the number you should be posting. If you are a generational talent, then you should be close to leading the league.
Connor McDavid 2.83 (No. 1 in the NHL)
Leon Draisaitl 1.99 (No. 48 in the NHL)
Patrick Maroon 1.83 (No. 70)
Zack Kassian 1.80 (No. 73)
Jordan Eberle 1.63 (No. 108)
Ryan Nugent-Hopkins 1.29 (No. 180)
Milan Lucic 1.16 (No. 194)
This is among forwards with 750 or more minutes at 5×5 this season. McDavid leads partly because of his 26 first-assists this season, and I have to say Zack Kassian has been a revelation. Kudos to Jordan Eberle for crawling from the wreckage of what was a truly difficult early portion of the year.
LOWDOWN WITH LOWETIDE
At 10 this morning, we have a fun two hours planned, TSN1260. Scheduled to appear:
Steve Lansky, BigMouthSports. Will we see an Oilers-Leafs SCF before the end of the decade? Plus 97 as Hart candidate.
Frank Seravalli, TSN. Which Canadian team has the best chance to go deep this spring?
Matt Iwanyk, TSN1260. Point-Counter Point will discuss the handling of the goalies, Matt suggested starting LB in Anaheim and he might have been right.
Paul Almeida, SSE. How far can the Oilers go in the playoffs?
10-1260 text, @Lowetide on twitter. Talk soon!