Oh those Saturday nights! Back in the 1980's, you could be assured of one thing when heading to Northlands Coliseum on a Saturday night: It was going to be a fun game. The NHL is a tighter league now, the room  to wheel has been coached out of the game, and oxygen is in short supply. Still, it is a beautiful game when Connor McDavid is in it and last night fans could let loose midway through the third period. We are close to the playoffs now, should be sometime this week. Music!
 MISERY AND GIN, YEAR OVER YEAR
Oilers in October 2015: 4-8-0, goal differential -7
Oilers in October 2016: 7-2-0, goal differential +10
Oilers in November 2015: 4-7-2, goal differential -6

Oilers in November 2016: 5-8-2 goal differential -3

Oilers in December 2015: 7-6-1, goal differential -9
Oilers in December 2016: 7-2-5, goal differential +3

Oilers in January 2016: 4-5-2, goal differential -5
Oilers in January 2017: 9-4-1, goal differential +8

Oilers in February 2016: 3-8-2, goal differential -18
Oilers in February 2017: 6-6-0, goal differential -2

Oilers in March 2016: 8-8-0, goal differential +5
Oilers in March 2017: 7-3-1, goal differential +13
Oilers after 75, 2015-16: 29-39-7, goal differential -39
Oilers after 75, 2016-17: 41-25-9, goal differential +29
The Oilers are now over 90 points for the first time since the good times, and the GD is +68 (!!!). Edmonton has 26 more points than they did at the same time one year ago and are headed for the postseason for the first time in one forever. That makes for a very nice Sunday morning coming down. As of this moment, March has the top goal differential (+13) for any month.
 WHAT TO EXPECT FROM MARCH
At home to: Detroit, NY Islanders, Pittsburgh, Montreal (Expected: 2-2-0) (Actual 1-2-1)
At home to: Dallas, Boston, Vancouver, Los Angeles (Expected: 3-1-0) (Actual 4-0-0)
On the road to: Anaheim, Colorado (Expected: 1-1-0) (Actual: 1-1-0)
At home to: Colorado, Los Angeles, San Jose (Expected 1-1-1) (Actual: 1-0-0)
Overall expected result: 7-5-1, 15 points in 13 games
Current results: 7-3-1, 15 points in 11 games
We agreed at the beginning of the month that March was going to be an easier time. I did project them to post seven wins and 15 points in the month, they just got here early. Another point or two this week wouldn't go amiss though, there's a race for the division title going on!
DEFENSE, LAST NIGHT

Nurse-Benning went 8-7 together in 10:28, both men had good moments passing and transporting. Benning's injury was a fluke but it didn't look good. Damn. Nurse was 1-4 with Larsson and 0-5 with Sekera. Nurse was 7-6 against Colborne-Grigorenko-Compher. I think this is a good third pairing, hope Benning is okay. They should recall Mark Fayne, put him right in the lineup, but the cap the cap the cap. Nurse is emerging as a rugged defender who has a range of skills and can impact the game in several areas. Early days but nice to see.
Klefbom-Larsson went 8-13 in 12:16 together, went 6-6 with McDavid line and 2-5 with the Nuge line. I was miffed at Larsson for the GA, but that was a terrible line change (it was actually a lazy flip by the forward). This pairing is not crisp right now though, and that must change. Went against 8-6 Rantanen-MacKinnon-Andrighetto line.
Sekera-Russell scored three points between them but didn't have the puck as much as three assists implies. Went 4-15 in 11:31 together, holy hell. Went 0-9 with the Nuge line, which sounds bad but if you saw it, then you know it was worse. Sekera went 1-16 against Landeskog-Duchene-Nieto, Russell went 2-10 against the same line. Crazy. This pairing does not break and that is their appeal, but for me (this is my opinion only) there are way too many high events against. If you're looking for an area where Calgary trumps Edmonton, look no further than the top 4D.
Laurent Brossoit will get better on rebounds but he's beginning to establish himself as a bona fide backup option while building trust with his coach. He made a fan-bloody-tastic save when it was still 2-1. Tremendous. Stopped 24 of 25, .960. Would do the Oilers a giant favor by winning the backup job, suspect the organization is pleased with his recent performances.
Numbers from NHL.com, HockeyStats.ca and Natural Stat Trick.
1LINE

The goal was fantastic, high skill and three great moves (one by each). McDavid is so so dangerous with turnovers, is anyone counting how many goals result from them? Brilliant pass by Caggiula and if Leon hadn't scored that would have been a double into the gap.
This line works well with the Swedish pair (6-6). And Sekera (4-4). I think the Oilers are going to need to run a veteran puck mover on the ice with them at all times.
Line went 7-4 against Rantanen-MacKinnon-Andrighetto, and 7-7 against Erik Johnson. Francois Beauchemin remains a pain in the ass, 4-7 McDavid against the veteran.
2LINE

Nuge and his band spent the first two periods playing that game where you make yourself dizzy spinning in circles. The line got fed in possession.
Nuge had a dandy third period on the power play, sending a nifty pass into the slot for Caggiula and scoring a nice 5×4 goal of his own. He needs the boxcars, good to see him have success.
The wingers had quiet nights, although that is unfair to Eberle who did have a couple of notable chances.
Trio went 3-10 against the Landeskog-Duchene-Nieto line, Todd McLellan chose this line and the Sekera-Russell pairing to play what I consider the top Avs line. Results were terrible, but I'm not sure there is a better option (McDavid up against MacKinnon line and Erik Johnson pairing is a good match for 97).
3LINE

Kassian was once again the star of this line, he was brilliant during the game and in the postgame with Scott Oake. I think we have to give him enormous credit, posting 1.85/60 at 5×5 (scoring) while on a secondary modern.
The line scored the game's first goal, nice to see Benoit Pouliot having some success. Some of these slumping forwards are closing strong.
Line went 1-5 against Bourque-Soderberg-Comeau, you'd hope for a better result but this line has been high event at both ends since being put together after the deadline.
4LINE

The line was not effective in possession, Letestu's 20 percent Corsi well below his season average of 45 percent.
Went 0-8 against Bourque-Soderberg-Comeau but 2-2 against the MacKinnon line in close to four minutes.
Drake Caggiula is 53, 6-10-16 on the year but 2-2-4 in his last two games. I've said all year we don't really know about his offense, and the last couple of games have been most encouraging. Many miles to go, but a very nice weekend arrow.
STANDINGS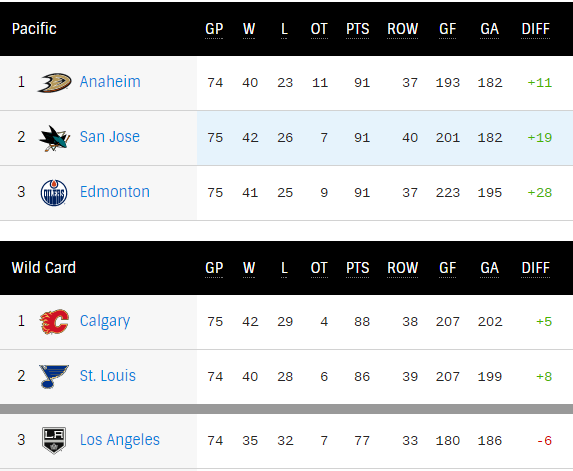 This is us! The Oilers are tied for the top in the Pacific Division and have the best goal differential. The offense is superior and the goals against is way down year over year.
2015-16 goals-for/against per game: 2.43-2.95
2016-17 goals-for/against per game: 2.92-2.53
The Oilers are improved in both areas, but the fact they are scoring at close to three goals a game is impressive. The Oilers are the No. 3 offense in the Western Conference this morning.
SCORING LEADERS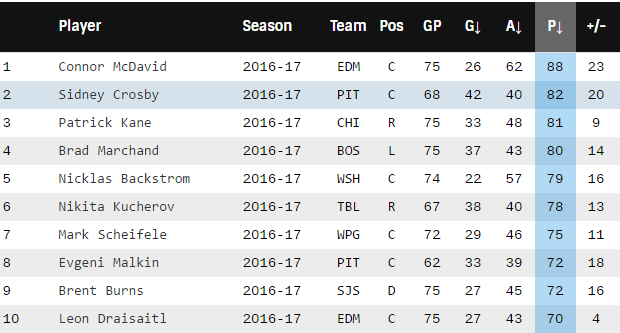 Connor McDavid has quietly opened up a bit of a lead and others are running out of track. Leon Draisaitl's late season surge (he is tearing up the blacktop) has him in company with some ridiculous names. Offense is not a problem for the Edmonton Oilers. Offense is not a problem for the Edmonton Oilers. Offense is not a problem for the Edmonton Oilers. Offense is not a problem for the Edmonton Oilers. Sorry, I just had to establish it in my mind.
Edmonton-born Spencer Foo has struck for 2 today. He is a Junior. If he turns pro my guess is the Oilers would be in the mix https://t.co/qkMkE4Lbzm

— Bob Stauffer (@Bob_Stauffer) March 25, 2017
This will be a story until it's not a story anymore, and that could come right away or linger. Spencer Foo is a skilled right-shot winger (38gp, 26-36-62 with Union College) and his NHLE is 13-18-31. As a comparable, Drake Caggiula's NHLE a year ago was 82gp, 22-22-44. Foo is 6.0, 180 and would be a very good fit based on need and age (he is 22). Where would I put him on the depth chart for next season? Probably 1R in Bakersfield depending on how the summer develops, but he wouldn't have a long minor league audition before getting an NHL recall in my opinion. Peter Chiarelli is once again fishing in the right spots based on need, and RW's with offense are badly needed. How much offense will be bring? Enough for us to be genuinely curious is my guess.