This is the moment that changed it all. The exact second fate stepped in and blessed the Edmonton Oilers and its fans. A lot has happened since, and the climb is not over. This morning, we know the feeling of joy combined with relief. This used to be home. It will be again.
Todd McLellan: "They've been there for 10 years, the rink's been sold out. They stuck with us."
Playoffs, bitches! How many of us can see straight? Is that fog or did I have too much to dream last night? (Primal scream here).
RIP THIS JOINT! YEAR OVER YEAR
Oilers in October 2015: 4-8-0, goal differential -7
Oilers in October 2016: 7-2-0, goal differential +10
Oilers in November 2015: 4-7-2, goal differential -6

Oilers in November 2016: 5-8-2 goal differential -3

Oilers in December 2015: 7-6-1, goal differential -9
Oilers in December 2016: 7-2-5, goal differential +3

Oilers in January 2016: 4-5-2, goal differential -5
Oilers in January 2017: 9-4-1, goal differential +8

Oilers in February 2016: 3-8-2, goal differential -18
Oilers in February 2017: 6-6-0, goal differential -2

Oilers in March 2016: 8-8-0, goal differential +5
Oilers in March 2017: 8-3-1, goal differential +14
Oilers after 76, 2015-16: 29-40-7, goal differential -41
Oilers after 76, 2016-17: 42-25-9, goal differential +30
Last night's game was done in under three hours and felt like an eternity. This is fact. Can't blame the Oilers though, they scored four goals but only two counted because because because. We've got all summer to suss out the reasons, but we know about the McDavid, we know how important Talbot has been and Leon Draisaitl blossomed into a fine offensive player. That GD (+71 year over year) is a stunner, has to be one of the best turnarounds in recent history.
WHAT TO EXPECT FROM MARCH
At home to: Detroit, NY Islanders, Pittsburgh, Montreal (Expected: 2-2-0) (Actual 1-2-1)
At home to: Dallas, Boston, Vancouver, Los Angeles (Expected: 3-1-0) (Actual 4-0-0)
On the road to: Anaheim, Colorado (Expected: 1-1-0) (Actual: 1-1-0)
At home to: Colorado, Los Angeles, San Jose (Expected 1-1-1) (Actual: 2-0-0)
Overall expected result: 7-5-1, 15 points in 13 games
Current results: 8-3-1, 17 points in 12 games
The Oilers secured a playoff spot last night, capitalizing on a month that (we agreed) looked easier compared to February. It's one thing to say it, another to deliver. This is a big day.
DEFENSE, LAST NIGHT 
Sekera-Russell went 12-11 in 12:03, including a dandy 8-3 with the McDavid line that featured several fabulous chances. Went 4-3 against Lewis-Jeff Carter-Toffoli in almost five minutes. That's an excellent number. Went 6-6 against Kempe-Brodzinski-Dustin Brown and 6-3 against Pearson-Kopitar-Iginla. A good night.
Nurse-Gryba combined for a goal! It was a fluke but they all count and I thought Nurse looked impressive when he pulled out to pass. Kind of cool that Gryba scored the playoff clincher, love those defensive defensemen and there are fewer every year.
Pairing went 9-7 in 13:04, including 2-2 in about five minutes with the Desharnais line. That's good, five low-event minutes from this group of five is rock solid. Went 5-4 against Kempe-Brodzinski-Dustin Brown and 4-1 against Pearson-Kopitar-Iginla. Good night for this pairing, too, and looks like Todd McLellan wasn't afraid of running anyone against Kopitar.
Klefbom-Larsson went 9-23 in 18:10 together, I thought most of the night featured Pearson trying (and sometimes succeeding) in getting past Larsson. That's a thing now, or at least has been for a few games (maybe three or four). Went 3-13 with Nuge. Pairing went 7-12 against Pearson-Kopitar-Iginla and 4-4 against Lewis-Jeff Carter-Toffoli. I liked their game save for those flights past Larsson by the LW.
Cam Talbot was fabulous, stopping 34 of 35, .971.
Numbers via NaturalStatTrick, HockeyStats.ca and NHL.com.
1LINE, LAST NIGHT

I love watching Connor McDavid play hockey. One of the most exhilarating experiences I have had as a fan. Warp speed, no fear, puck on a string, pure adrenaline. They'll sell you the whole seat but you'll only need the edge.
The line went 7-5 against Lewis-Jeff Carter-Toffoli, and that was (for me) the No. 1 line. I should mention it was a blender late so some of this might be a little off in terms of wingers but the C's are accurate against each other.
McDavid won the Doughty battle, 6-3 in 9:30. The fact that they went head-to-head for 9:30 tells us Sutter wanted that match and McLellan wasn't forced to move away from it.
McDavid was 6-2 against Iginla.
2LINE

Ryan Nugent-Hopkins had a good game to my eye, important because this team badly needs him.
Nuge went 2-10 with Klefbom and 3-13 with Adam Larsson, line was solid all other places. Some of it was bad luck (a quick break on the GA came after a nice sequence by the line), but that was not a strong combination on the night.
Nuge went 9-12 against Pearson-Kopitar-Iginla and the Oilers line had good moments inside that matchup. It was a physical game, partly because this line (and others) were doing a very good job of being where they were supposed to be at the right time. The Oilers frustrated the Kings at times last night. That element of the game has been so long away.
3LINE

I thought this was one of the best games we have seen from this line. BP is starting to trust himself now, meaning this line features two wingers who can forecheck, hammer the defensemen and skillyfully move the puck. They are a load.
The line went 4-2 against Clifford-Dowd-Nolan and 3-0 against Kempe-Brodzinski-Dustin Brown. You'd have to give that a passing grade.
Kassian scored but they didn't count it. Important business, Kassian is going to be looking for a contract this summer, so 10-20-30 would have real value. He is 7-16-23 so far this year, these disallowed goals are costing actual money on his next deal.
Pouliot had a great look late but couldn't cash. DD is getting all kinds of chances most nights.
4LINE

The line lost the possession battle badly, running 4-12 against Kempe-Brodzinski-Dustin Brown. That line had 10 shots, including a fabulous chance by Brown (who should have been called for holding the stick against Eric Gryba).
Caggiula looks like he is starting to see the game at pace, and that has translated (recently) into a more urgent and effective game.
Slepyshev had a quiet offensive game, but for me he used his body well to get in the way, hit the opponent and generally make life difficult for LAK.
STANDINGS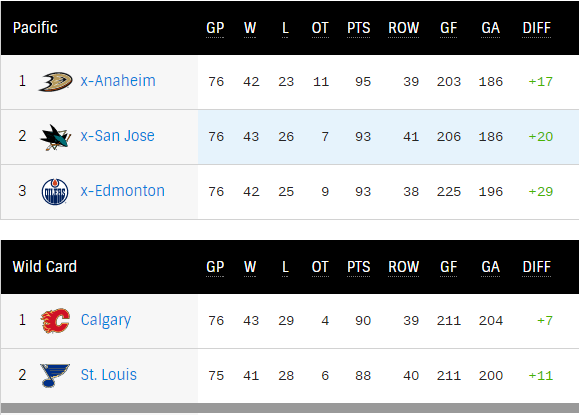 Everyone held serve, and now the Oilers have just one game left in March, tomorrow night against San Jose. Safe to say a win against the Sharks would make it very difficult for Calgary to catch the Oilers (three points up and five to play). Massive week.
#Oilers signed free agent F Joseph Gambardella to 2-yr, entry-lev deal which begins 17-18. First-ever UML player to win Walter Brown Award.

— Frank Seravalli (@frank_seravalli) March 28, 2017
this kid's a player. https://t.co/yhajX3TiC3

— ryan lambert (@twolinepass) March 28, 2017
fwiw i had gambardella, a center playing the toughest competition, at appx. +2.9% CF, +3 FF%, +1.6 SF%, +1.7 HQF%, +19.2% GF% at 5v5 this yr

— ryan lambert (@twolinepass) March 28, 2017
Lambert is a very smart guy and I trust him and his numbers. This is an interesting signing on all kinds of  levels, including player-type. Gambardella appears to be an aggressive puck hound who scores a lot of his goals by driving to the net. His NHLE is 82, 13-25-38 and I like the way Lambert described this player and his line.
The game Lowell brings to the table every season is hard forechecking and cycling, but few lines have done it to the level of perfection Gambardella, Smith, and Edwardh brought this year. They create so many own-zone turnovers that end up in the back of the net, and leave opposing coaches shaking their heads. Coaches tend to categorize these things as uncharacteristic mistakes, and to some extent that's true. But the mistakes are very characteristic of what happens when you play the River Hawks.
50-MAN LIST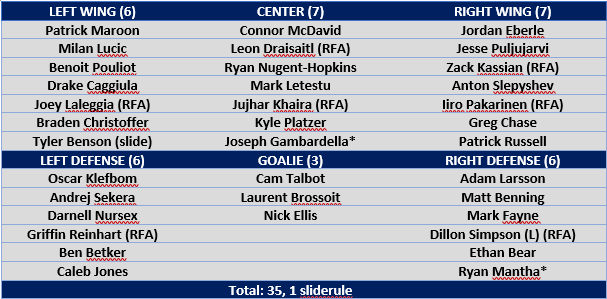 UFA: David Desharnais, Matt Hendricks, Tyler Pitlick, Kris Russell, Eric Gryba, Jonas Gustavsson, Justin Fontaine, Jordan Oesterle, Mark Fraser
RFA and not listed: Anton Lander, Henrik Samuelsson, Bogdan Yakimov, Jere Sallinen, Zach Pochiro, Eetu Laurikainen, David Musil.
Photo by Mark Williams, all rights reserved
The Oilers have miles of room at this point, I expect we will see more college and CHL grad signings (although some may be AHL contracts).
One deal that we could see among former draft picks is Ziyat Paigin, who could join Jones, Bear and Mantha on a young but promising blue in Bakersfield.
I think Mark Fayne gets bought out and Griffin Reinhart wins 7D job, meaning Gryba is unlikely to return.
Among UFA's, I think the most likely to return is Tyler Pitlick. Jordan Oesterle? I imagine he and his agent will want to shop around and see if there is a depth chart that can place him high enough to make an NHL team. Vegas? You never know.
I don't think there's an RFA listed we can consider a lock to return, I have all of the keepers already on my 50-man.
LOWDOWN WITH LOWETIDE
Darcy McLeod, Because Oilers. Playoffs! Playoffs! Playoffs! Plus best opponent in Round 1, possession lagging and Benning v. Gryba.
Ryan Lambert, Puck Daddy! Lambert knows about Mr. Gambardella's game, we'll chat about expectations.
Scott Cullen, TSN. What a spring for Canadian hockey! Oilers, Leafs, Senators, Habs, plus another team I can never remember! Plus Jays.
10-1260 text, @Lowetide on twitter. Talk soon!