By playoff time in their second NHL season (spring 1981) the Oilers were ready to make some noise. The quick exit against Philadelphia forgotten, Edmonton faced the legendary Montreal Canadiens in Round One that year. No matter how you felt about the Habs of that era, they were an impressive crew. The legends came in waves, I remember Steve Shutt being especially strong in that series, but each line and pairing boasted a famous name. The upstart Oilers cared not one damn, and drove them off the road in three games, scoring 15 goals to Montreal's six during the three-game series. Legendary Canadiens? Guy Lafleur, Steve Shutt, Guy Lapointe, Larry Robinson, Serge Savard, Rod Langway, Bob Gainey, Pierre Mondou, Rejean Houle, Pierre Larouche. Hell boys, that's an All-Star team! Steamrolled.
The Oilers faced the NY Islanders in the second round, pushing the eventual Stanley Cup winners to six games. No other team would give New York as tough a time in 1981, and from that series forward the Oilers knew who they were chasing and the improvements required to conquer the Potvins.
 MR JAWS, YEAR OVER YEAR
Oilers in October 2015: 4-8-0, goal differential -7
Oilers in October 2016: 7-2-0, goal differential +10
Oilers in November 2015: 4-7-2, goal differential -6

Oilers in November 2016: 5-8-2 goal differential -3

Oilers in December 2015: 7-6-1, goal differential -9
Oilers in December 2016: 7-2-5, goal differential +3

Oilers in January 2016: 4-5-2, goal differential -5
Oilers in January 2017: 9-4-1, goal differential +8

Oilers in February 2016: 3-8-2, goal differential -18
Oilers in February 2017: 6-6-0, goal differential -2

Oilers in March 2016: 8-8-0, goal differential +5
Oilers in March 2017: 8-3-1, goal differential +14
Oilers after 76, 2015-16: 29-40-7, goal differential -41
Oilers after 76, 2016-17: 42-25-9, goal differential +30
G77 was a 6-3 win
over the San Jose Sharks, Patrick Maroon with the winner as he showed early chem with Connor McDavid. Edmonton reached 30 wins and would win another before the end of the schedule. If the Oilers win tonight, we can talk about 100 points as a possibility. Incredible.
 WHAT TO EXPECT FROM MARCH
At home to: Detroit, NY Islanders, Pittsburgh, Montreal (Expected: 2-2-0) (Actual 1-2-1)
At home to: Dallas, Boston, Vancouver, Los Angeles (Expected: 3-1-0) (Actual 4-0-0)
On the road to: Anaheim, Colorado (Expected: 1-1-0) (Actual: 1-1-0)
At home to: Colorado, Los Angeles, San Jose (Expected 1-1-1) (Actual: 2-0-0)
Overall expected result: 7-5-1, 15 points in 13 games
Current results: 8-3-1, 17 points in 12 games
Final game of the month and full credit to this emerging team. The numbers are terrific, especially since leaving Montreal (7-1-0). I have to say, this has been a very impressive month.
OILERS FORWARDS 2016-17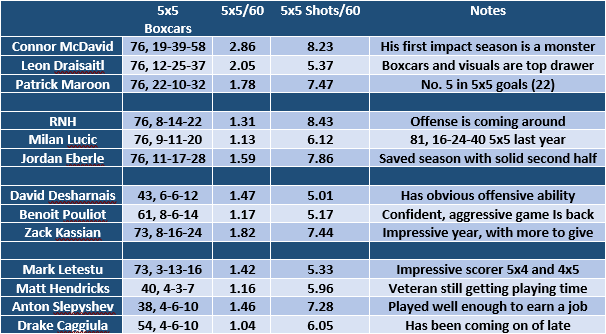 Among forwards playing 750 or more minutes, Connor McDavid ranks No. 1 in the NHL 5×5/60 scoring. A very productive season offensively at 5×5 by Patrick Maroon has been a key to the line, and Leon Draisaitl's sublime passes add to the chemistry of this line.
Jordan Eberle has recovered very well from that poor start, credit where due. Nuge is posting better numbers but is likely to run out of track before hitting 1.50.
Zack Kassian is one of the best stories of this season. His 1.82/60 does not include feature minutes with 97 and he's been robbed of numerous goals along the way. He may be one of the few NHL players to peak after age 27.
I'll be interested to see how much playing time Matt Hendricks receives in the playoff games. The obvious answer is at least half of the games, but Todd McLellan is going to need options and he's going to need offense. I wonder.
OILERS DEFENSE, 2016-17

All numbers via Stats.HockeyAnalysis.com and Corsica.hockey.
The offensive output is impressive compared to recent history. Edmonton's defensemen have produced 26 5×5 goals this year according to Stats.HockeyAnalysis.com, compared to 14 one year ago.
Oscar Klefbom has received criticism this season, but I think many are missing this young player blossoming before their eyes. His shot is a weapon now, he lugs the puck with a purpose, and he has flown hundreds of sorties. That means we are closer to the mature player he will be, and the results so far are very good.
Adam Larsson was described by John Short on the Lowdown the other day as 'the Lee Fogolin' and that makes a lot of sense. Larsson has the calm feet to settle down his pairing, and plays with the kind of edge that keeps the opposition honest. We don't associate 'heart and soul' players with 'Swedish passport' but that says more about us than it does Adam Larsson.
Andrej Sekera remains an underrated and effective defender, I keep reading about his being a shinpad assassin or that Kris Russell is really helping his game. If those things come to mind when you think of Sekera, you're missing the player completely. Try again.
Kris Russell does well by Fenwick, this is adjusted for score and zone starts. Sunil Agnihotri tells me anything 49+ adjusted is reasonable, and Russell's Dangerous Fenwick against elites is 46.3 (-1.3 rel) isn't that far from Larsson (47.2, 0.1).
Matt Benning (49.3, 3.3) is the DFF star among the RHD on this roster, and as Darcy McLeod mentioned on the Lowdown yesterday his numbers are drawing back. There was a substantial wobble in the period that Benning returned from his concussion. A good sign.
Darnell Nurse stepped forward smartly this season, there was much talk a year ago about his inability to play an effective game. Miles to go, he is just getting started, but there are some good arrows this season.
SHARKS!
Jake Sundstrom: San Jose ended a long skid on Tuesday by beating the Rangers 5-4 in overtime while the Oilers topped the Kings to get into the playoffs for the first time since 2006. The teams currently have a 46 percent chance of meeting in the first round of the postseason according to hockeyviz.com, a matchup I like for the Sharks (the absence of Logan Couture and my concern about the health of Marc-Edouard Vlasic notwithstanding). Source
Very fair assessment by Sundstrom, who will join me on the Lowdown at 10:40 this morning for an entertaining and informative chat. SJS went to the SCF a year ago, and have crazy skill married to responsible players and a system that works for its employees. Tonight could be a playoff preview and the Sharks are finding their legs (I know, I know, but it's approaching 8:30 and I don't have tie to think of another line).
Ethan Bear finishes the night with 2 G / 3 A. 3-2-6-8 through @SeattleTbirds first 3 games. #enfuego #Oilers @zjlaing

— Brennen York (@york_dg) March 30, 2017
The Oilers trio of blue (Bear, Caleb Jones, Ryan Mantha) are all having varying degrees of success, I find myself hoping we see one or more in the AHL by year's end. Bear had an impact offensive season and based on reports improved defensively as well. Suspect we will all project these kids to the NHL too soon, and am heartened by the fact the Oilers finally have enough depth to let these youngsters develop at their own pace. A reasonable guess on NHL debut ETA for any of these three is halfway through entry-level deal. If they make it before then, music!
Spencer Foo to forego senior season ➝ https://t.co/CN1wKAgNhC pic.twitter.com/Qftz8fkLYd

— Union Hockey (@Unionmhockey) March 29, 2017
Still no word on Vecchione either. Could be a package deal. https://t.co/Gzm4JwD90D

— Steve Kournianos (@TheDraftAnalyst) March 29, 2017
As we discussed yesterday, Peter Chiarelli has tons of room on the 50-man if he cuts deep this spring on the RFA's and UFA's. Based on what I have been reading, Foo is the more promising prospect, although seems Vecchione is the more famous:
Michael Vecchione NHLE: 82gp, 14-17-31
Spencer Foo NHLE: 82gp, 13-18-31
A package deal might be a very good fit for an organization looking to populate the pro system with as many plug-and-play options as possible. Stay tuned!
LOWDOWN WITH LOWETIDE
A very busy morning, lots of terrific guests. 10 this morning, TSN 1260 and scheduled to appear:
Bruce McCurdy, Cult of Hockey. Oilers in the playoffs and a chance at 100 points! Plus, Bruce was at the Red Deer Rebels game last night and will give us some names to remember for the draft.
Jake Sundstrom, Fear the Fin. One of my favorite guests, he is funny and informative. Playoff preview tonight?
Paul Almeida, SSE. Playoff roster and deployment: Who does McLellan sit?
Frank Seravalli, TSN. Are the Oilers underdogs no matter their first-round opponent? Why?
10-1260 text, @Lowetide on twitter. See you on the radio!