By 1982 the Edmonton Oilers were a famous team. Wayne Gretzky scored 212 points and the heart of the order (99, Glenn Anderson, Paul Coffey, Mark Messier, Jari Kurri) posted massive numbers. The team won the division handily (111 points, second place Vancouver could manage only 77) and were rewarded with the fourth place Los Angeles Kings in the preliminary round. Edmonton had a goal differential of +122 and LAK -55. The Kings were so bad the only team they could beat in the final standings were the Colorado Rockies (now New Jersey Devils). This was a lopsided series if there ever was one.
Yeah. The Oilers won the first period of Game 1 by a 4-3 score, that gives you a small clue about what the issues were for this Edmonton squad. LAK won the second period 5-2 (seriously) and then coasted home to a 10-8 win. The Oilers actually tied it before the Marcel Dionne line (Charlie Simmer-Dave Taylor) took over. Edmonton won the next night in OT (Gretzky) and that set the stage for Game 3. The summaries are here.
Game 3 is the one everyone remembers. Edmonton took a 5-0 lead (!!!) through two periods, but the third period was a nightmare that will live forever in my brain. I blame Garry Unger, and it might not be fair but in my mind it was on Unger and the result was a loss, a series loss and the trading of Risto Siltanen. Jay Wells scored to start the period, Jay Wells couldn't hit the ocean with the puck if he was in it. Pat Hughes had an unsuccessful breakaway late (it was 5-4 EDM) that remains embedded in my brain, but Unger took a major penalty and LAK tied it with five seconds in regulation on what could kindly be called a scramble. Daryl Evans, a rookie, won it in OT. Edmonton won game 4 in LAK, but in Game 5 back in Edmonton, the Kings scored three power-play goals in the first period and the Oilers couldn't recover. I choose not to remember much of the series, but 35 years later I'm still mad at Unger and cannot erase the visual of Evans' celebration. It hurt, because by 1982 there were expectations. As joyous as 1981 had been, with a win over the Habs, this loss was devastating. The Kings weren't a good team at all, but the Oilers needed to add depth and defense in order to make the next step. As good as they were, and they were historic, the 1982 Oilers weren't worthy of the balance photo. You could look it up.
 THERE'S A PLACE, YEAR OVER YEAR
Oilers in October 2015: 4-8-0, goal differential -7
Oilers in October 2016: 7-2-0, goal differential +10
Oilers in November 2015: 4-7-2, goal differential -6

Oilers in November 2016: 5-8-2 goal differential -3

Oilers in December 2015: 7-6-1, goal differential -9
Oilers in December 2016: 7-2-5, goal differential +3

Oilers in January 2016: 4-5-2, goal differential -5
Oilers in January 2017: 9-4-1, goal differential +8

Oilers in February 2016: 3-8-2, goal differential -18
Oilers in February 2017: 6-6-0, goal differential -2

Oilers in March 2016: 8-8-0, goal differential +5
Oilers in March 2017: 9-3-1, goal differential +15
Oilers in April 2016: 1-1-0, goal differential -1
Oilers in April 2017: 0-0-0, goal differential nil 
Oilers after 77, 2015-16: 30-40-7, goal differential -39
Oilers after 77, 2016-17: 43-25-9, goal differential +31
G78 was a 6-4 loss
to the LAK as the Oilers were running out the string. Tonight's game for Edmonton is probably the toughest left on the schedule. Win tonight, and 100 points is probable.
 WHAT TO EXPECT FROM APRIL
At home to: Anaheim (Expected:1-0-0) (Actual: nil)
On the road to: Kings, Sharks, Canucks (Expected: 1-1-1)
At home to Canucks (Expected: 1-0-0)
Overall expected result: 3-1-1, seven points in five games
Current results: nil
If my projection for April is correct, the Oilers will finish the season 46-26-10, 102 points. I think they can win tonight, but also don't think they will run the table so will call it an OT win. If the Oilers don't win tonight, we should look for a strong performance from the group. The Ducks represent the last top flight team on the schedule, although the Sharks have injuries and could easily re-emerge as a strong contender in the playoffs.
 PETER CHIARELLI SPEAKS
One of the things we have to get used to is very few opportunities to hear the general manager talk about his team. A recent article by Terry Jones offered some interesting insight and I recommend it to you (link below).
Chiarelli: "We didn't do a major move before the trade deadline and the guys showed us that they've got something. We had chances to make big moves, whether it was rentals or larger moves, but I decided at an early stage that, no, this group has shown me something." Source
My guess is this was about the goalie (Halak) and the center (Hanzal) and the prices were too high for those two veteran additions. If PC had pulled the trigger on those deals, we would probably be without that first-round pick in 2017 (and or 2018) and Caleb Jones (along with Brandon Davidson, who was dealt).
It has to be tough, building up the NHL team and the system at the same time. Chiarelli's quote, while interesting, probably doesn't apply long term. Men like Ryan Nugent-Hopkins and Jordan Eberle are up against it, and possibly soon. Management will know by now what the Connor McDavid cap hit is going to be, and my guess is that it's closer to $12.5M a year than it is to $9M. By the way, that's still a bargain. If you sign Leon Draisaitl to the Aleksandr Barkov deal ($5.9M), that means the clock is ticking on someone. The club might be able to get to Eberle's free agency (2019 summer) but it would be dicey. If they proceed that way, not a chance in hell Kris Russell gets signed.
PROJECTED 2017-18 ROSTER

This is just a projection and doesn't include the pending buyout of Mark Fayne or the retained money on Lauri Korpikoski ($1M). This lineup will run pretty close to the cap with those things included, don't think they can shoehorn Russell onto this roster.
By the way, I chose Cody Franson as my example because he scores very well on Corsi Rel 5×5 compared to other regulars. I'd be just as happy with Radko Gudas or Josh Manson, but chose Franson because he is probably more readily available.
And just like that, @joeylaleggia ties things up for the @Condors. #ONTvsBAK pic.twitter.com/vdAwwNDzTE

— AHL (@TheAHL) April 1, 2017
Joey Laleggia is making things interesting. Since January 1, the left winger (and former defenseman) has scored 16 goals in 32 games. Folks, that's a really good run and at some point the Oilers are going to have to give him an NHL look.
2 more points for Ethan Bear tonight. Now 9 in 4 playoff games as his team sweeps first round.
Jones with 6 in 4 games with series tied at 2

— WheatNOil (@WheatNOil) April 1, 2017
Ethan Bear is about to graduate to pro hockey, and I'm going to miss checking his boxscores. I ranked Bear No. 38 in 2015, based on some impressive scouting reports and 13 goals in his draft year. The young man has delivered on the boxcars and anecdotal information tells us Bear has made substantial steps forward across the board. That doesn't guarantee pro success, but this is a player who has made real progress since draft day.
I always like to apply the lessons learned from the past to the moment that is today. Here are the scoring leaders among WHL draft-eligible defensemen this season:
Juuso Valimaki 19
Dylan Coghlan 15
(Ethan Bear, 2014-15) 13
Cale Fleury 11
Henri Jokiharju 9
Artyom Minulin 8
Josh Brook 8
Cal Foote 6
One more thing to keep in mind: Age. Bear has a late June birthdate, meaning he was younger than most of his draft pool. Coghlan (as an example) has a February 1998 birth certificate, meaning he was eligible for last year's draft and his four goals last year would be a more appropriate comparison (or Bear's draft+1 total of 19 goals). Valimaki is also a 1998 (October), meaning he is also about nine months older compared to Bear in his draft year. Interesting stuff and I do think draft year performance (and age) are indicators of future success. Bear had good arrows. Among CHL defensemen, I like the future of Nicolas Hague (December 1998, 18 goals)and Noel Hoefenmayer (January 1999, 14 goals) quite a bit, we'll see if the Oilers invest in a defenseman at the draft this year.
STANDINGS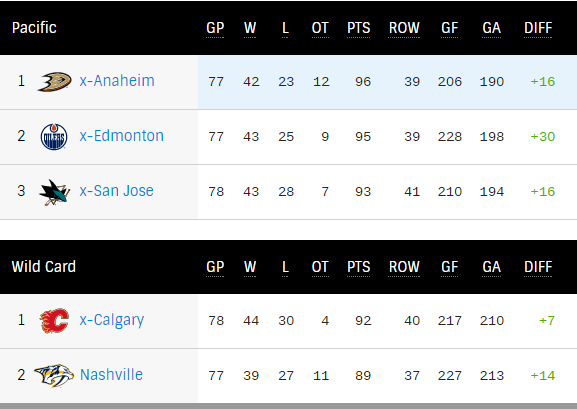 The Oilers could be in first place by midnight! Music! Actually, beyond music! Success has a thousand fathers, failure is an orphan, but I know of no one who predicted this result.
SCORING LEADERS

This is a fun scoring race, it's like a heavyweight bout with both fighters taking turns hammering the opponent. McDavid is up tonight against the Ducks, Kane is rocking and rolling now.