In 1979 fall, the NHL welcomed (ironic word, if you remember the WHA expansion draft) four new teams: The Edmonton Oilers, Hartford Whalers, Quebec Nordiques and Winnipeg Jets. In one fell swoop, the senior league embraced youth and speed and ended the careers of countless legends. My favorite players, like Phil Esposito, looked old and slow next to the new crop of youngsters, who had been artificially held back from playing in the NHL due to WHA raids of Canadian junior leagues.
Last night reminded me of 1979-80. Watching teenagers fly past legends like they were a house on the side of the road was shocking then, and it was noticeable last night. The Edmonton Oilers may not beat these Anaheim Ducks in a playoff series, but some of those Anaheim veterans are facing an 'also in photo' spring.
The first period of last night's game was as fine as I've seen this team play in a decade. As one might expect, the second period was no Rembrandt and the third period included some false starts, missteps and special teams angst. Through it all, this team found a way. Edmonton needs a better PK and secondary scoring needs to show up more often, but they won the possession battle and were the better team through three periods.
 BREAKDOWN, YEAR OVER YEAR
Oilers in October 2015: 4-8-0, goal differential -7
Oilers in October 2016: 7-2-0, goal differential +10
Oilers in November 2015: 4-7-2, goal differential -6

Oilers in November 2016: 5-8-2 goal differential -3

Oilers in December 2015: 7-6-1, goal differential -9
Oilers in December 2016: 7-2-5, goal differential +3

Oilers in January 2016: 4-5-2, goal differential -5
Oilers in January 2017: 9-4-1, goal differential +8

Oilers in February 2016: 3-8-2, goal differential -18
Oilers in February 2017: 6-6-0, goal differential -2

Oilers in March 2016: 8-8-0, goal differential +5
Oilers in March 2017: 9-3-1, goal differential +15
Oilers in April 2016: 1-1-0, goal differential -1
Oilers in April 2017: 1-0-0, goal differential +1 
Oilers after 78, 2015-16: 30-41-7, goal differential -41
Oilers after 78, 2016-17: 44-25-9, goal differential +32
This is now ridiculous. Edmonton wins No. 44 and wins the possession game, the shot clock and (in overtime) the game to grab first place in the Pacific Division. It's like the Topanga Cowgirl who comes every night: Anticipation is its own reward.
 WHAT TO EXPECT FROM APRIL
At home to: Anaheim (Expected:1-0-0) (Actual: 1-0-0)
On the road to: Kings, Sharks, Canucks (Expected: 1-1-1)
At home to Canucks (Expected: 1-0-0)
Overall expected result: 3-1-1, seven points in five games
Current results: 1-0-0, two points in one game 
Last night was the biggest test (in terms of opponent) for the rest of the regular season. I don't think they'll sweep, but our line in the sand is reasonable. At this point, the Oilers would have to stumble badly in order to miss the century mark.
DEFENSE, LAST NIGHT 
Klefbom-Larsson went 17-8 in 16:43, a sparkling night in possession. Larsson got an assist and he was unusually involved in the offense, flying several sorties during the evening. Klefbom also engaged, but it is less shocking to see him do it. Larsson went 13-8 with Connor McDavid in 8:18 (10-7 for Klefbom), and 3-1 with Nuge (5-2 with Desharnais). Went 12-7 against Rakell-Getzlaf-Eaves, a very dangerous line. A very fine job by this pairing.
Sekera-Russell went 17-12 in 16:28 together, the second straight game of solid possession for this duo. Went 10-7 with McDavid line and 9-5 with Nuge, those two centers making up about 15 minutes of Sekera's 5×5 TOI. Went 12-4 against Rakell-Getzlaf-Eaves, 9-6 against Cogliano-Kesler-Silfverberg. Effective. Sekera had a gigantic goal-mouth chance but Holzer effectively blocked him away from the puck.
Nurse-Gryba went 16-14 in 11:22 together, Nurse going 4-2 with Larsson over a couple of minutes. Went 13-4 with McDavid, 5-4 with Nuge and 3-6 with Desharnais. Nurse seems to be making another step in terms of puck carrying and we'll see if that adds to the offense.
Cam Talbot made some fantastic saves to keep it close, stopping 16 of 18, .889. His save on Corey Perry late was a massive moment in the game. 40 wins ties Grant Fuhr!
Numbers via NaturalStatTrick, NHLcom and Hockey Stats.ca.
MCDAVID LINE

What a night! Outstanding possession numbers, married to 2-4-6 as a line! 20 shot attempts, they drove to the net all night long.
Went 19-11 against Rakell-Getzlaf-Eaves, 17-9 against Lindholm-Manson and 16-8 against Fowler-several  (including Vatanen and Bieksa). I'm not sure if Randy Carlyle was juggling his pairings for 97 or just trying to find two defensemen who could get possession, but it was a scramble for sure.
This trio may pass 90 goals on the season this week.
NUGE LINE

The three men listed here now have 51 goals on the season. Lucic scored No. 19 last night, not far from his predicted total for the year. How he got there (PP) is the story.
Eberle damned near scored on that backhand, and he did get some looks last night. I know this line has to produce but they seem more productive lately (although the numbers are not where they need to be).
Line went 11-4 against Fowler, 2-5 against Bieksa and 8-3 against Vatanen.
Lucic scored a huge goal last night, one of the major surprises for me about this season is his 5×4 success. He now has 22 PP points (13-9), previous high was 14 (in 2010-11).
The penalty on Nuge that led to the 2-1 ANA goal was a poor call on a nothing play.
DD LINE

Although they didn't score, I thought this line improved game over game. Lots of subtle plays.
Line went 4-1 against Ritchie-Vermette-Perry, 1-5 against Cogliano-Kesler-Silfverberg. There was no pronounced matchup against any one pairing for this trio (as one would expect).
Pouliot did good work on the PK (the second PP GA should have been a penalty against ANA) and he was forechecking like a demon.
LETESTU LINE

Line didn't play much together, as Matt Hendricks didn't see a lot of ice after his penalty.
Line went 4-2 together, Letestu jumped up with Kassian (5-0) for a time and Caggiula (2-1) spent some time with Kassian, too.
Line went 4-2 against Ritchie-Vermette-Perry.
Anton Slepyshev may see action in the coming week.
Caggiula once again did enough to get noticed, including a key penalty drawn late in the game.
MCDAVID INTERVIEW
Is here. The beauty of Scott Oake is that he's incapable of asking a boring question, so the answers tend to have a air of freshness about them. I've seen Connor McDavid interviewed dozens of times now, this is the best one. Louie Debrusk fits in well here, asks more traditional questions that work better because the Oake queries are so unusual.
PULJUJARVI SCORES!
VIDEO: It's a #PulParty in Condorstown! @jpuljujarvi with the power play goal, and it's 1-0 in the first. pic.twitter.com/SeVimYNvKA

— Bakersfield Condors (@Condors) April 2, 2017
Jesse Puljujarvi scored the first goal in the Condors victory last night, his offense so far in the AHL impressive enough to look comfortable placed against previous teenage scorers:
Mikko Rantanen (age 19) 52gp, 24-36-60 1.15
David Pastrnak (age 18) 25gp, 11-17-28 1.12
Jesse Puljujarvi (age 18) 33gp, 11-14-25 .758
Rantanen is six months older (well more than that, but in relation to their draft day) than Puljujarvi, I don't think it's out of line to suggest JP could duplicate Rantanen's number if he played in the league this coming season. It's more difficult to make a direct connection to David Pastrnak, who aligns in terms of age and was more productive in the AHL.
STANDINGS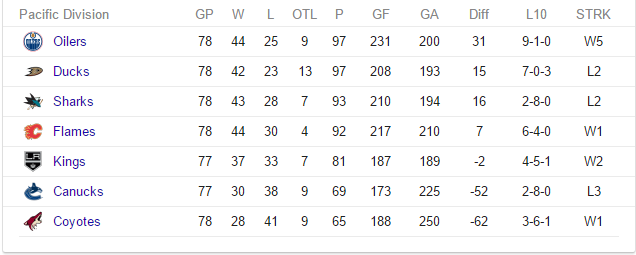 It's too early for beer at my house, so I'm going to Irish my coffee this morning and spend some time looking at this beautiful table. Music!