Since we have an evening to chat about challenges past the current season and playoffs, I thought it might be an idea to talk about the 50-man list as we enter the summer. Let's start with the 50-man list as Chiarelli took over.
50-MAN MAY 2015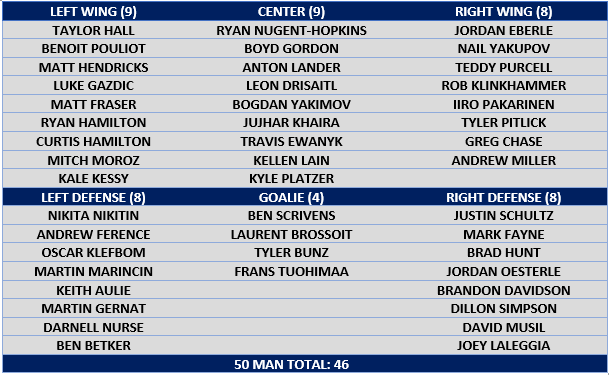 Looking over this list, it was obvious (as it had been for some time) Edmonton needed to build through the middle. Ben Scrivens didn't work out, but even if he had, there was work to do.
The center position would get a giant lift from the anticipated McDavid selection at the 2015 entry draft, and the team had a strong future on either wing.
Defense, put simply, was a mess. Oscar Kelfbom, Darnell Nurse and Brandon Davidson were part of the future, and there was (among some) hope for Justin Schultz.
No one argued on Day One this team should stay together. Changes were going to be made, and of course we know what happened in the summers of 2015 and 2016.
CURRENT 50-MAN LIST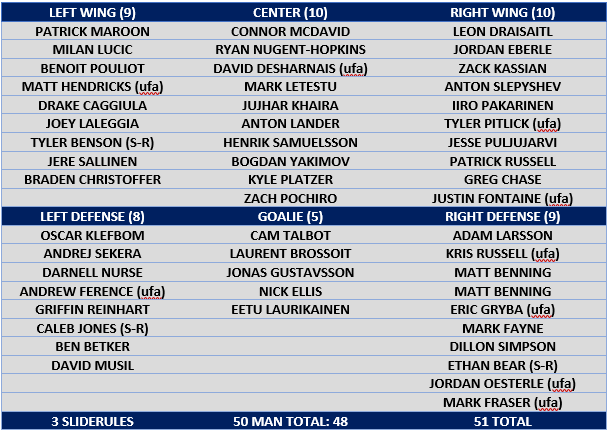 This is the current list, but doesn't really represent the actual state of affairs. Andrew Ference is no longer part of the active roster, David Musil is in Tucson. On the other side of the coin, Ryan Mantha and Joe Gambardella have signed NHL entry-level deals and are headed to Bakersfield on ATO's.
Plenty of work has been done and we see much improvement up the middle. Edmonton isn't there yet, but the top 6D are probably going to be a big part of next season and the goaltending at The NHL level may be set for 2017-18.
Center looks better, and we may see PC grab another one this summer. If Leon is going to play RW, that's suddenly an area of strength but center needs some help.
Let's cull this group and then have a look at possible needs.
PROJECTED 50-MAN WITH CUTS AND CULLS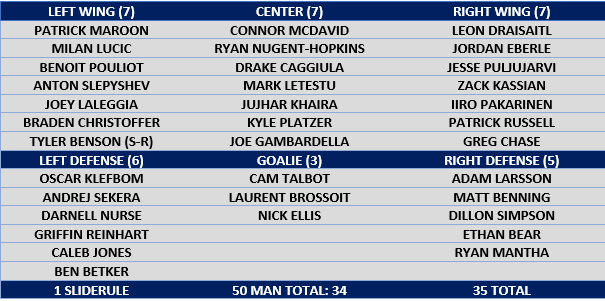 There are going to be CHL and college free agents signed in the coming weeks, and maybe the Oilers keep a player I've pruned from the list. Either way, this is most of the June 30 roster.
The goal of this exercise is to make a wish list. Do you remember those 'Chiarelli's Summer List' posts you get sick of every spring? This is the beginning, so speak now or forever hold your piece.
Goaltending: Chiarelli has done fine work here, and I'd be fine if he just brought Anders Nilsson back. More likely he gives Brossoit the chance to win the backup job and we see a fringe NHL-veteran AHL goalie. That's my guess.
Defense: I think the RH side needs a RHD who can play a rugged game and move the puck effectively. That's the ideal. Josh Manson, that kind of guy. If they can't get that done, perhaps Mark Pysyk could be acquired. Beyond that, I am fine with Cody Franson as an addition and I know you do not like that option. That's fine, it's good to have dialogue. I also believe Griffin Reinhart is close to a lock for 7D if he shows up in shape, so that's one more thing you can be mad at me about in the comments section.
Center depends almost entirely on Leon Draisaitl. If he stays at RW (and I have listed him there), we can assume Peter Chiarelli is going to pursue a Martin Hanzal/Brian Boyle option. That may mean dealing Nuge for a less expensive Nuge, and we should be prepared for it, possibly as the showcase deal of summer. It might be a bigger deal with Carolina, Edmonton getting a RHD and a center in return. Something like that.
Right wing, if Leon stays there, is set. I do believe Jesse Puljujarvi will get a big push in the fall, unless Matt Duchene is coming here and he's part of the price tag. Jordan Eberle could also go, but for me that's less likely than a year ago. The Oilers will have some cap pressure this summer, but next summer is the real issue. If Leon moves back to C, that's good news for Zack Kassian, who (imo) has shown he can help offensively with capable help. A wrinkle in the roster we should keep in mind, as a 1-2-3R of Eberle-Puljujarvi-Kassian allows Todd McLellan to run a C depth chart of McDavid-Draisaitl-Nuge.
Left wing will have Patrick Maroon and Milan Lucic as feature players, and I do think Drake Caggiula will be 3L opening night. Where does that leave Benoit Pouliot? I'm not sure. My preference would be to keep Pouliot, I think he's a helluva player. The Oilers are going to make room for Puljujarvi in the fall, and imo they'll do the same for Caggiula. Someone is going.
Thoughts?