By 1983 the Oilers were rolling over most opposition and had developed an edge to their style that made them a target every night. Several new Oilers would impact the following seasons, including names like Jaroslav Pouzar (who was a Coke Machine, but the good kind) and Ken Linseman, best described as a very skilled rat. Charlie Huddy emerged as Charlie Huddy that season, and more kids were pushing up, like Tom Roulston. The heart of the order (Gretzky, Messier, Kurri, Anderson, Coffey, Lowe, Moog, Fuhr, Fogolin) remained, and at this point Edmonton was in a small group (NYI, BOS, PHI, MON) of elite teams looking for Stanley.
The first round was a walk over Winnipeg, something that would become a theme through the rest of the decade. The 80s Jets are the best team you've never heard of, you could look it up. Edmonton beat Calgary in five games in the second round, outscoring the Flames in their four wins 30-7. Chicago went down in four games (Orval Tessier!), Oilers outscoring them 25-11.
Islanders won the final in four, it was the spring before Stanley and it stung. The Oilers played well in all of the games, but New York had the experience, the defense and the goaltending in the series. By game, Edmonton outshot the Isles 35-24 (Billy Smith shutout), 33-25 (6-3 NYI), 34-28 (NYI 5, EDM 1) and 26-25 (4-2 New York). This series was famous for the Fischler 'they'll never win column' and the legend of Slats walking over to the Islanders locker room and seeing broken warriors who gave their all for victory. Legend has it he vowed that would never happen again. Note:That story has morphed over the years, I often read Gretzky as being the one to visit the NYI locker room. Perhaps both men made the journey.
 HARVEST, YEAR OVER YEAR
Oilers in October 2015: 4-8-0, goal differential -7
Oilers in October 2016: 7-2-0, goal differential +10
Oilers in November 2015: 4-7-2, goal differential -6

Oilers in November 2016: 5-8-2 goal differential -3

Oilers in December 2015: 7-6-1, goal differential -9
Oilers in December 2016: 7-2-5, goal differential +3

Oilers in January 2016: 4-5-2, goal differential -5
Oilers in January 2017: 9-4-1, goal differential +8

Oilers in February 2016: 3-8-2, goal differential -18
Oilers in February 2017: 6-6-0, goal differential -2

Oilers in March 2016: 8-8-0, goal differential +5
Oilers in March 2017: 9-3-1, goal differential +15
Oilers in April 2016: 1-1-0, goal differential -1
Oilers in April 2017: 1-0-0, goal differential +1 
Oilers after 78, 2015-16: 30-41-7, goal differential -41
Oilers after 78, 2016-17: 44-25-9, goal differential +32
G79 was a one-goal loss
to the Anaheim Ducks, the Oilers running out a string that stretched back one decade and circled the earth three times over. Nail Yakupov scored to ruin the shutout, but it was a miserable game in a miserable season.
 WHAT TO EXPECT FROM APRIL
At home to: Anaheim (Expected:1-0-0) (Actual: 1-0-0)
On the road to: Kings, Sharks, Canucks (Expected: 1-1-1)
At home to Canucks (Expected: 1-0-0)
Overall expected result: 3-1-1, seven points in five games
Current results: 1-0-0, two points in one game 
The final game against Los Angeles (tonight) is no gimme, but the Kings don't have a playoff spot to chase anymore. Will they play a strong game tonight? I'd bet on yes, but that's a team with a lot of extra miles due to playoffs and a lot of wear on the tires. LAK need to drive out to the desert, reinvent themselves. For Edmonton, every point matters, there's a division to be won.
Everyone talks about the ideal opponent for the Oilers, I don't think there is one. Edmonton is a team other clubs may be looking to avoid. For me, watching how this regular season story ends will  be a genuine highlight of the season. The playoffs wait for us on the other side.
GOD'S FLASHLIGHT (SINCE FEBRUARY 1)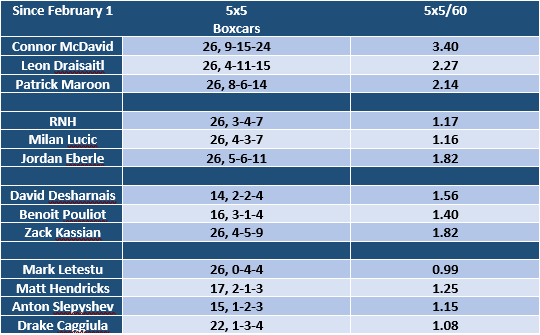 We chatted yesterday about secondary scoring (lines not named McDavid) and today we're drilling down on games since February 1.
The McDavid line is through the roof, absolutely off the grid stellar, mind blowing stuff. That line has produced 21 5×5 goals in 26 games since the end of January.
Jordan Eberle has been much better since February 1. He has played about one hour with 97 at 5×5 during that time (and received a point on four goals during that time), but is also posting some crooked numbers (points on six goals) with the Nuge line. That's been a difficult thing to do all year. Nuge is now played 42 percent of his 5×5 minutes against elite competition, so that's part of the equation.
Zack Kassian's offense is an emerging story during this season. He isn't getting cherry minutes but is delivering solid production and it's been going on all year.
Several forwards probably looking for some playoff redemption, it will be interesting to see who emerges as a hero (if any). There is a randomness to it, as long as your favorite player is getting at-bats, there's a chance. For instance, Drake Caggiula is emerging at the right time, how much impact would a strong postseason performance have on his future?
STANDINGS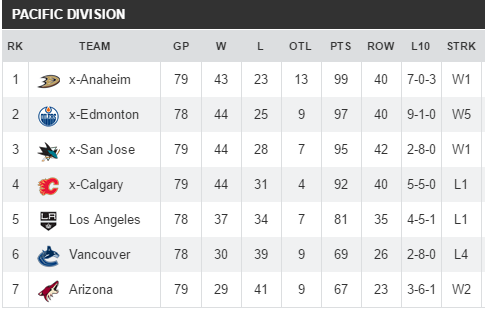 This is an amazing table, especially with last year's finish in mind. Edmonton has blasted  out of an uncomforable slot (remember when the Flames were winning every game?) to a fascinating spot on the race track.
The Oilers schedule this week includes two games against the Canucks, but we don't know if both contests will be vital to final standings.
Edmonton could, and should, reach 100 standings points this week. Incredible.
Who would be the best opponent? San Jose based on recent performance and injury.
Who would be the most exciting opponent? Calgary, based purely on geography.
SCORING LEADERS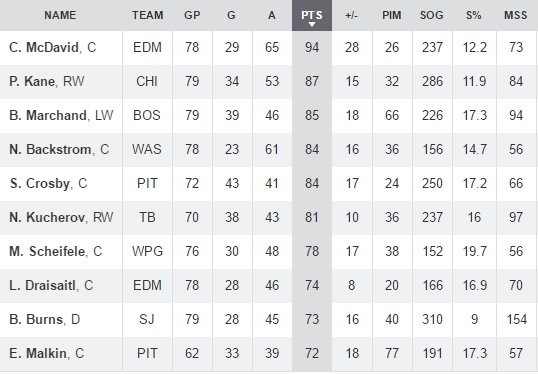 Connor McDavid is fire and reign. Starting now.
Leon Draisaitl's presence on this list confirms (for me) something we all feared in the fall: Our man Leon is a RW. I've read chapter and verse about reasons why, about Eberle's similar scoring numbers, but for me it comes down to McDavid himself. There is chem there, Leon is part of 97's world, as is Darnell Nurse. Draisaitl on RW: Wilfred Brimley has spoken.
DEFENSE, WOODMONEY

My thanks once again to GMoney, Woodguy and the group for putting this all together.
It's interesting to see how Todd McLellan uses his defense, basically running two top pairings and then using the third pair in a protected area. Matt Benning was pushing up before injury, it will be interesting to see how he is deployed next season. Look at that DFF Rel Comp number, this is a fantastic rookie.
The results for the top 4D are quite similar, Russell lagging but not by a tremendous amount to my eye. As I have stated previously, the danger in having Russell back is mostly cap driven, but we also have to remember the importance of having a RHD in place at that position.
LOWDOWN WITH LOWETIDE
We're back at Northlands today, thanks to those folks who dropped in to say hello and I apologize if I had to cut our visit short. Today on the show, beginning at 10 on TSN1260:
Alex Thomas, The Oilers Rig. Edmonton counting down the games, how much consideration should the major players receive in awards voting?
Darwin Davidiuk, President of the Northern Alberta Curling Association. We will talk about this year's Worlds and the gem that is Northlands and what it has meant to curling in our community.
Scott Cullen, TSN. Oilers, Leafs, awards, college basketball and more!
Jim Hunter. What the NHL's decision means to the future of Olympic hockey.
10-1260 text, @Lowetide on twitter.  Talk soon!