The final standings are coming into view, and with that the playoff matchups, too. An educated guess today would have the Oilers facing San Jose (their next opponent) and the Flames going up against the Anaheim Ducks, but we might see a trick or two on the way home.
 WITH MANY A WINDING ROAD, YEAR OVER YEAR
Oilers in October 2015: 4-8-0, goal differential -7
Oilers in October 2016: 7-2-0, goal differential +10
Oilers in November 2015: 4-7-2, goal differential -6

Oilers in November 2016: 5-8-2 goal differential -3

Oilers in December 2015: 7-6-1, goal differential -9
Oilers in December 2016: 7-2-5, goal differential +3

Oilers in January 2016: 4-5-2, goal differential -5
Oilers in January 2017: 9-4-1, goal differential +8

Oilers in February 2016: 3-8-2, goal differential -18
Oilers in February 2017: 6-6-0, goal differential -2

Oilers in March 2016: 8-8-0, goal differential +5
Oilers in March 2017: 9-3-1, goal differential +15
Oilers in April 2016: 1-1-0, goal differential -1
Oilers in April 2017: 1-1-0, goal differential -1 
Oilers after 79, 2015-16: 30-42-7, goal differential -42
Oilers after 79, 2016-17: 44-26-9, goal differential +30
As impressed as we were with the Anaheim game, the Oilers had their share of problems last night in Los Angeles. Poor coverage, lack of support, an ability to sustain attacks on sorties. It's tempting to chalk it up to looking past the Kings, but the truth is this Oilers team has had some possession issues and wobble problems throughout the piece. Work to do, miles to go.
 WHAT TO EXPECT FROM APRIL
At home to: Anaheim (Expected:1-0-0) (Actual: 1-0-0)
On the road to: Kings, Sharks, Canucks (Expected: 1-1-1) (Actual: 0-1-0)
At home to Canucks (Expected: 1-0-0)
Overall expected result: 3-1-1, seven points in five games
Current results: 1-1-0, two points in two games
Things tend to sort themselves out and last night gives Edmonton some options in terms of deployment. They could still win the division, or finish in second and get home-ice advantage for their first series in a decade. They could also rest Cam Talbot and some of the position players who may be nursing various injuries and maladies. It should be an interesting week.
DEFENSE, LAST NIGHT 
Klefbom-Larsson played a lot and were effective against the grinding Kings forwards. Larsson takes a lot of punishment (and doles out plenty, too) and for me Oscar absorbed a lot in order to calm or slow pace as well. I felt the forwards didn't help this pairing as much as they should have, seems to be a bit too much space when the blue are down low.
Klefbom-Larsson went 12-9 together in 13:31, including McDavid (5-3), Nuge (5-2) and Letestu (8-4). Went 8-1 against Shore-Lewis-Brown, and 3-3 against Kempe-Carter-Iginla in 4 minutes. Also 6-1 in 4 minutes against Pearson-Kopitar-Toffoli, it would have been good to see this pairing against the Carter or Kopitar line more often (spent 7 minutes against Lewis).
Sekera-Russell looked good to my eye, you can chime in and offer insight and I  promise to read it. Sekera made a brilliant defensive play during the early power play and moved the puck smartly. Russell isn't going to get many accolades from Oilers fans, but he is mobile and can move the puck while also playing defense. Veteran defensemen are valuable items. They need a righty here next season, but Russell has been a capable stopgap measure.
Sekera-Russell were 14-13 in 14:21, including 7-4 with McDavid and 11-7 with Nuge. The pairing faced Pearson-Kopitar-Toffoli (5-5 in 5 minutes), Shore-Lewis-Brown (11-1 in 5 minutes) and Kempe-Carter-Iginla (5-3 in 4 minutes).
Nurse-Benning had a whole lotta wobble and I do think Benning isn't 100 percent. Injuries are a funny thing, we see them, acknowledge them, and then forget about them. I like Benning, he's a game rooster, but he would be a player to consider giving some time off this week. As for Nurse, he is a young player and last night is an example of growing pains in real time. I've been watching young defensemen for decades and the trick is patience, that and making sure some progress is being made. In Nurse's case, steps forward have been taken this season, but last night serves as a sober reminder of how long the journey can be with youngsters.
Nurse-Benning went 4-10 in 7:57 and were ineffective on very many defensive sorties. Nurse was more successful with Larsson (1-1 in 2:12), Sekera (2-0 in 1 minute) and Russell 2-1 in 1 minute). Pairing lost the Corsi battle against all lines faced, but were only caved (0-6 in two minutes) by the Clifford-Dowd-Brodzinski trio. I would guess a 100 percent chance of Gryba on Thursday.
Cam Talbot stopped 21 of 26, .808, he was not sharp and that matched some of the men in front of him.
Numbers via HockeyStas.ca and NHL.com. Natural StatTrick supplies the lines/pairing Corsis.
MCDAVID LINE

McDavid got loose early and it led to the first goal of the game. After that, the Kings used home ice to their advantage and worked hard to make sure CMD didn't get much clean air. He still had five shot attempts and a point, but that's shy of recent performances. McDavid has 95 points in 79 games now, I like his chances to reach 100.
Leon Draisaitl had a strange night, some of his passes were errant or found the wrong side, and he couldn't corral a pass in his own zone and further could not mark his man on the Pearson goal.
Patrick Maroon did all of his usual things but they didn't work out. I think he was fine, some days are diamonds, some days are stone.
Line went 10-13 together, and faced the Forbort-Doughty pairing for 11:19 (68 percent of McDavid's time at 5×5). The 97 trio went 8-12 against them. Also had trouble with Johnny Brodzinski (0-7) in what is best described as a curio.
NUGE LINE

Nuge played his best game of the season, and now stands at 79, 18-23-41 for the year. It has been a disappointing season, but a strong finish and a strong postseason could offer redemption.
Milan Lucic scored his 20th goal of the season last night, he is ripping up the power play and not scoring on the 5×5. His totals run out of time with his career.
Jordan Eberle paid the price and was rewarded with an assist, with a little better luck maybe he would have made the scoreboard more than once. I am really liking his game, that assist featured hard work and finesse, in equal parts.
Trio went  11-9 against Muzzin-Martinez in 8 minutes, and were 8-2 against the Carter line.
LETESTU LINE

This line is usurping the 3line's playing time, on merit. The two young wingers are coming along and Letestu is acting as the Pisani (without the offense).
Line went 5-1 against McNabb-Ladue.
DD LINE

I haven't looked at DD's Oil road splits but his overall season numbers show a large discrepancy in performance.
Benoit Pouliot is back to being his rambunctious self, I hope he has a massive playoff.
Zack Kassian keeps doing things that help his team. Hard to believe we once said what we said about him. The penalty miles from home was not wise.
Line went 3-9 against McNabb-Ladue, that Ladue kid is very mobile.
I think we might see Caggiula get another shot in the middle if this line continues to have defensive and coverage issues.
JUJHAR KHAIRA
Jujhar Khaira has been sent to Bakersfield, probably a combination of conditioning stint and ringer for the playoff run. He played just three games in March, that's not going to get it done and he's entirely useful in Bakersfield. Using Eric Rodgers' latest numbers, here's Khaira's AHL playing card:
Boxcars: 24, 8-10-18
Evens: 24, 5-7-12
Power Play: 24, 2-3-5
Penalty Kill: 24, 1-0-1
ESGF-GA: 18-15
SH GF-GA; 1-2
Estimated TOI per game: 22:50
Estimated points-per-60: 1.97
The achilles for most of the young Condors forwards is going to be offense, but Khaira has improved year over year by the boxcars. Rodgers numbers from a year ago suggested 2.05/60, so he is running in place based on the estimates. Khaira's AHL offense suggests we are looking at NHL Kyle Brodziak offensively, and he brings some other elements, too. Khaira hasn't been the same since injury, but playing time in the AHL should get him productive again. Condors play tonight in Texas, big game.
GRYBA?
I don't think we'll see Nurse-Benning tomorrow night and I really don't like the idea of splitting up the current top pairings. What to do? Eric Gryba is 7D so he's the only option, but I do wonder if the Oilers might call up Mark Fayne at some point. If this third pairing becomes a black hole, and we know young defensemen can go walkabout at times, Fayne is my option for the job. He's a better player than Gryba.
STANDINGS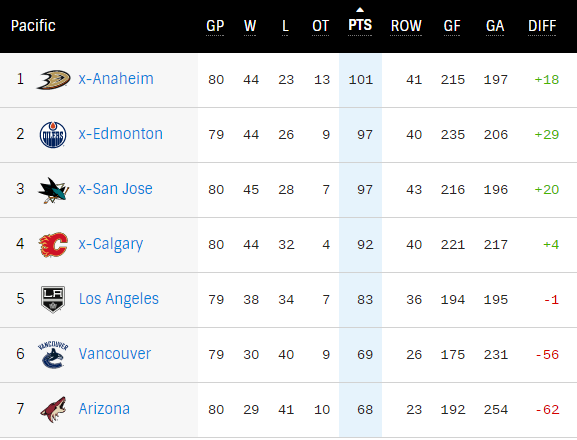 A lot happened last night, and it brought tremendous clarity to the table. The Flames are now playing for wild-card seeding, either No. 7 or No. 8 in the Western Conference. Edmonton's game against San Jose tomorrow night is likely for second place, but if Anaheim stumbles against Chiago and the Oilers win out, they could take the division.
There is still a slight chance for Edmonton-Calgary in the first round, but the Oilers would need to win the Pacific to do it.
SCORING LEADERS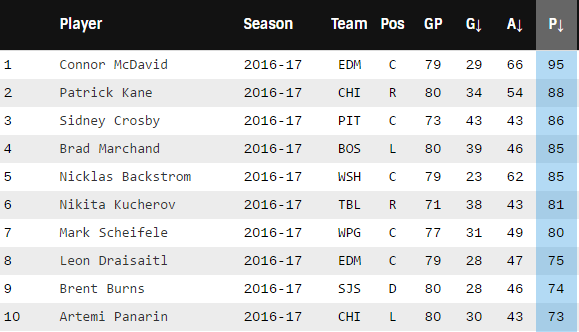 There was a time, not so very long ago, when the scoring race was a flat out tie. Just weeks later, Connor McDavid hit overdrive and we are here. I'm not going to say it's over, Sidney Crosby is an impact player in every game he's in and Patrick Kane is breathtaking when on a hot streak. That said, 97 leads by a touchdown as we head to work this morning.
LOWDOWN WITH LOWETIDE
Live from Northlands this morning, it's a blast at the Ford World Men's Curling Championships and it's a pleasure to be there. At 10 this morning, scheduled to appear:
Darcy McLeod, Because Oilers. Last night's game, where do the Oilers go if the young blue continues to wobble, playoff prediction metrics.
Dennis Nowicki, Northern Alberta Curling Association. Youth is being served at this year's Worlds, both on the ice and in the stands. We'll talk about growing the sport.
Andrew Stoeten, Jays Nation. Melvin Upton, Smoak, opening day roster.
10-1260 text, @Lowetide on twitter. Talk soon!