The Edmonton Oilers continued a recent run of prospect signings today, adding 2014 fourth-round selection William Lagesson. He represents only the second player signed from that Oilers draft, joining lottery pick Leon Draisaitl in the organization.
Although Edmonton's system is drunk with lefthanded defensemen, Lagesson is 21 years old and the organization probably feels it is time for him to turn pro. He is a legit NHL prospect, and has had international experience in feature tournaments like the World Juniors. As you know, making any Swedish team on defense is a challenge, and that reflects his ability.
AGM Keith Gretzky, via Oilers Now: "William's a big, stay-at-home defenceman. He's a little older, bigger, stronger and he needs to play more games. This will really help him and his development." Source
That sounds about right, at 21 Lagesson is what he is and now it's a matter of having him fly sorties in the AHL until he's comfortable. He is listed as 6.03, 197 and that's a good size for a modern defenseman.
Corey Pronman on draft day: "I've seen him play well many times, he's a player I really like. He's a physical defenseman he skates well and defends well. I don't think he's a sterling offensive player, but he has average puck moving ability. I think this is a guy who is going to be a very good prospect and the Oilers got good value where they picked them."
That's a really good thumbnail sketch (Pronman's excellent) of this player, and we got a college scouting report early in this season:
Steve Kournianos, The Draft Analyst: Plays on their top pairing and second PP unit. Usually matched up against top lines with mixed results. Minutemen are underachieving in Conference play but only knock on Lagesson is he can play undisciplined. Not hook or trips but high stick fouls, roughing. You can argue he's their best defenseman this year. Source
THE BIG QUESTION
I think we're going to see a trade this summer, as something has to give. An NHL team has to procure talent via the draft or free agency, and balance can sometimes get out of whack. The Oilers reached full Leftorium awhile ago and have been trying to dig out by sending away players as they can. With the signing of Lagesson, and Ziyat Paigin on a PTO (but not yet under contract), and Caleb Jones turning pro any minute, there's a rich harvest of lefties bubbling up again. Since we haven't done this in quite some time, allow me to remind you of the state of the leftorium. Here are signed men or RFA's who are likely to be back:

You might think this ratio is extreme, but this represents outstanding progress over the last couple of seasons. We know from his media avails that Peter Chiarelli is aware of the importance of L-R, and the current table is evidence of it. Here is the pro leftorium from August 26, 2016: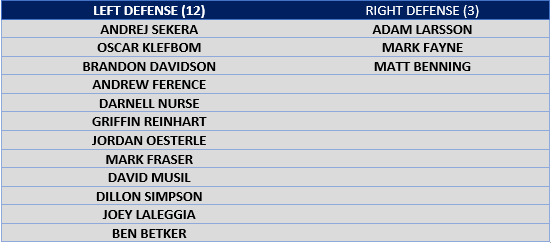 Progress, right? One thing we can begin to talk about: the large numbers of rookies we are likely to see in Bakersfield this fall. Caleb Jones, Ethan Bear, Ryan Mantha, William Lagesson and likely Ziyat Paigin will be part of the group in the AHL, and that's why I think we might see a trade. A team like Vegas might be interested in the rights of a pro player who doesn't have to clear waivers.
Tonight's @3WayChevyCad LINEUP with the pro debut of Ryan Mantha & the #Condorstown debut of Ziyat Paigin. #GetIN pic.twitter.com/88ZaX0DG7B

— Bakersfield Condors (@Condors) April 7, 2017
Some of the new hires (Paigin, Mantha) get into the lineup, and I do like the looks of Jesse Puljujarvi alongside Jujhar Khaira and Ryan Hamilton. That should be an interesting trio.
https://twitter.com/Zac_Urback/status/850396809566486530