The Edmonton Oilers won their first Stanley in the spring of 1984, and it was good. By the fall, the team had some new names (Billy Carroll was claimed off waivers from NYI, Mike Krushelnyski came over for Kenny Linseman on the Boston-to-Edmonton pipeline, Larry Melnyk came the same way) and in late January Mark Napier came over from Minnesota. I loved all of these transactions, a guy like Napier was a bullet on skates and had an immediate impact. Krushelnyski was the biggest add, scoring 43 while also being very large for his time.
By 1985, I had so much confidence in the Edmonton Oilers that people around me became irritated enough to tell me to FOAD. Seriously. Looking back, it was pure asshattery but in my defense being a fan of the Oilers meant winning. The team scored over 400 goals, allowed less than 300 and Wayne Gretzky posted 47 points in 18 postseason games. The 1984-85 team was ridiculous, and oh by the way Esa Tikkanen arrived in time to play three playoff games. Lordy.
OILERS 1985 PLAYOFFS
Smythe Division Semifinal: Edmonton sweeps series against LAK, winning all three games by a relatively slim margin. The Oilers could win close games by now, something they proved to us (and themselves) the previous spring against NY Islanders.
Smythe Division Final: Edmonton sweeps series against the Winnipeg Jets.
Campbell Conference Final: Edmonton overcomes Chicago in six games. The four wins came by scores of 11-2, 7-3, 10-5 and 8-2.
Stanley Cup Final: Edmonton won in five games, losing only the first game.
NAMES ON THE STANLEY
Glenn Anderson, Billy Carroll, Paul Coffey, Lee Fogolin Jr., Grant Fuhr, Randy Gregg, Wayne Gretzky CAPTAIN, Charlie Huddy, Pat Hughes, Dave Hunter, Don Jackson, Mike Krushelnyski, Jari Kurri, Willy Lindstrom, Kevin Lowe, Dave Lumley, Kevin McClelland, Larry Melnyk, Mark Messier, Andy Moog, Mark Napier, Jaroslav Pouzar, Dave Semenko, Esa Tikkanen Peter Pocklington, owner;, Glen Sather general manager/coach.
 SIGNS, YEAR OVER YEAR
Oilers in October 2015: 4-8-0, goal differential -7
Oilers in October 2016: 7-2-0, goal differential +10
Oilers in November 2015: 4-7-2, goal differential -6

Oilers in November 2016: 5-8-2 goal differential -3

Oilers in December 2015: 7-6-1, goal differential -9
Oilers in December 2016: 7-2-5, goal differential +3

Oilers in January 2016: 4-5-2, goal differential -5
Oilers in January 2017: 9-4-1, goal differential +8

Oilers in February 2016: 3-8-2, goal differential -18
Oilers in February 2017: 6-6-0, goal differential -2

Oilers in March 2016: 8-8-0, goal differential +5
Oilers in March 2017: 9-3-1, goal differential +15
Oilers in April 2016: 1-1-0, goal differential -1
Oilers in April 2017: 2-1-0, goal differential +1 
Oilers after 80, 2015-16: 30-43-7, goal differential -47
Oilers after 80, 2016-17: 45-26-9, goal differential +32
G81 one year ago
saw Edmonton win 6-2 over Vancouver Canucks, Hall and McDavid both going 1-2-3 on the night. Edmonton can pass 100 points tonight, the first time since 1987. Points are awarded more easily now, but it's still a terrific accomplishment.
 WHAT TO EXPECT FROM APRIL
At home to: Anaheim (Expected:1-0-0) (Actual: 1-0-0)
On the road to: Kings, Sharks, Canucks (Expected: 1-1-1) (Actual: 1-1-0)
At home to Canucks (Expected: 1-0-0)
Overall expected result: 3-1-1, seven points in five games
Current results: 2-1-0, four points in three games
We've been chasing reasonable all season long, and this team has hit every mark but one. Consistency, like clarity, is enormous upon arrival, but 15 minutes after it enters the room we forget about it while also assuming it will be with us until end of days. Do not take this team for granted!
 CENTERS, BOXCARS AND WOODMONEY

Connor McDavid is good it's difficult to put into words, but math has wonderful clarity. His boxcars lead the world, the 5×5/60 scoring number (God's flashlight) also has him at the top. He saws off elite competition, and is playing against the elites 36 percent of the time (Sid is 35, so that number is the cost of doing business when you're elite yourself).
Ryan Nugent-Hopkins has improved most of these numbers since the last time we ran them. The big item is TOI against elites as a percentage. Nuge plays  42 percent of his time against elite competition, that compares to 40 percent for Jonathan Toews (as an example). Nuge is playing in a punishing portion of the NHL game this season.
David Desharnais has been disappointing. As an Oiler, he is 16, 2-2-4 and not getting enough done. I like him with the puck on his stick and he can forecheck, but the adjustment to playing the Oilers system is taking precious time. He needs to tighten up like Archie Bell by playoff time.
Mark Letestu is getting caved in possession and not playing much against the elites. This is a soft parade role and he should be able to own possession more often. In his defense, Letestu plays with some weak wingers and that no doubt impacts his number.
All of the WM's (DFF and rel plus percentage of playing time) are Woodmoney's and once again my sincere thanks to GMoney and Woodguy.
DEFENSE, BOXCARS AND WOODMONEY

Many things have changed since we last looked at these numbers.
Matt Benning (and Darnell Nurse) have seen their numbers head downward, and we know that young defensemen never develop in a straight line (well, maybe Denis Potvin). Overall an encouraging season for both men.
Adam Larsson and Oscar Klefbom play tough opposition about 35 percent of the time and have improved their overall numbers as the season rolled along. Impressive pairing and they are likely to get better during the rest of their time together. For a little over $8M on the cap, this is terrific value.
Andrej Sekera and Kris Russell play elites slightly more often than the Swedish pairing, and the great thing is we're looking at about the same results as Sekera-Russell (just a little behind). Having two pairings he can count on gives Todd McLellan some room to match pairings with elite lines.
The Oilers are a better defensive team than a year ago. Plenty of work to do, but some of that work is maturation of players already here. The gap is closing and there is real promise here, for really the first time since 2006.
Connor McDavid is first @EdmontonOilers player with a 12-game point streak since Esa Tikkanen (13 GP) and Mark Messier (12 GP) in 1988-89. pic.twitter.com/cyM9sjPorv

— NHL Public Relations (@PR_NHL) April 7, 2017
Since 2010-11, there have been over 6,000 man seasons in the NHL. Only four men (Evgeni Malkin, Patrick Kane, Daniel Sedin, Sidney Crosby) have scored 100 or more points in a season. I've seen all kinds of mentions of McDavid's scoring total against the backdrop of Wayne Gretzky's historic totals, but I think that's comparing apples and oranges. If Connor McDavid gets three points this weekend, he will join an extremely elite group of men who have hit the century mark in the modern era. This is big, people. Don't let anyone tell you different.
CAM TALBOT BOXCARS
Overall save percentage: .919 (No. 9)
EV save percentage: .926 (No. 10)
PP save percentage: .878 (No. 14)
Talbot's 41 wins are an outstanding total (this is not a great team) and his save percentage numbers are in or near the top 10 among regulars (35 or more games). Edmonton will need to add a capable backup (probably Laurent Brossoit) into the rotation a year from now, but Talbot posted a tremendous year when Edmonton needed him.
PROJECTED 50-MAN ROSTER (AFTER LAGESSON SIGNING)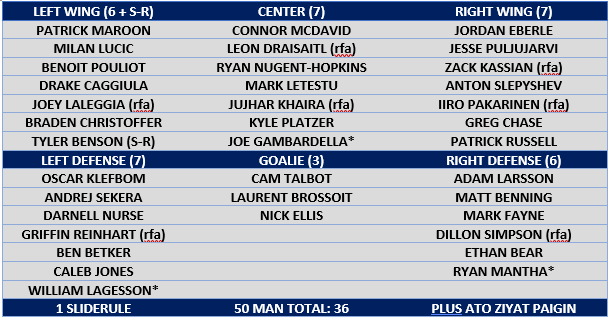 We'll drill down on this in the coming days, but it is interesting that Peter Chiarelli has added so many defensemen (two graduating slides and Lagesson/Mantha). Methinks the forward positions are going to see some dizzying additions in terms of procurement, both at the draft and pro levels.