The thing is, they had time. Steve Smith made a mistake, something we expect from youth. Smith was a substantial young player on one of the greatest teams in the game's history. He made a mistake and the team could not overcome it.
Smythe Division Semifinal: Swept Vancouver Canucks in three games, outscoring them 17-5.
Smythe Division Final: Lost in 7 to Calgary. The goal, credited to Perry Berezan, went in the net at 5:14 of the third period. The Oilers had time.
Not much to say. It was a mistake, a very costly one. They had time.
WINNING, YEAR OVER YEAR
Oilers in October 2015: 4-8-0, goal differential -7
Oilers in October 2016: 7-2-0, goal differential +10
Oilers in November 2015: 4-7-2, goal differential -6

Oilers in November 2016: 5-8-2 goal differential -3

Oilers in December 2015: 7-6-1, goal differential -9
Oilers in December 2016: 7-2-5, goal differential +3

Oilers in January 2016: 4-5-2, goal differential -5
Oilers in January 2017: 9-4-1, goal differential +8

Oilers in February 2016: 3-8-2, goal differential -18
Oilers in February 2017: 6-6-0, goal differential -2

Oilers in March 2016: 8-8-0, goal differential +5
Oilers in March 2017: 9-3-1, goal differential +15
Oilers in April 2016: 1-1-0, goal differential -1
Oilers in April 2017: 3-1-0, goal differential +2 
Oilers after 80, 2015-16: 31-43-7, goal differential -43
Oilers after 81, 2016-17: 46-26-9, goal differential +33
G82 a year ago saw
Edmonton lose 4-3
in a shootout. No matter what happens tonight, Edmonton will improve by 31 points in the standings, and are currently +76 in goal differential. This is outstanding. The Oilers reach 100 points for the first time since 1986-87, the team had done it for six years in a row at that time. This is season No. 7. A long time between drinks.
 WHAT TO EXPECT FROM APRIL
At home to: Anaheim (Expected:1-0-0) (Actual: 1-0-0)
On the road to: Kings, Sharks, Canucks (Expected: 1-1-1) (Actual: 2-1-0)
At home to Canucks (Expected: 1-0-0)
Overall expected result: 3-1-1, seven points in five games
Current results: 3-1-0, six points in four games
As we have discussed, the Oilers have been very consistent, and April is another example. A team that can gather 100 points has to be able to overcome a lot. The Oilers are good! How good? The playoffs await. Edmonton could win the Pacific Division tonight, it would be the first division title since (again) 1987 and would also set in motion BOA No. 6, the first one since 1991.
DEFENSE, LAST NIGHT 
Sekera-Russell went 17-9 in 14:21 and have been posting solid possession numbers down the stretch. The duo was 12-1 with the McDavid line, and 8-2 against Chaput-Sutter-Megna. Went 4-5 against Boucher-Horvat-Boeser, that Boeser fellow is a damned good player. Sekera is an excellent defender with the puck, by pass or carry, and Russell seems to be back to full health and posting more offense as the season winds down.
Nurse-Benning went 9-7 in 10:24 in what was (to my eye) their best game of the trip. That's not saying a whole lot, but they made some good things happen out there. Duo went 5-2 with McDavid and 6-4 against Boucher-Horvat-Boeser, which may be the 1line now. Benning sent a dandy pass to Lucic for what would become the game winner. This is definitely a pairing that is going to get tested in the postseason, suspect we will be talking about both men a lot in the coming 10 days.
Klefbom-Larsson went 11-13 in 16:10 on the evening, and were more high event that normal. Went 7-7 with the Nuge line and 7-4 against the Sedins. Both men are contributing more to the offensive side of the game as the season ends. Oscar has 37 points (I predicted 21), Larsson 19 (I predicted 20). Larsson's steady play has (imo) allowed Oscar to wheel more and unlocked a fine two-way defenseman. This duo is one of the very nice developments on the season.
Cam Talbot stopped 29 of 31, .935. The Canucks season may be a tragedy, but they're not dead.
Numbers via Hockeystats.ca NaturalStatTrick and NHL.com.
MCDAVID LINE

The line had eight shots, 11 attempted shots but it was mostly McDavid getting things done. That's not a putdown, but both wingers had some looks and couldn't cash. Maroon's was especially obvious, but these things happen.
The line dominated at 5×5, should have posted a crooked number but luck was no lady for them last evening.
Leon Draisaitl is going to be accused of lumbering (or worse) during his career, but he actually had some good moments. He is getting some Frank Mahovlich verbal sent his way, idea being the big man isn't making enough effort. Frank Mahovlich used to get the same criticism, because big men can go places without making 100 hundred strides. Tie Domi looked like he was passing a gallstone while skating to nowhere, Leon looks like the wind blew him to a scoring place. Make no mistake: This man is bona fide.
NUGE LINE

This is more like it! Some offense coming from this line now, fairly consistent too.
The star of this line (second night in a row) was Lucic to my eye, he was seemingly involved in everything. His assist on the Pakarinen goal was borderline hilarious, as he discarded Vancouver's Stecher like yesterday's papers, almost maimed him, observed the goal and then skated away, blissfully unaware of the soldier fallen at his hand. Wrecking ball!
Nuge was on last night too, making good passes and showing awareness of all around him. Such a fine player, he seems to be locked and loaded for the playoffs.
Jordan Eberle has had a difficult season, but last night is an example of why he's so valuable. In a game where no one could strike, his nifty wrister broke the ice and started the ball rolling for the road team. As is the case with many on the top 2 lines, played well enough to have more than one point.
Line went 5-9 against the Hutton-Patinkin pairing, but that tells little of the story. 16 shot attempts, 11 shots on goal. There's your story.
LETESTU LINE

De facto 3line once Kassian joined them, good things happened for all three men on the evening.
Letestu scored a goal, Caggiula was buzzing and Kassian sprang (sprang? sprung? Dammit, I can't remember) to life when moved up (down?) to the Letestu unit. Suspect we may see this line tonight.
DD LINE

David Desharnais seems hellbent on aiding Anton Lander's career, because at this point I'm unsure how long Todd McLellan will stay with his deadline pickup.
Benoit Pouliot didn't spend much time around the puck either, and he needs to be more involved in order to be effective. Vancouver is not a good team, BP is a good hockey player. We should have more to talk about.
Iiro Pakarinen is, to my eye, the 14F on the roster. That said, he was easily the best player on this line. Scored a goal at the end of a PK and showed up in good places. I think McLellan would be justified in sitting the other two men on this line tonight.
STANDINGS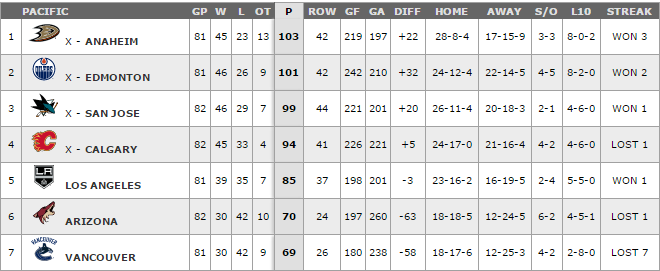 Remember all those posts called Nadir's Raiders and the bleak outlook Decembers to forget? Remember when we talked about turning north? Of course you remember! This is a terrific turn north and Oilers fans are enjoying their place in the sun today. Music! They could win the division, but it is wise to play Brossoit in net tonight (now that home ice has been secured).
GO TELL IT ON THE MOUNTAIN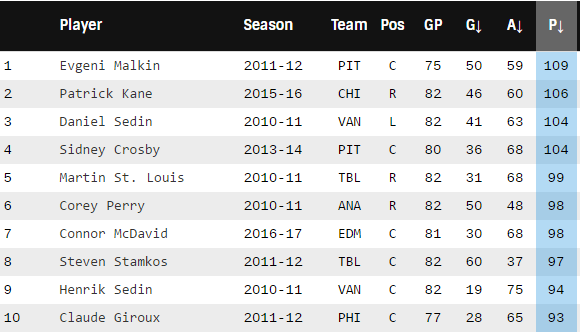 Connor McDavid will win the Art Ross Trophy today, although the actual award won't be in his possession for 10 weeks or so. I think 97, despite being early famous, is not getting his due with this season. Here are the top 10 scoring seasons since 2010-11, and he ranks No. 6 in the entire decade with a game to go. A giant walks among us, and he is just getting started.
CALLUPS
The Bakersfield Condors play a big game in San Antonio today, Stockton Heat play later in the day. The Heat (who won last night)  are four points up on the Condors with four games to play.  A loss today, combined with a Stockton win, would for all intents and purposes mean Bakersfield is out in the cold for the postseason.
If I'm Peter Chiarelli, a large number of callups are under consideration. Anton Lander (who can help on the 4line and PK, perhaps replacing David Desharnais), Jesse Puljujarvi, Jujhar Khaira, Joey Laleggia and Justin Fontaine should all at least be considered among forwards. Defensemen Mark Fayne, Griffin Reinhart, Jordan Oesterle (if healthy) and Dillon Simpson are available. Goalies look set at the NHL level but you never now and Jonas Gustavsson has NHL experience. Interesting week on the way.
STAN WEIR?
I'll leave it up to you. Would you like me to bring Stan back for the playoffs? I am also still undecided about the RE artist, so put in your final votes!