The great baseball manager Earl Weaver said a lot of very insightful things during his career. Earl was an acquired taste—he could be vulgar, had a terrible temper and was often naked—but they wrote down what he said and it made a lot of sense.
Earl Weaver: Until you're the person other people fall back on, until you're the one that's leaned on, not the person doing the leaning, you're not an adult.
Some people learn to lead as they grow into their future while others lean every day of their waking life. That's a fact. A bona fide leader at 20? Just once, in a very blue moon. Tonight, in San Jose, Connor McDavid will lead the Oilers into a vital playoff game. If the Sharks can keep McDavid off the score sheet, the chances of winning rise exponentially. Good luck, Sharks, you'll need it.
Connor McDavid (20y, 91d) is youngest @EdmontonOilers player to score in the postseason since M. Gelinas (19y, 319d) in Game 2 of 1990 DF. pic.twitter.com/IZkBug1Kkt

— NHL Public Relations (@PR_NHL) April 15, 2017
Gelinas was a helluva player, part of a fabulous Kid Line that spring with  Adam Graves and Joe Murphy. He was very good on the power play and he was just getting started. I think that might be the most amazing thing about Connor McDavid: Just getting started. Lordy.
1989
The Los Angeles Kings beat the 1989 Oilers in the first round. Seven games. It was beyond weird watching Wayne Gretzky on the enemy's side, joined by Mike Krushelnyski and Marty McSorley. Just a hateful turn, and that's all I have to say about that. New Oilers of note included Jimmy Carson, Tomas Jonsson, Doug Halward and Dave Brown, each with a story to tell and none destined to stay in town long enough to buy. I can tell you that the idea of playing for the Stanley Cup was no longer considered a likely event by 1989 summer.
PENALTIES
The Oilers penalty kill is doing very well right now, but the overall lack of discipline is likely to cost them the series. Folks, you can't do this, taking multiple penalties every game is insanity. The Darnell Nurse penalty on Brent Burns? Justified. The Maroon elbow or the Lucic stick? No sir. If Edmonton is going to win this series, the unnecessary penalties have to fade from the game.
OSCAR!
It sounds like Oscar Klefbom will be in the lineup tonight, but a verbal counter-trey is not unheard of at this time of year. A possible massive story, I checked around and asked a few folks about how they would handle the pairings if this comes to pass. No one seems to have an answer they are comfortable with, and that is a tell. Oscar Klefbom has arrived as a bona fide NHL defenseman of quality. Light a candle, say a prayer.
Union College forward Spencer Foo attended Oilers game last night. Edmonton is hoping to sign the local lad, but other teams in mix as well.

— Darren Dreger (@DarrenDreger) April 15, 2017
Foo would be an impressive addition based on scouting reports and his NHLE (82gp, 13-18-31) suggests intriguing offense. Although his equivalency is shy of Drake Caggiula's  (82gp, 22-22-44) on the day he signed.
Dave Starman, College Hockey Analyst for CBS and ESPN: "He's greasy. He just does a lot of little things that are fun to watch. He's got electric speed, hands, guts. He's not afraid to try something difficult. He's been good. He's just fun to watch and he plays with an edge." Source
There are several Chiarelli action words in that scouting report, suspect the Oilers have a high level of interest. As Mr. Dreger mentions above, Foo was at Game 2 watching, that experience had to be a positive. I'm absolutely impressed with PC's college procurement plan (Drake Caggiula, Matt Benning, Nick Ellis, Patrick Russell, Joe Gambardella) and Foo would be a welcome addition.
 BAKERSFIELD NHLE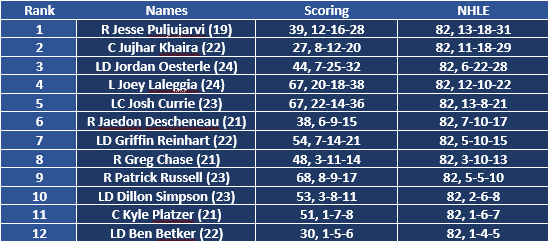 Bakersfield's season is over, so we will begin to have a long look at the most promising prospects from the Condors. This is the Vollman NHLE (younger players get a push) and shows what I think we know for sure: Jesse Puljujarvi is the most promising player on the farm. Jujhar Khaira, Jordan Oesterle and the promising progress of Joey Laleggia and Josh Currie (AHL contract) are worthy of note. Nick Ellis finished with a .918 SP, impressive number.
HAPPY EASTER!
We are fine. It has been a hectic winter and early spring, but the kids are making progress and finding their way, while Mrs. Lowetide is working on 2,000 piece puzzles and swearing like a trucker. Ziggy wants you to know I scared the hell out of her on the McDavid shorty, and I want you to know I'm sorry. Happy Easter, I hope you are with the ones you love, feeling warm, content and in a good place. All we have is each other, and I am thankful for you. God bless.