This is going to an interesting summer in Edmonton. No matter how well everyone plays during the postseason, there are holes to be filled, cap issues to be solved, and an expansion draft that could take a good player from the roster. Free-agent signings and the draft, and of course making the playoffs will shorten the timeline to get things done. What will the McDavid contract look like? Draisaitl's deal? Today, I want to look at the RFA and UFA deals still on the books, so we can understand that element of summer.
Photo by Rob Ferguson, all rights reserved
NHL FORWARDS (RFA DIVISION)
C Leon Draisaitl $3.4M (including bonuses) $925,000 (base salary) 82gp, 29-48-77, 2.05 5×5/60 5×5 scoring. Huge season by the 2014 first-round pick and the Oilers are going to pay him beginning in the fall. I have seen Aleksandr Barkov's contract being mentioned, it's six years times $5.9M. Edmonton may decide to slow play with a bridge deal, not sure that's going to be any kind of bargain. The club will be signing Leon without knowing if he can push an entire line and that means there is risk going long in my opinion.
R Zack Kassian $1.5M 79gp, 7-17-24, 1.74/60 5×5 scoring. It was assured before the playoffs, but Kassian is part of this team moving forward, just as sure as McDavid, Draisaitl and Nurse. Cal Clutterbuck's four-year, $2.75M deal is too high imo, but I wouldn't be shocked if Kassian's deal approached that number (depending on length).
C Jujhar Khaira $875,000 10gp, 1-0-1, 0.67/60 5×5 scoring. Big forward is obvious replacement for Matt Hendricks (and that saves a million on the cap) but my guess is he will be an expansion target. For LV, acquiring forwards who can grow into a role may make more sense than picking a veteran who is a year away from free agency (ala Mark Letestu). Khaira's contract basically writes itself and he won't cost much more than he did this year. He will be eligible for waivers in 2017-18.
R Iiro Pakarinen $725,000 with arb. rights 14gp, 2-2-4, 2.04/60 5×5 scoring. I'm not sure Peter Chiarelli will bring back all of the RW's who are vying for those final roster spots, but Pakarinen has the confidence of the coach and that may be enough. He won't cost a lot and may win a contract over Tyler Pitlick.
LC Anton Lander $987,500 22gp, 1-3-4, 1.77/60 5×5 scoring. I think he can play in the NHL, but it's also true this league gets faster by the hour. It's too bad, Lander's skill set is a nice match for Edmonton's needs.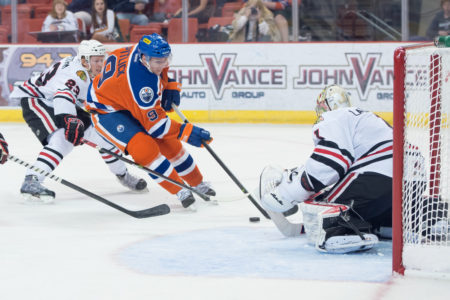 Photo by Rob Ferguson, all rights reserved
NHL FORWARDS (UFA DIVISION)
LC David Desharnais $3.5M 18gp, 2-2-4 1.30/60 5×5 scoring. Added at the deadline, Desharnais was probably a rental all the way. His performance so far suggests he hasn't forced Peter Chiarelli's hand in terms of contract.
L Matt Hendricks $1.85M 42gp, 4-3-7 1.11/60 5×5 scoring. Noble warrior is reaching the end of his time with the Oilers, it will be interesting to see if another team gives him a shot in the fall. Hasn't played any of the first three playoff games.
R Tyler Pitlick $725,000 31gp, 8-3-11 2.22/60 5×5 scoring. He posted a strong first half but also ran some good shooting luck. He has reached free agency and a team like the Golden Knights may be interested (scoring is going to be scarce in the expansion draft) because of those eight goals. I suspect there is some interest in having him back, but money's too tight to mention in his general area of the roster.
NHL DEFENSEMEN (RFA DIVISION)
LD Griffin Reinhart $3,213,333 (including bonuses) $863,333 (base salary) has not played in the NHL this season. Entered training camp with a good chance at a job, and played so well the Oilers signed Kris Russell. Spent the entire season in the AHL and is now up as the No. 8 defender. Open question about where he lands, as Vegas has a GM who likes big WHL defenders. If he's back this fall, it will be without the bonus on his contract and he will be applying for the 7D job (I expect).
NHL DEFENSEMEN (UFA DIVISION)
LD Kris Russell $3.1M 68gp, 1-12-13.

I expect his stock has risen since last summer (he was a late signing, October 7) and will be looking for a long-term deal. Edmonton may be interested, but it also won't take long for the club to get priced out of the market. We might see the Oilers do the same thing this summer with 2RHD: Wait until the market cools and see how September money spends.
RD Eric Gryba $950,000 40gp,2-4-6. I can see him returning, but there are things that will need to break right. If Vegas grabs Reinhart in the expansion draft, Edmonton's interest may increase. If Gryba can't find a better offer than the one he signed this year,we could see him here for a third season.
Photo by Mark Williams, all rights reserved
MINOR LEAGUERS (A QUICK GLANCE)
C Henrik Samuelsson, RFA

. Oilers traded for him and didn't seem to like his preparedness/conditioning. That's kind of a big deal in the organization, so I'm going to say it is unlikely we see him in the fall. Unless he's lifts tractors all summer.
L Joey Laleggia, RFA. I think he forced their hand here, the guy is superfreak LW with a goal every two games since the turn of the year. I am not saying he is an NHL lock, but he has an NHL chance. I can count a dozen signed guys who you can't say that about right now.
LC Bogdan Yakimov, RFA. I can see him back this fall, but what if he bolts again? Yakimov is an intriguing talent, but he didn't exactly set the Russian woods on fire. I think they pass.
LD Dillon Simpson, RFA. He has arb rights, but should be an easy signing. Simpson may be one of the few veterans in Bakersfield this fall and I do think he gets a new deal.
LC Jere Sallinen, RFA. He simply didn't bring enough offense.

G Jonas Gustavsson, UFA

. Unfair to judge him in the very small sample size of his NHL games, but that's the gig.

RC Zach Pochiro, RFA

. Interesting because he is a RHC, but I think the Oilers will prefer to have an extra slot on the 50-man. He showed well in his time with the organization.

G Eetu Laurikainen, RFA

. Haven't heard much about him much of the winter. Don't believe he will be back.
LD David Musil, RFA. He was loaned to the Arizona organization and one expects his agent has been shopping him to all 30 teams since. He has value and could find a good landing spot, but his skills are duplicated many times in the Oilers organization.

R Justin Fontaine, UFA

. The Oilers may try to keep him for another year in the Taylor Beck role. He's a pretty solid insurance policy against struggling and injured wingers. I'll guess the Oilers decide to pass on signing him this summer.

LD Jordan Oesterle, UFA

. I think he's too good to sign a two-way deal, and the Oilers have too many lefties rated above him. It's crappy, but he's a guy you wish the best of luck and cheer for if he makes it.

LD Mark Fraser, UFA

. Like Fontaine, I think Fraser could return as a mentor/insurance. I'll guess he ends up elsewhere for our purposes today.
PROJECTED 50-MAN