The stage is set and the opportunity has arrived. The Edmonton Oilers have a 2-1 series lead on last year's Western Conference pennant winners, and at least some doubt must have entered the San Jose collective. Edmonton can hang with the Sharks in tight contests, and hold the ultimate trump card in Connor McDavid. The series is there for the taking, with only one real question remaining. Can the upstart Oilers finish this series? Massive opportunity tonight!
THE 1990 STANLEY
Names on the Stanley: Glenn Anderson, Jeff Beukeboom, Dave Brown, Kelly Buchberger, Grant Fuhr, Martin Gelinas, Adam Graves, Randy Gregg, Charlie Huddy, Petr Klima, Jari Kurri, Mark Lamb, Kevin Lowe, Craig MacTavish, Mark Messier CAPTAIN, Craig Muni, Joe Murphy, Bill Ranford, Eldon "Pokey" Reddick, Reijo Ruotsalainen, Craig Simpson, Geoff Smith, Steve Smith, Esa Tikkanen Peter Pocklington Owner, Glen Sather President and General Manager, John Muckler Head Coach
Dave Brown came over at the 1989 deadline from Philadelphia for Keith Acton; Kelly Buchberger was a late draft pick who worked his way up to the NHL, becoming a regular in 1988-89; Martin Gelinas was partial payment in the Gretzky sale, and a fine NHL player for a long time. He was 19 during this season. Adam Graves, Joe Murphy and Petr Klima all came over in the Jimmy Carson trade, a stunning deal from the moment it took place in November 1989; Mark Lamb was a waiver draft pickup in October of 1987 who played a substantial role in the Stanley win that spring of 1990; Pokey Reddick came over from Winnipeg in a minor deal; Reijo Ruotsalainen was acquired at the 1990 deadline from New Jersey for Jeff Sharples; Geoff Smith was a 1987 draft pick out of the St. Albert Saints who worked out very well; John Muckler had been a big part of the team as an associate coach, finally getting the head coaching job and cashing with a Stanley.
The 1990 Stanley is the most interesting story of all Edmonton's championships, although my heart has never been the same since. The Oilers had many trials and moments of crisis, and really survived more than won the 1990 Stanley.
Smythe Division Semifinal: Oilers over Jets in 7 games. Should have played Bob Essensa!
Smythe Division Final: Oilers over Kings in 4 games, outscoring LA 24-10 in those contests.
Campbell Conference Final: Oilers beat Chicago in 6 games. It was a brilliant series, Mark Messier's finest hour. Game 4 was epic, Greg Millen was pulled 11 seconds into the second period.
Stanley Cup Final: Oilers beat Boston in 5. Petr Klima scored in OT to win game 1 and after that the Oilers had a fairly easy time of it. Billy Ranford beat Andy Moog, the two men having been traded for each other in 1988.
Names on the Stanley five times: Glenn Anderson, Grant Fuhr, Randy Gregg, Charlie Huddy, Jari Kurri, Kevin Lowe, Mark Messier.
I loved all five of the Stanleys, but the three that have special status are 1984 (the first one), 1987 (you had to be there, but two reasons are the Flyers were the toughest finalists and Gretzky to Smith) and 1990, because it was unexpected. Of all the Stanley's the Oilers brought home, 1990 was the one I didn't expect to see. A great cluster, fabulous trades and a goalie who started badly and then owned the whole damned spring were the main reasons for the win. It was beautiful.
THE MODERN CLUSTER
If you had to name seven men from the current roster as the modern cluster, likely to be here and lead the team to Stanley? My list would be Cam Talbot, Oscar Klefbom, Adam Larsson, Darnell Nurse, Connor McDavid, Milan Lucic, Leon Draisaitl. Who is on your list?
POSSESSION NUMBERS AND THE STARTING LINEUP
We saw new lines on Sunday night and could see them again. We are so new to the playoffs, so numbers don't really tell us much. I am going to run Fenwick this time, just for a change of pace:
Patrick Maroon (46.81); Connor McDavid (50.00); Anton Slepyshev (57.14)
Milan Lucic (55.10); Ryan Nugent-Hopkins (54.90); Jordan Eberle (56.52)
Drake Caggiula (42.00); Leon Draisaitl (50.00); Zack Kassian (41.18)
Benoit Pouliot (52.38); David Desharnais (47.37); Mark Letestu (42.22)
Oscar Klefbom (50.94); Adam Larsson (46.43)
Andrej Sekera (45.16); Kris Russell (48.53)
Darnell Nurse (51.02); Matt Benning (56.25); Eric Gryba (41.67)
The top two lines have been playing the toughs and doing well in possession. The third line got the goal in G3 and I'd like to see them again. Pouliot is a possession demon (one of the main reasons I like him) and that line might be the best 4line Edmonton has had in quite some time. I'd like to see these lines roll tonight. You? Pairings are good, Todd McLellan doing a good job (by eye) of putting that young third pair in a position to succeed.
THE U18'S
We aren't paying a lot of attention to the 2017 draft, but good things are happening. The Oilers appear destined to draft in the early to mid-20's, and don't have a second round pick. I think they'll want to grab an offensive forward with that first rounder, and the U18's are giving all NHL teams some pause in regard to their rankings. Here are some of the names who are gathering steam:
L Kristian Vesalainen, Frolunda (SHL). Big W, skilled, strong, can play L or R. I have him at No. 23 on my draft board, but this Finn (who plays pro in Sweden) leads all scorers with eight points in three games. The consensus rankings have him at No.22, suspect he'll be moving up that list and mine. Why? Despite the small sample size of this tournament, it's a rare chance to see Vesalainen against his own age group. So far, stunning.
LC Joshua Norris, USNDTP (USHL). Two-way C showing good offense. I have him at No. 33, and remain a little uncertain about his offense. Norris is a splendid two-way C, exactly my kind of player, but if he has substantial offense he is a bona first-round selection. So far in this series he is 3gp, 1-1-2 with nine shots on goal.
L Grant Mismash, USNDTP (USHL). Physical winger with some skill. I have him at No. 55, he ranks higher on most other lists. Mismash, who possesses a great name (Gene would get 10 years worth of twisted puns out of that name), is scoring well in this tournament (3gp, 2-3-5). Based on his scouting report, this would be a player of interest for Edmonton.
L Mackenzie Entwistle, Hamilton Bulldogs (OHL). Big winger, who can skate, check, some skill. I have him at No. 65, partly because the offense isn't first-round level. He is scoring well at the tournament (3gp, 2-2-4) and is a player to watch.
LD Max Gildon, USNDTP (USHL). Size, speed, skill. Inconsistent or he would be higher. I have him at No. 70 on my latest ranking, he has three goals in three games. The USHL is drunk with excellent puck movers on the blue line, suspect the Oilers may try to add to their already impressive defensive group. Why? Need more mobile players who can pass, carry and shoot.
ERIC RODGERS FINAL NUMBERS
Eric Rodgers continues to do his fine work on AHL stats despite the fact the Oklahoma City Barons picked up stakes and headed for the coast a couple of year ago. I really value this work, and based on your feedback you do too. Over the next couple of months, we'll drill down on all of it. However, the NHLE's hold special interest, along with estimated time on ice. Here are the final numbers for this season.
CONDORS FORWARDS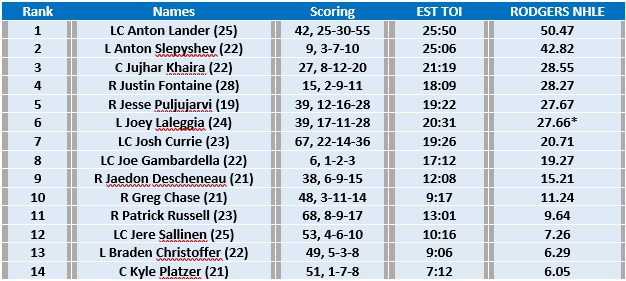 Anton Lander's numbers tell us he can play and needs an expansion draft. Cruelly, that may not happen, as he has apparently signed in the KHL.
Anton Slepyshev's sample size is a little show but this is a promising number. Can the Russian score 40 points in the NHL? That would be a helluva boost to the depth chart?
Jujhar Khaira is on the upper side of what we might expect from a fourth liner, and I think that's a reasonable estimate. I think seasons of 15-20 points and rugged, responsible play is a good estimate.
Jesse Puljujarvi is 18, so we have to view these numbers through that kind of lens. I will drill down during his RE,but the offensive questions we had due to his Sm-Liiga numbers remain with us one year later. Five years from now, if you are glancing back at this paragraph, let it be known there was some concern from this quarter in regard to offense.
Joey Laleggia is listed here as a forward, with his January 1+ numbers reflected. I did the NHLE here, so Eric's number might be a little different.
Joe Gambardella and his small sample size represents the end of the offense in my opinion. He'll no doubt post stronger boxcars over a full 2017-18 season, but that's not a bad total considering the upheaval going on at the time.
CONDORS DEFENSE

Jordan Oesterle is the only defenseman on the farm who we should consider to be a positive offensively. Even then, defensemen and their blasted second assists artificially boost their value. Safe to say most of these men will make or break their NHL careers based on solid defensive play.
Joey Laleggia is no longer a defenseman, but I listed him here.
Griffin Reinhart's offense is exactly what we thought it was on draft day.
LOWDOWN WITH LOWETIDE
A busy morning, TSN1260 beginning at 10. Scheduled to appear:
Jonathan Willis, Oilers Nation. Can Edmonton win this series, and win tonight? What about the new lines?
Steve Kournianos, The Draft Analyst. Drilling down on the U18s.
Scott Cullen, TSN. The Oilers, the Leafs, the Flames, the Senators. Holy!
Kent Wilson, Flames Nation. The wildly unfair Flames-Ducks series.
10-1260 text, @Lowetide on twitter. Talk soon!