I decided late in the regular season to let the playoffs wash over me. It's been a long time, I was a man in my 40s in 2006, the grey on my temples barely noticeable (but working hard). Now? Grey has taken both temples and moved troops to every quadrant, to the point where grey hair (which is akin to copper wire) is there to greet me morning, noon and night. I don't give a damn about grey hair, or aging really (although it would be nice to hang around to see how the kids turn out, and to spend more time with Mrs. Lowetide). I do care about the things I love, and one of them is the grace, length and beauty of a hockey season. I am enjoying the spring like a long lost friend, and in many ways that's how it feels.
PLAYOFF NUMBERS

There are some strong performances listed above, I'd point out Cam Talbot, Oscar Klefbom, Zack Kassian plus centers Connor McDavid and Mark Letestu as posting worthy series.
Funnily enough, my nominees for player of the series are Leon Draisaitl and Ryan Nugent-Hopkins. It's been a funny series.
Why RNH?  In the words of Craig MacTavish, it's not just about what you deliver, it's also about what you leave.
The second line has been outstanding for the Oilers. NaturalStatTrick has RNH at 56 percent Corsi for 5×5 against Joe Thornton.
McDavid's Corsi against Vlasic ( 56.39) and that matchup is stapled into this series. McDavid has played against Vlasic for 61 5×5 minutes and 14 minutes away from him. McDavid's Fenwick for in those 14 minutes away from Vlasic is 57 percent. Too small a sample size, but McDavid against Burns should be a goal for the coach (70.59 for McDavid).
1991-92, PLUS 1992 PLAYOFFS
The 1991-92 season was rife with pain and disappointment.
Charlie Huddy was lost in the expansion draft in May.
Jari Kurri was dealt in May, to Philadelphia. Philadelphia traded him to Los Angeles, same day.
Glenn Anderson and Grant Fuhr went in September.
Then came Mark Messier's trade, something we knew was coming (there had been some contract haggling the summer before). In August 1991 Messier went public with a trade request and after that you're never going to get full value. Messier said he was not convinced the Oilers were committed to winning, and he wanted out. Source
Opening night, you needed a damned program and that's for sure. Edmonton had good forwards (Vincent Damphousse, Joe Murphy, Craig Simpson, Esa Tikkanen) but no one to push the river, not like Messier. Defensively, the Oilers were a rugged bunch bordering on filthy. Dave Manson and Luke Richardson played major roles, with Kevin Lowe still hanging around to provide veteran leadership. Billy Ranford was the goalie. We traveled to Mexico that winter, I didn't check the scores for any of the 14 days we were there. I remember thinking they might as well trade Esa, Lowe, Ranford and Simpson, and they basically did over the coming months. It was a mess.
The Oilers did win some playoff games with this congregation, and I liked Joe Murphy and Martin Gelinas (and others) among the youths. Edmonton beat LAK in six games, then Vancouver in six (Ranford was stellar in that series iirc) before losing to the Chicago Blackhawks in a Campbell Conference sweep. Source
TONIGHT
The Oilers are 1-1-0 on the road during this series, winning a tight-checking affair and getting blown out 7-0. I think the Oilers win tonight if the two teams are tied after two, and the biggest test is likely to be in the first 10 minutes of the game. Stay out of the penalty box!!!!
ETHAN BEAR
Scored a great goal (it was the winner) last night. Highlights are here.
COMPLETE NHLE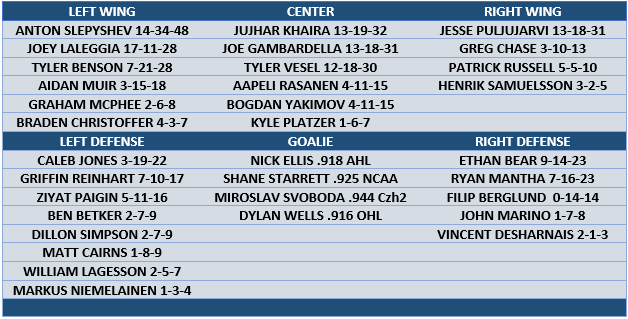 There's a lot here and we will drill down over the coming weeks. As is the case with the parent team, you can see Peter Chiarelli building up the middle (G, D, C).
I think we'll see four graduates (Jesse Puljujarvi, Jujhar Khaira, Anton Slepyshev, Griffin Reinhart) to the 2017-18 club.
Joey Laleggia and Joe Gambardella are the most interesting forwards behind the three mentioned above (JP, JJ, Slepy), at least in the short term.
The best long-term forward prospect? Tyler Benson, but injuries are a concern. I'm also intrigued by Graham McPhee and Aapeli Rasanen.
The Oilers have been spending a lot of time, money and draft picks on defensemen and it is reflected here. I think Caleb Jones, Ethan Bear and Ziyat Paigin are legit NHL prospects and Ryan Mantha could join them as a bona fide future option.
Filip Berglund had a fine season on less than 10 minutes a night. I pumped his number here, as he was the only player in this group who played low minutes (Paigin was around 14).
Who is the best goalie prospect in the system? The fact we have more than one candidate is breaking news. I am intrigued by all of them.
SPENCER FOO
Spencer Foo reportedly ready to announce his decision and Peter Chiarelli's college signings https://t.co/fe9DLo6TT3 via @oilersnation

— Lowetide (@Lowetide) April 22, 2017
Spencer Foo may announce his decision this weekend, if he selects the Oilers his placement on the depth chart will be interesting. For next season, I think Leon Draisaitl stays at RW, meaning Jordan Eberle and Jesse Puljujarvi are the top candidates for 2R. After that, Zack Kassian would grab a spot and then it's wide open for Anton Slepyshev, Iiro Pakarinen, Tyler Pitlick and others. I think Foo is a solid prospect, but would guess he would have a chance to make the Oilers opening night lineup. His NHLE (31) is shy of Drake Caggiula's (44) when he graduated, but Foo could surprise and of course it depends on who he plays with when Foo gets here.
ARE YOU EXPERIENCED?
One of the things we are seeing this spring is young men getting NHL playoff experience. It will pay off next year and in the years to come. The three young defensemen are learning on the job and if the team can use them while winning a series or two, bodes well for the future.
VALUE
In dealing Brandon Davidson for a rental, the Oilers reduced their 50-man list for summer by one and guaranteed another name will be lost in the expansion draft. Because Oilers fans (like me) are still working in the small market world or pre-cap and pre-Katz, that runs counter to team building. However, the Desharnais overtime goal also represents another important area of team building: Success. We may see the fruits of that success this weekend, should Spencer Foo decide it's Edmonton. Connor McDavid changed everything, but having playoff success will go a long way to turning around the Oilers reputation and making Edmonton an attractive destination.