I imagine many (most?) Oilers fans are in favor of trading Jordan Eberle today, but this blog cannot endorse such a move. Why? Winning teams move out expensive or underperforming option if they have a superior option. The Oilers RW depth chart has no obvious 2R replacement and that's a concern.
EBERLE ON DRAFT DAY
Bob McKenzie: Eberle is considered one of the smartest offensive players in the draft. He is a better goal-scorer than a playmaker and is an elusive talent when he has the puck. There are some questions about his speed, but he does have quickness, especially in tight situations and one-on-ones.
Red Line Report: Creative little center has been handling the rough going in the WHL better than we expected and is a productive offensive force every night.
Scouting reports are an excellent place to start when looking out over a career of some length. What did we think about this player when drafted? Signed? After one NHL season. Jordan Eberle was a terrific draft pick for Edmonton, his junior and WJ career creating a great deal of excitement from the moment he was drafted. Let's go back and look at his career, using NHLE and points-per-game.
EBERLE'S OFFENSE, BY YEAR
Age 17 (WHL) 15-11-26 .317
Age 18 (WHL) 14-16-30 .366
Age 19 (WHL) 22-24-46 .561
Age 20 (NHL) 69, 18-25-43 .623
Age 21 (NHL) 78, 34-42-76 .974
Age 22 (NHL) 48, 16-21-37 .771
Age 23 (NHL) 80, 28-37-65 .813
Age 24 (NHL) 81, 24-39-63 .778
Age 25 (NHL) 69, 25-22-47 .681
Age 26 (NHL) 82, 20-31-51 .622
Per 82gp: 27-35-62 .756
Eberle's peak came at 21 (that's not unusual, players peak early offensively) and his numbers over the last two years are under .700 per game. That can be for a lot of reasons (fewer power-play points) but it's probably reasonable to expect Eberle to score less than .750 next season. If we take his first seven NHL seasons and look for comparables 20-26, we find these players: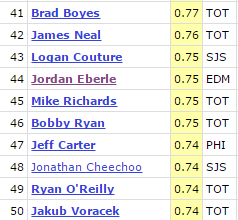 There are some very good names there, and some players who may be regarded as somewhat similar to Eberle as he appears to us today. The one that may fit the best is a player Peter Chiarelli once traded for Dennis Wideman. Brad Boyes was regarded as more of a two-way type, but there are similarities. After age 26, Boyes went 494gp, 92-161-253 (.512). That works out to about 42 points per 82 games. Is that what we might see from Eberle in the future? 494 games is about six seasons, meaning Eberle would be just past halfway through his career at this time. I think we can agree that less than 50 points per season isn't worth $6 million, but Eberle's contract is up in two years (summer 2019) and we may see a market correction.
REPLACEMENT
I understand the idea of wanting more value next winter for $6 million dollars, but let's agree that the Oilers need to replace Eberle's offense if they are going to send him away. Let's use 50 points per 82 games as a line in the sand. Here are the current RW's on the roster (sans Eberle) in 82gp notation:
Leon Draisaitl 21-38-59
Zack Kassian 12-14-26
Jesse Puljujarvi 3-19-22
Tyler Pitlick 16-4-20
Anton Slepyshev 6-11-17
Some of these numbers are not going to be accurate (not enough games), but the Draisaitl and Kassian numbers should be trusted. I think Leon Draisaitl can be counted on to deliver strong offense next year on Connor McDavid's line, and Zack Kassian scoring 15 goals and 30 points wouldn't shock me. I don't think we have an obvious 50-point man for 2R here, do you?
MINORS
Let's see if there are Condors forwards who might be able to cover this bet. Here are NHLE's for Bakersfield wingers
Anton Slepyshev 14-34-48
Jujhar Khaira 13-19-32
Jesse Puljujarvi 13-18-31
Joey Laleggia 17-11-28
I think that's probably the extent of the list, not certain Khaira or Laleggia are solid options on RW but included them for interest's sake. It's likely Peter Chiarelli would be interested in looking at free agency after contemplating this list. Fair?
Free agents who might be of interest include T.J. Oshie, Alexander Radulov, Jaromir Jagr (hey, he played for Peter Chiarelli before), Ales Hemsky (I know), Radim Vrbata, Patrick Eaves. Is there anyone in there you like and is likely to play in Edmonton? Remember, this player may get a chance to play with Connor McDavid.
Peter Chiarelli may also look at trades, and that seems the most likely scenario. Bottom line: trading Jordan Eberle may make sense. Trading him without replacing him with a proven offensive player may mean another 'growth' year. Jesse Puljujarvi or Anton Slepyshev may grab the job, but that is far from certain. It's go time. The Oilers need a veteran replacement.