The most difficult game to win all year awaits the Edmonton Oilers tonight. Just minutes away from a 3-2 series lead, bad luck, horrible timing, the mistakes of youth and video review all conspired to put them on the brink of elimination. The overwhelming realization that tonight could be the last night of the season may end up being too much for a young team to rise against, and this evening could be a major disappointment after a long run of brilliance and satisfaction.
You go ahead and bet against Connor McDavid and these Edmonton Oilers, I'm going to pass on the opportunity. There's a lot we don't know about tonight (Andrej Sekera, the team's mindset) but I haven't bet against 97 since lottery day and I'm not going to start now. Bless you boys, win this one for Cam Talbot and let's get this back to California one last time.
Check this out! Fountain Tire is an Edmonton-based company who share Oilers fans passion for their team in a unique way. Check out Fountain Tire FanBods and join the fun! Instead of painting your own body in support of the Edmonton Oilers, Fountain Tire employees have donated their own bodies to the fans, allowing them to type and send the Oilers a message of love and support this season using their own naked pride and chests.
PLAYOFF SCORING

McDavid is finding the range now, it's only a matter of (having enough) time.
Leon Drasiaitl's fantastic regular season has been followed by a splendid playoffs.
Milan Lucic doesn't have the foot speed to arrive at the (usual) scene of the crime.
Ryan Nugent-Hopkins is starting to show up in the scoring summaries more often, good to see. Now, let's hope tonight brings him his first playoff goal. Eberle too.
Drake Caggiula is looking more and more like a solid option on 97's line. I don't know that we'll ever see him there for 80 games, but as a plug-and-play when Leon is needed elsewhere, he should be able to play that part for years.
Adam Larsson has four points in this series, leading all defensemen.
Oscar Klefbom has emerged as a complete defenseman. We'll talk about him during the RE, but the Oilers solved a major issue via the draft, as it should be.
We are last chance Texaco ladies and men, and Andrej Sekera is status unknown.
Kris Russell had a strong night on Friday and the coach clearly loves him. More in a minute.
Darnell Nurse and Matt Benning are gaining valuable experience this spring, and I wonder how quickly they will learn the lessons before them. That may end up being key for Edmonton's Stanley chances as the seasons roll along.
LINES BY POSSESSION
Corsica.hockey provides brilliant information on lines and pairings, and we are now deep enough into the playoffs to see some numbers worth viewing. One of Edmonton's flaws in the Anaheim series has been 5×5 possession, so let's run the Corsi for by line in that discipline:
Drake Caggiula-Connor McDavid-Leon Draisaitl (33 mins) 58.23 percent
Milan Lucic-RNH-Jordan Eberle (91 mins) 55.49 percent
Benoit Pouliot-David Desharnais-Anton Slepyshev (49 mins) 49.47 percent
Patrick Maroon-Mark Letestu-Zack Kassian (25 mins) 48.72
Patrick Maroon-Connor McDavid-Leon Draisaitl (72 mins) 48.50
Drake Caggiula-Mark Letestu-Zack Kassian (50 mins) 41.49
You can find out a lot about your team in a series against another playoff team, and for Todd McLellan the top four lines listed here have been doing a reasonable (or better) job in possession. Small sample size for Caggiula on the 97 line but interesting all the same.
PAIRINGS BY POSSESSION
Oscar Klefbom-Adam Larsson (159 mins) 50.82
Darnell Nurse-Matt Benning (117 mins) 50.67
Andrej Sekera-Kris Russell (138 mins) 46.80
Lots of encouraging numbers here, the top pairing has delivered under trying circumstances in my opinion. The third pairing is also above 50 percent in possession despite the wobble one would expect from two blue with so little experience. The third pair is well below 50 percent and that's an issue, I'm not sure how much of that number is on Russell (Sekera has struggled to my eye) but that's the area to improve next season.
KRIS RUSSELL'S FUTURE
Steve Simmons: No one gets more abused by the stats gurus than Edmonton defenceman Kris Russell, who is hardly a Corsi darling. So it's nice to see him have a strong playoff run with the Oilers, where his minutes played tells you what the coaching staff thinks of him. Source
I think we're heading for a summer that includes two contracts (97 and 29) that will approach $20 million cap per season (beginning in 2018-19). Can the Oilers afford to sign Kris Russell? The answer is yes, if Peter Chiarelli can manage several things. A buyout of Mark Fayne, trading Benoit Pouliot and one more move (I'll use cashing Eberle) could make it happen.
POSSIBLE 2017-18 ROSTER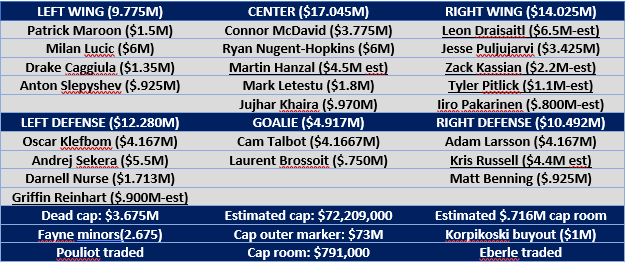 I think the Oilers would have to trade Jordan Eberle (or Nuge) to make signing Kris Russell possible. That's how I see it, anyway. When McDavid's contract kicks in (I expect it will be $10-11.5 million annual cap but that's a guess) for 2018-19, the club will have to deal Nuge. I don't see another way to do it, please chime in if you have any ideas.
The Oilers may indeed sign Kris Russell this summer, after the expansion draft. You and I may look at the Corsi and Fenwick or Woodmoney numbers and balk, but the coach is Todd McLellan and he clearly values what Russell brings. Does McLellan value Russell's skill set higher than he values Jordan Eberle? You already know the answer.
WHO REPLACES SEKERA TONIGHT?
My guess is that Eric Gryba draws in and Matt Benning joins Kris Russell on the second pairing. The Swedes remain and Nurse plays third pair with Gryba. I like the idea of Klefbom-Benning but it's late in the evening for that kind of nuance.
FRACTURE
If the Oilers lose tonight, I believe it will be a defining moment for a lot of Oilers fans. The fracture of last summer's trade activity divided the fanbase and has given us many months of bickering. I don't consider myself a part of any group (my childhood upbringing has defined me so I avoid crowds when talk turns to religion) but do believe there is a fracture brewing that may see a gigantic reveal this evening.
I think many fans of the Oilers became fans of the team in the period surrounding Marchant's OT goal and then the MacT coaching years. This (younger) group was excited by the 2006 Stanley run and then drained by the decade of stunning losses.
My theory is that these fans cannot balance the roster moves of last summer with the success and failure of the current roster. I suspect they are already gone but may not realize it and a loss tonight will set them free. I further believe we will see those fans migrate toward 'smart teams' like the Toronto Maple Leafs and Florida Panthers.
I could be wrong, but it has to be exhausting to cheer for a team that does not share your world view. In the coming months, expect high foreheads and deep thinkers (and bloggers) to explore other teams as a release and a curio. Somewhere in those days and months, they will find release. It is as it should be, and we should embrace whatever future fits us best.
Sail on, Dellows. I have enjoyed the ride immensely.