Peter Chiarelli has his Edmonton Oilers inside the window to win the Stanley Cup. In observing PC over many years, he is aggressive in pursuing solutions, is willing to risk losing a deal if the payoff is a better roster, and trusts his assessment and that of his scouts. Last season, when we all knew he was after a defender, all manner of rumor appeared across the hockey world. I don't recall reading much on Adam Larsson and it's likely we don't have the name of the player(s) headed here this summer identified either.
From time to time, some ask my opinion on this or that matter, and today I thought it might be an idea to have a run at the summer to come. Connor McDavid's entry-level deal is one year from expiration, and going deep into the 2018 postseason should be the goal. So, in my opinion, the Oilers have to stop employing young players who cannot contribute immediately, recalling these men to the NHL only when they are ripe or over-ready. I also think the team needs to reshape the cap spend at the top and that's going to mean some pain. Here are my bullet point ideas, and the roster is at the end if you would like to scroll down.
Get the Connor McDavid deal done. I'm uncertain about money and length, and when it happens, but this is the top priority for Edmonton this summer. If nothing else gets done, this gets done.
Get Leon Draisaitl signed before he does something to increase his value. I believe the big man has increased his asking price substantially in 2017, and the sooner that deal gets signed the better. I am estimating (below) $7 million times many years, seven or eight.
Prepare the roster as if Jesse Puljujarvi starts the season in Bakersfield. I think he's a helluva prospect but the Oilers have substantial bonus money (McDavid, etc) already. If he dominates Bakersfield, plenty of opportunity to call him up. Oilers can't be auditioning in the NHL anymore, especially with expensive bonus dollars pushing the cap.
Leave Griffin Reinhart, Benoit Pouliot and Mark Letestu unprotected. I assume the Golden Knights are going to take Reinhart, and Chiarelli is going to have to endure that loss (and resulting hammering that will no doubt occur). He can survive any back lash, and going this way means the team isn't forced into signing Iiro Pakarinen for expansion exposure purposes.
Offload Benoit Pouliot. I think it may be a buyout, because I don't think it makes any sense to sweeten the deal with LV to the point of including a young player like Caleb Jones. Buyout is here and is reflected below. There is a way to keep him, as explained below.
Make a trade for a second-pairing RH defender. I'm not going to pay Shattenkirk's ransom, and WG tells me those fancy offensive defenders are overvalued. The Florida Panthers are a team with a lot of RHD, a very rare item. The Panthers are looking for a RW who can score goals. So, my trade is Jordan Eberle and Mark Fayne to the Florida Panthers for Nick Bjugstad and Mark Pysyk. The deal gives Edmonton significant cap room for this season and next, but means there is a real drag (Bjugstadt) with considerable risk beginning 2018 fall (and running three seasons after).
Sign Martin Hanzal. This gives the Oilers all kinds of options, beginning with Draisaitl on RW (necessary with the Eberle trade). It also (likely) ensures Nuge's exit by the following season, when McDavid's second deal hits the cap. Hanzal should come in well short of Nuge's current deal, offering some relief when a trade finally occurs.
Sign Kris Versteeg. Edmonton is going to be pushing for a Stanley with several unproven forwards (Caggiula, Khaira, Slepyshev in my model, Puljujarvi in the minors).
PROJECTED ROSTER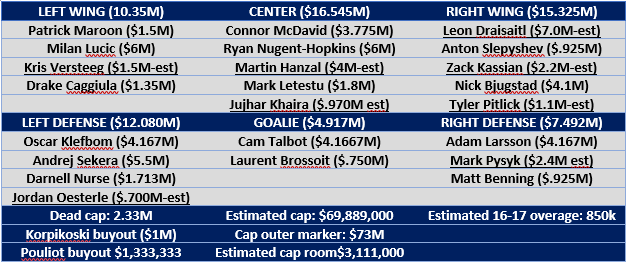 I didn't add an offensive defenseman, but Oscar Klefbom and Matt Benning may grow into the role.
I added a really good defenseman who can grow with the group, giving this bunch a chance to spend several years together.
The buyout on Pouliot may not have been necessary, but he's leaving so I decided to keep him as part of the puzzle. I don't see any real reason to suggest Versteeg will be a better player in 2017-18, but the Oilers are moving on.
I have Hanzal as the other big addition and this gives McLellan all kinds of room to wheel. If Puljujarvi pushes up from the minors, Leon can move back to center and the organization may choose to move Nuge mid-season for RW help.
Bjugstad is a massive risk, and might be an astounding boner, but I like the idea of getting a long-term option (Pysyk) for Jordan Eberle. It feels right.
My thanks to StudMuffin for cap overage information.
The payoff is Edmonton grabbing a suitable free-agent (Hanzal) and a strong option for an area of weakness (Pysyk) who could sustain the blue for years. Bjugstad is a RHC who can play wing, a man who scored 24 goals three years ago, is 24 and 6.06, 218. Love to hear your thoughts!