Peter Chiarelli has been nominated for General Manager of the Year in the NHL. Most of Oilers Nation is thrilled, but many are baffled. This is the world we live in.
CHIARELLI'S TRADES 15-16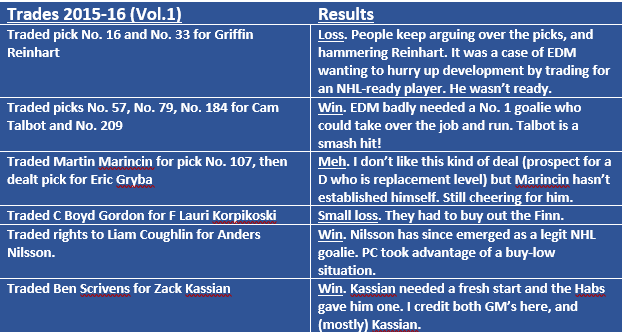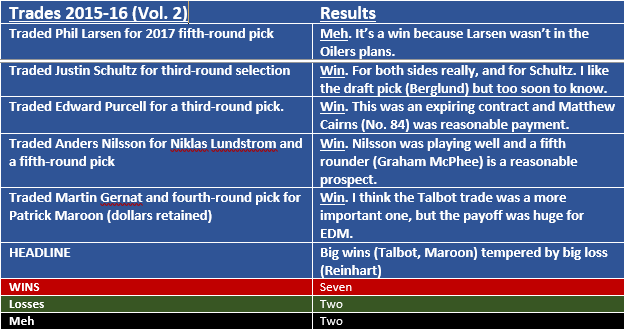 In his first 12 months as Oilers general manager, PC let the other GM's know he was open for business. The Reinhart trade is more famous now than any other, those are the breaks because people remember the negative. I think the Cam Talbot trade and the Patrick Maroon trade more than cover the GR deal but it would be unwise to forgive that draft day deal completely. Having those draft picks matriculating in the system now would be a major plus for the Oilers. If you disagree with the ratings, holler. I think the three big deals are correctly marked and the rest is basically superfluous. Note: If you're going to argue the Schultz deal is a loss, pack a lunch because it's going to take you all day. Not a chance in hell Mr. Schultz flourishes in Edmonton as he has in Pittsburgh. A more mature team needed to guide him, and did just that thing.
CHIARELLI'S TRADES 16-17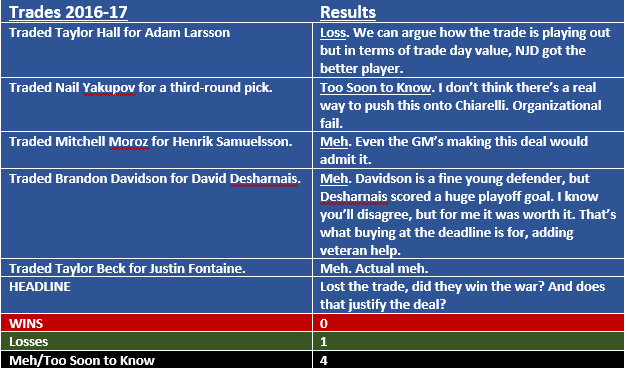 A far less active season of deals, and no clear wins I can see. A big loss, one that Oilers fans still talk about (I think it's about half and half but who knows?) coming up on one year later.
You can lose a trade and win the war, or at least I believe you can. If the Oilers win a Stanley Cup under Peter Chiarelli, I'll give him full credit for it. I think he has been enormously lucky in some ways (McDavid) and extremely unlucky in others (Jeff Petry left Edmonton 53 days before his arrival). If and when the Oilers win a Stanley with Peter Chiarelli as general manager, I will celebrate fully. Since this blog speaks for no one but me, I will only say that it is my sincere hope we can celebrate that day together (should it come to pass).
One thing that we should note: Chiarelli's first three years in Boston (trade activity). In year one, he made 10 trades for the Bruins (biggest: Brad Boyes dealt for Dennis Wideman). In year two, it was 10 again (biggest: Hannu Toivonen for Carl Soderberg) and in year three it was six (biggest: Matt Hendricks for Johnny Boychuk). PC's first two seasons in Edmonton have produced 11 and five deals, although he has been extremely active in college free agency (as a means of procurement).
Peter Chiarelli, Pierre Dorion and David Poile are the 2017 finalists for GM of the Year – an award which desperately needs a name.

— Frank Seravalli (@frank_seravalli) May 16, 2017
You will read a lot of negatives about Chiarelli being nominated for this award, but the NHL awards general managers (and coaches) who spike in a season. Connor McDavid and Cam Talbot are a big part of these awards, and everyone knows that to be true. I think it's great that Chiarelli is nominated, hope he wins! So much better than worrying about what former Oiler is going to get the gig this summer (answer: Gretzky). The only man to win the Adams as an Oilers GM? Glen Sather, 1986. He earned more and that's for sure.
Mattias Ekholm attempted 45 passes tonight and completed 41. That's nuts!

— Andrew Berkshire (@AndrewBerkshire) May 17, 2017
Peter Chiarelli spoke yesterday about the Ducks and Preds defensively. He's right, these two clubs have fantastic bluelines. Good speed, great passing, mobile, some of them have shots that crush steel. So much venom yesterday about signing Kris Russell and what a horrible idea it would be, and you know if the Oilers had Mattias Ekholm ready to step in I'd agree.
There is no such animal. Kris Russell was hired a year ago because it became clear Griffin Reinhart was unready. If they hire him again, it means Reinhart again is unready. Sometimes when you sign a veteran, it's because your kids aren't ready. Now, if the Oilers sign Russell for three years, and they may, there's a good chance that signing is going to be an albatross by the end of the contract.
MINNESOTA GOES WILD!
I always wait 24 hours to grab items from other people's work, seems the fair thing to do. It took a lot of will to pass on the opportunity yesterday, as Elliotte Friedman produced a giant 30 Thoughts. The major point of interest: The Wild may be convinced to move Matt Dumba, Mikael Granlund and or Nino Niederreiter. Yes please! I'd take Granlund over the other two men, but that speaks to my preference and maybe you would prefer NN or the blue. Either way, interesting players.
CURRENT CAP SITUATION
Now that the season is over, there are more people looking at the cap/roster for next season and wondering how much room there is going to be this summer. PC used $75 million as a line in the sand yesterday, let's proceed as if that's the cap. Here are the current contracts for Edmonton entering summer:

That's nine forwards, six defensemen and two goalies. I think there are at least two players listed who will not be on the opening night roster (Pouliot & Fayne), plus Andrej Sekera will be on LTIR.
I am including all bonus numbers here and did not include Jesse Puljujarvi.
Six players (five forwards, one defensemen) will be added to this group.
RFA's who are extremely likely to be signed include Leon Draisaitl, Zack Kassian, Jujhar Khaira, Griffin Reinhart and possibly Iiro Pakarinen. Pakarinen is interesting because if he is signed, the Oilers are free to pull back Mark Letestu from the expansion list.
UFA's who are extremely likely to be signed include Kris Russell. I think Eric Gryba, Tyler Pitlick and Jordan Oesterle could also land contracts.
LOWDOWN WITH LOWETIDE
At 10 this morning, TSN1260. Scheduled to appear:
Darcy McLeod, Because Oilers. Can Kris Russell pass the dutchie from the left hand side, plus Sekera's injury and what it means to the Oilers.
Eric Fawcett Press Basketball. NBA Draft lottery went last night, Celtics and 76ers were the big winners. Plus who wins a Warriors-Cavs final?
Steve Kournianos, The Draft Analyst. Steve is doing a complete mock draft (one round per day!) that begins today. We'll talk about the quality and why he chose his Oilers selection.
Fluid guest list, may be sliding some Senators talk into the 11:25 segment.
10-1260 text, @Lowetide on twitter. 90 minutes till we talk!