We can call this the calm before the storm. In the next four weeks, the Edmonton Oilers will lose a player to expansion; draft a half-dozen or more prospects, add 10-12 names to its 50-man roster and decide on who is going to coach Bakersfield next season. Some of those decisions may linger past June 26, but this is going to be epic across the NHL. Stay close to your Al Gore!
50-MAN ROSTER (current)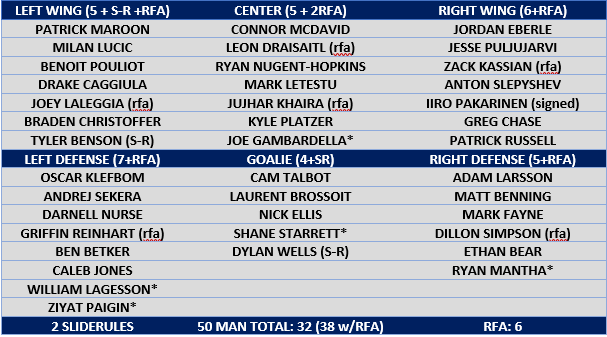 The Oilers have 32 signed men and then another six RFA's who are probably going to be signed (as listed here). Griffin Reinhart or Jujhar Khaira may be chosen in the draft and Kris Russell may be added, but the fact is we are 12 to 18 players away from the 50-man for next season. This is going to be amazing.
WAITING
G Eetu Laurikainen RFA. Didn't hear a thing about him after November. Unlikely to return.
LD Kris Russell. Chiarelli sounded like Russell was coming back at his exit interview.
RD Eric Gryba. PC also said the club would talk to Gryba, may depend on Reinhart.
LD Jordan Oesterle. His speed will get him an NHL chance and he may grab a job.
LD Mark Fraser. He was effective in his role, may return.
LD Dillon Simpson RFA.. One of the few still outside who I believe will sign.
LD David Musil RFA.. His "loan" to Tucson signaled the end, just waiting for destination.
LC Anton Lander. Officially signs with Ak Bars of the KHL. 
LC David Desharnais. Scored a huge goal versus San Jose, unlikely to be back.
LC Jere Sallinen. Signed in Sweden (Orebro HK) after unsuccessful season. 
RC Henrik Samuelsson, RFA. Major disappointment after trade. Future unknown.
RC Zach Pochiro RFA. Remnant of Yakupov deal, unlikely to return.
L Matt Hendricks. In the olden days, this is where we start talking roving minor  league coach.
L Joey Laleggia. He scored enough on LW to be considered a bona fide prospect.
R Tyler Pitlick. I would like to see him back, but Pakarinen's signing confuse issue.
R Justin Fontaine. He is an interesting player, I could see him signing.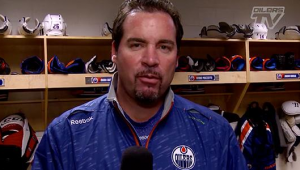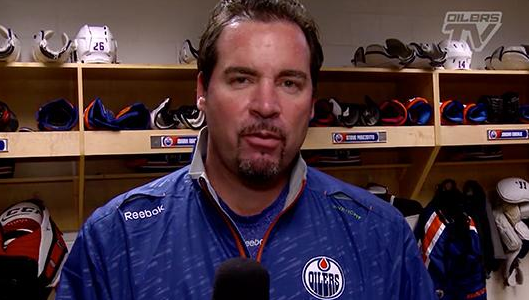 Former Oilers and Barons coach Todd Nelson
CONDORS COACH?
Gerry Fleming is the odds-on favorite to return for next season but there are two prominent men who must at least be in the conversation for the Bakersfield job. At the Memorial Cup last night, Rocky Thompson's Windsor Spitfires won the final against Kris Knoblauch and his Erie Otters. Both will probably get an opportunity to move up to pro, AHL and then possibly NHL.
No matter who ends up being the coach next season, that man has to play the kids. This has been an ongoing problem for the organization and it has to stop. Entry-level prospects have to play, and that may mean losing seasons for the AHL coach. That's the job.
As you know, Eric Rodgers provides this blog with TOI estimates (and other metrics) for the AHL team.
2016-17 Estimated TOI (Condors)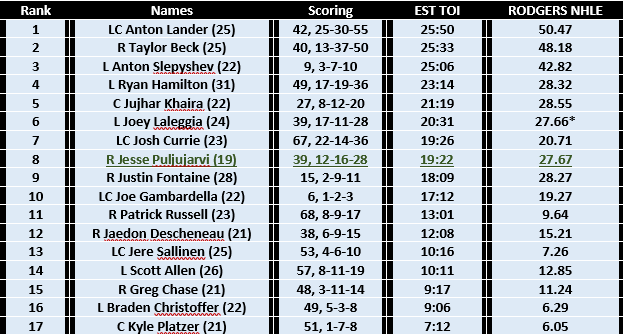 Now these are estimates but I watched a lot of those games and fact is Anton Lander played with veterans like Taylor Beck, while Jesse Puljujarvi played with Josh Currie. Maybe that's what the organization told the AHL staff to do, and if so then they must have had their reasons. Seems to me it would need to be a very strong reason for a No. 4 overall to get depth minutes in the minor leagues. Whatever else happened in Bakersfield doesn't matter.
Jesse Puljujarvi was less a player at the end of the season than on the day he arrived in California. He lost confidence, did not progress and was unable to find his game during the WHC's. Whatever the process in Bakersfield, it didn't work with this young man. The Oilers may have to take a different approach, perhaps giving more playing time to prospects like Kyle Platzer and Greg Chase would also be a fine idea.
ALEXANDER KERFOOT
It looks like the New Jersey Devils won't sign college forward Alexander Kerfoot (Source: North Jersey.com). He went 36gp, 16-29-45 (NHLE: 23.6) this season with Harvard and is a left shooting center-wing. He is skilled and could be a player of interest for Edmonton.
THE NHL COMBINE
The NHL combine begins today and runs all week. The Oilers drafted nine players a year ago, and six of them attended the combine. Here they are with Bob McKenzie rank:
Jesse Puljujarvi selected #4, ranked #3 (attended combine)
Tyler Benson selected #32, ranked #39 (attended combine)
Markus Niemelainen selected #63, ranked #38 (attended combine)
Matt Cairns selected #84, NR (attended combine)
Dylan Wells selected #123, NR (attended combine)
Graham McPhee selected #149, NR (attended combine)
Jim Devellano, The Road to Hockeytown: "We're trying to determine if the player can get to the next level, that's the real job. Most people can sit and watch a game and tell you who the best player on the ice is, but the good scout will be able to judge whether or not  a player can go a step or two higher. We in the hockey business call it projecting."
There were 114 men who attended the combine a year ago, Edmonton took six of them. In a 30-team league, the NHL would have had to invite 180 players in order for Edmonton's haul to represent average. I have been staring at this thing for years and the Oilers appear to really like the combine opportunities. What I have not been able to suss out? If Edmonton is one of the teams who get specific players invited (despite not being among the top 90 or so in rank). No list yet, but if will probably find daylight today and I will post a link on the 5pm.
Note: Later this week I will post my final 2017 list. Some tweaks but basically what you've already seen. After that, I will spend more time on discussing the draft on the Lowdown. My plan is to have lots of guests on over the month of June, including regulars and some new folks. If you'd like to hear from someone, let me know!
LOWDOWN WITH LOWETIDE
At 10 this morning, I get five swings this week and am going to make them all count. TSN 1260, scheduled to appear:
Scott Burnside. We set the stage for Game One of the Stanley Cup Final!
Kirk Luedeke, Red Line Report. The USHL has dozens of fabulous prospects, we'll uncover some names you may not know.
Jason Gregor, TSN1260. Oilers summer just around the corner and the Eskimos boot up.
J.R. Lind, Patch.com. One of my favorite writers and a long-term observer of the Nashville Predators gives us a close up on Nashville as the SCF begins.
10-1260 text, @Lowetide on twitter. Talk soon!