It was a busy news day yesterday and that should continue through the next several weeks. The cap could be anywhere from $73 million (tight) to $77 million (room to wheel) if the NHLPA uses the retro rockets. That's good news for Oilers fans and sets up summer in a more promising manner.
 CHIARELLI'S SUMMER LIST
Get Connor McDavid signed to a long-term contract. (Five years times ??)
Get Leon Draisaitl signed to a long-term contract. ($7.5 million times 8?)
Negotiate the expansion draft rapids (Reinhart, Khaira, Letestu. Brossoit)
Find a second pairing D with two-way acumen. (Shattenkirk, Hamonic, Pysyk)
Find a short term solution to Sekera injury (Brian Campbell)
Find a forward who can help the offense. (Hanzal, Strome)
Make enough cap room to get everyone in under the number with enough room to spare for the trade deadline.
I've deleted Benoit Pouliot's trade or buyout, because it may not be necessary. The extra cap may allow the Oilers to keep BP this season and buy him out next summer. It also gives the veteran a chance to establish himself again as a viable option. If Chiarelli still wants to buy him out, that can happen too. The $77 million dollar cap opens up all kinds of options.
I also threw Kevin Shattenkirk in there as a possible, although that's a distant bell at this point. It's very encouraging to contemplate this team with a $77 million mission cap.
 POSSIBLE ASSETS OUT
Jordan Eberle
Ryan Nugent-Hopkins
Jesse Puljujarvi
No. 22 overall
Caleb Jones
2018 first-round selection
Anton Slepyshev
Jujhar Khaira
The increased cap room also relaxes the need to send away one of the veterans for cap purposes. Peter Chiarelli could run with a roster similar to last season and then load up at the deadline. If he needs to send assets out, the reason (this season) can be strictly team building and not cap short and long term. Still has to be mindful about dollars in starting 2018 fall, but the immediate window is more promising at $77 million.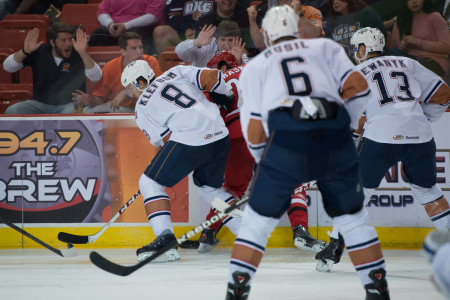 Photo by Rob Ferguson, all rights reserved.
NHL COMBINE LIST
There are 103 names published and they are here. I have Corey Pronman's list, but it is paywall so we can't use it to see how many players are out of range. I haven't seen another Top 100 so far, so will use my list from earlier in the month (it is here). Here are the invites who are not on my Top 100.
No. 101: G Maxim Zhukov, Green Bay Gamblers (USHL). Solid .912SP.
No. 103: L Joel Teasdale, Blainville-Boisbriand Armada (QMJHL). Smart, skilled, good speed.
No. 109: RD Filip Westerlund, Frolunda (SHL). Impressive passing skills, some chaos on D.
No. 110: RD Luke Martin, Michigan (NCAA). Big, mobile defender plays intelligent game. Not a lot of buzz.
No. 111: LD Antoine Crete-Belzile, Blainville-Boisbriand Armada (QMJHL). Two-way defender, injury issues.
No. 112: LD David Farrance, USNDTP (USHL). Mobile, clever D, undersized. Rising.
No. 113: G Ukko-Pekka Luukkonen, HPK (Jr. Sm-Liiga). Impressive size and good results.
I don't think that's too far astern for any of these guys. I can tell you there are three or four new names on my final 150, but none of the names are included among the Combine invites. The list continues.
No. 133: LD Nate Knoepke, USNDTP (USHL). Two-way defender with good size.
No. 134: LD Dmitri Samorukov, Guelph Storm (OHL). Giant defenseman, two-way type.
No. 147: R Lane Zablocki, Regina Pats (OHL). Two-way W with skill, kind of a throwback player.
NR: LD Kasper Kotkansalo, Sioux Falls Stampede (USHL). Two-way D is talented but raw.
NR: LC Kale Howarth, Trail Smoke Eaters (BCHL). Big center (6.05) with skill.
NR: R D'Artagnan Joly, Baie-Comeau Drakker (QMJHL). Creative winger with speed and size, could surprise.
NR: LD Jacob Paquette, Kingston Frontenacs (OHL). Shutdown defender, has a mean streak. Mobile.
NR: G Ian Scott, Prince Albert Raiders (WHL). Highly ranked goalie, .893.
NR: LD Ben Mirageas, Chicago Steel (USHL). I don't have much on him.
NR: G Stuart Skinner, Lethbridge Hurricanes (WHL). .905SP. Big man.
NR: LD Jarret Tyszka, Seattle Thunderbirds (WHL). Big, mobile shut down defender.
NR: LD Tyler Inamoto, USNDTP (USHL). He is a mobile 6.02, 196 defender.
NR: RD Tommy Miller, USNDTP (USHL). He is 6.02, 176, good speed, two-way defender.
NR: G Dayton Rasmussen, Chicago Steel (USHL). Impressive season. EP loves him.
NR: G Cayden Primeau, Lincoln Stars (USHL). Highly touted goalie. .897SP.
20 players on the Combine List didn't make my list and I think that reflects the range of opinions this year. Plenty of goalies and defensive defenseman at the Combine, so that adds to the difference between the two lists. The players on my list who did not make the invite list are mostly overages and that's understandable. The only player I didn't cover (in the league-by-league looks) is Benjamin Mirageas. Pierre Lebrun reported that Peter Chiarelli and the Oilers spoke to 20 prospects yesterday. I plan on posting my final list on June 1, still deciding morning or afternoon.
OFFER SHEETS
Lots of chatter about offer sheets these days, I don't see the Oilers getting hit with it and I certainly don't see the team doing one. Edmonton has Leon Draisaitl somewhat vulnerable (plan is to sign after July 1) but the Oilers matching even an extreme OS seems extremely likely. Here is the compensation table:
@Lowetide Where'd u get your compensation #'s from? They appear slightly different than Friedman's… pic.twitter.com/2ZOXoAhbhV

— RCN (@akaRCN) May 30, 2017
If Montreal sent an OS of $10 million times eight years, Edmonton would match it. That would put them in a tough spot moving forward (McDavid's number will be dear, even if only for five years) but the team would match it.
INTERNAL ANSWERS
The Sekera injury is a giant problem for Peter Chiarelli. A quick and fairly easy fix would be signing Brian Campbell, but Edmonton may not be in his plans. I think there are two main reasons why Kris Russell will be signed in the coming weeks:
Todd McLellan likes what he brings and Russell's skills are something the organization values.
Russell can play either side and gives McLellan five returnees from last year's top six.
This isn't ideal, and not what I would prefer, but I do think this is a reasonable bet on what will happen this summer. If the Oilers sign Russell, the defense comes into view both opening night and down the line. Coaches like certainty on defense, and a good guess is that Todd McLellan believes in Kris Russell. Pretty sure.
Darnell Nurse and Matt Benning were a solid pairing a year ago, suspect they will be broken up and one of them will play with Russell second pairing. Among candidates (internally) for the third pair: Griffin Reinhart, Mark Fayne, Eric Gryba, Jordan Oesterle, Dillon Simpson, Caleb Jones, Ethan Bear. I hope we see a trade with the Florida Panthers, that would make a lot of sense right now. This Jan Rutta fellow is also a player of interest.
LOWDOWN WITH LOWETIDE
A full boat today, lots of hockey talk and some football thrown in too. 10 this morning, TSN1260:
Jonathan Willis, Oilers Nation. Does the increased cap room mean Pouliot stays? Shattenkirk is in play? What would Jon do with the walking around money?
Darrin Bauming, TSN1290 Winnipeg. Darrin has a brand new show and it looks at the entire CFL. We'll talk about the plan.
Scott Cullen, TSN. Scott will tell me what in the hell I saw last night.
Steve Kournianos, The Draft Analyst. We'll chat about the combine and what the Oilers might have available at No. 22 overall.
10-1260 text, @Lowetide on twitter. See you on the radio!