Every summer, weary Oilers fans are met by a blast from the sun, signaling the annual trek to find water in enough supply to be called a lake, and the realization that hope springs eternal when it comes to the local hockey team's transactions. Allow me to take you back through the past, darkly:
I have zero interest in going back in time (except to acknowledge that fantastic photo by Rob Ferguson, all rights reserved) and if Peter Chiarelli brings Stanley to this town most of us will bask in the glow and allow history to fade (I think).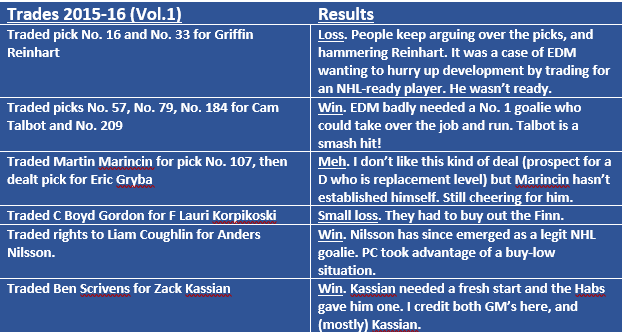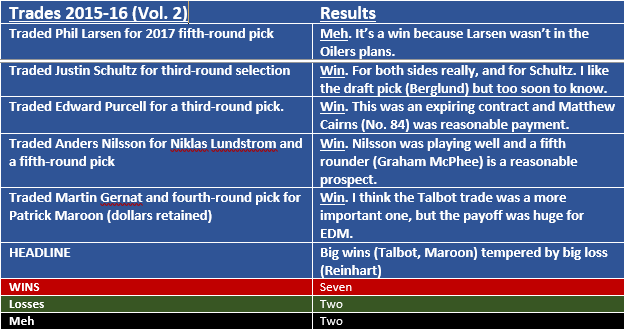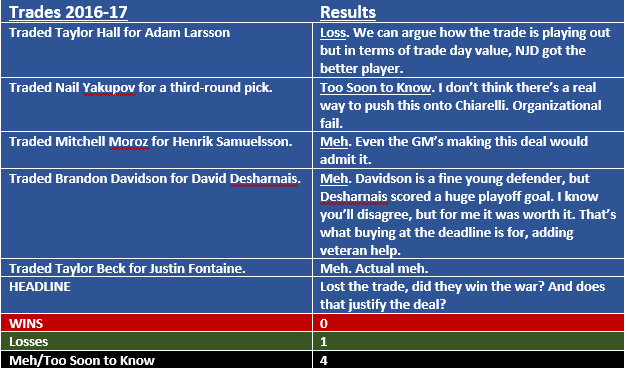 That said, Peter Chiarelli can do himself (and the Oilers) an enormous favor by making the kind of trade that will catapult this team into the highest reaches of NHL teams. What would it look like? A 2018 second-round pick for Alex Petrovic might do it, or maybe a one-year contract for Kevin Shattenkirk.
We've established the needs (second pair RHD, short term but effective replacement for Andrej Sekera, cap compliance, a forward who moves the needle and 3C would be best in terms of position) now it's left to PC to find the deals.
Three for one? I don't see it. If the Oilers want a major piece (Ryan O'Reilly, Matt Duchene, Drew Doughty) it's going to mean a major piece going out. You might get a two-for-one in the case of Doughty, but that's high rent both ways.

Prospect for immediate help?

This I can see happening, in a Caleb Jones for Jason Demers kind of way. Edmonton doesn't have that kind of cap room, but if the $77 million outer markers are true, then maybe this happens.

Buy Low?

I've looked at some of the overrated (based on cap investment) players who might be available for very little, and it's not a promising bunch. You could buy low on Cody Eakin (who we have talked about before), Matt Calvert, Brandon Pirri, Joonas Donskoi, Zemgus Girgensons, but are you sure you want to? One player who might be worth asking after is Adam Lowry, he of the 1.12/60 5×5 scoring this past season.

One for one?

The most likely scenario.

Picks for Player?

Could work, especially with LV in the picture. Florida's protected list should be very interesting to Edmonton.
PC needs to grab a $6 million talent and pay 60 cents on the dollar in asset cost, and baby that's a difficult thing to do. Idea being acquiring a player who can drive a line or anchor a pairing while also giving up something other than McDavid, Leon, Nuge, Oscar, Larsson or Talbot. That's the task.
IDEAL SUMMER
I think it's go time for the Oilers, so an aggressive stance is the correct one. It isn't time to blow your brains out, and the big contracts are going to get signed (Leon's cap number impacting this year). I would like to see:
Vegas selects Griffin Reinhart in expansion draft.
Golden Knights also select Mark Pysyk from Florida, and trade him to the Oilers in exchange for (one of) Anton Slepyshev, Caleb Jones or Ethan Bear.
Oilers sign Brian Campbell in free agency.
Oilers sign Spencer Foo to an entry-level deal.
Projected Roster
Maroon-McDavid-Eberle
Lucic-Draisaitl-Puljujarvi
Pouliot-RNH-Foo
Caggiula-Letestu-Kassian
Khaira, Pitlick
Klefbom-Larsson
Campbell-Pysyk
Nurse-Benning
Oesterle
Talbot (Brossoit)
Sekera-LTIR
I think you can get them under a $77 million cap and run that group until the deadline. Lack of experience on RW is a concern, but Kassian can move up, Caggiula can move over and Leon is at the ready. I like this defense, especially when Sekera comes back. Thoughts?
KEY DATES THIS MONTH
June 15: The first day the Oilers can tell us they are buying out Benoit Pouliot.
June 17: Oilers submit their expansion protected list.
June 21: We find out if LV took Letestu, Khaira, Reinhart or Brossoit. I say Reinhart.
June 23: Oilers draft Robert Thomas No. 22 overall.
June 24: Oilers pick five forwards, a defenseman and a goalie in later rounds of entry draft.
June 29: Oilers acquire Mark Pysyk from Vegas Golden Knights.
July 1: Oilers sign Brian Campbell.
July 10: Oilers sign Spencer Foo.
How many of these things actually happen? I'll bet two (Pouliot, Reinhart).
LOWDOWN WITH LOWETIDE
Friiiday! A fun, crazy morning with the normal circus. 10am, TSN1260. Scheduled to appear:
Steve Lansky, BigMouthSports. Steve predicting Pekka Rinne's dive a week ago, and we are here.
Frank Seravalli, TSN. SCF's look to be winding down and the wild ride trade summer is just around the corner.
Matt Iwanyk, TSN1260. Who will the Oilers lose in the expansion draft? Plus, with Edmonton getting the Grey Cup (announcement today) should the season start mid-June?
Paul Almeida, SSE. Oilers summer.
10-1260 text, @Lowetide on twitter. See you on the radio!