On March 2, 2015 Peter Chiarelli made his final trade as Boston Bruins general manager. Trying to push toward a playoff spot (the Bruins were in eighth place, two points up on Florida), Chiarelli grabbed winger Brett Connolly from the Tampa Bay Lightning. Boston finished the schedule with 25 points in their final 20 games, but narrowly missed the postseason. Chiarelli would be fired in the following days (April 15, 2015). The trade?
Bruins trade a second-round pick in 2015 (Matthew Spencer) and a second-round pick in 2016 (Boris Katchouk) to Tampa Bay for Brett Connolly.

Peter Chiarelli about the trade

: "He's a straight-line player but he makes plays and he can really shoot the puck. He's a player that we've looked at for a while. He's a guy that we think can come in and help us right away and could have a long future for us." Source
I bet PC would say almost the exact thing about Ryan Strome should he be the target, or Brett Ritchie (who shoots a helluva lot). Connolly posted two assists in five games after coming over that season and would deliver nine goals in 71 games as a Bruins winger in 2015-16. This past season, he was a value contract for the Washington Capitals (66gp, 15-8-23) and we'll see where he ends up (don't count out Edmonton).
Peter Chiarelli is willing to pay a high price for a player he believes can help him win. You can see it in the Connolly trade, the Reinhart trade, the Larsson trade—and the trade to come. Ryan Rishaug spoke yesterday on TSN1260's morning show with Dusty Nielson and Wil Fraser, saying (basically) the Oilers may get the second best player in an Eberle deal.
Why would Peter Chiarelli do that? The only reasonable answer is that he sees something out there, possibly in free agency, that will help him win. My guess? A volume freaking shooter for the McDavid line. I don't know his name, but that's my guess as to player type. That player, along with getting Eberle's salary off the books this summer (and not having it hang over the franchise as the season wears on) are the only logical explanations.
Tyler Pitlick was a volume shooter in 2016-17 (10.69 shots-per-60 at 5×5)
50-MAN ROSTER, JUNE 7 2017
G Cam Talbot. No. 1 goalie, will he have a veteran backup in 2017-18?
G Laurent Brossoit. Will Vegas take him? Does PC know? Is this done??!??
G Nick Ellis. Splendid first year pro, on par with Brossoit if he can sustain it.
G Shane Starrett. Another college goalie with strong resume. First pro season coming up.
G Dylan Wells. Slide rule, he'll spend one more year in junior.
LD Oscar Klefbom. Can he hit 40 points? 25 minutes a night? Quality.
RD Adam Larsson. Consistent defenseman, with an edge.
LD Andrej Sekera. He could be out for five months. A massive loss.
RD Matt Benning. An absolutely stunning addition right where it was needed.
LD Darnell Nurse. Will be relied on more with Sekera out.
LD Griffin Reinhart, RFA. No. 7D if he survives the expansion draft.

RD Mark Fayne

. He is in the NHL mix with the Sekera injury.
LD Ziyat Paigin. Wingspan of a Condor, pro experience, shutdown talent.
LD Ben Betker. Big man should get a full AHL season.
RD Ethan Bear. Posted a terrific junior career and should have prominent role in AHL.
LD Caleb Jones. He arrives in pro hockey with good speed and a range of skills.
RD Ryan Mantha. Interesting new arrival. Big man, big shot, good speed.
LD William Lagesson. He'll spend the year in SHL shutting down Swedish forwards.
LC Connor McDavid. The enormity of his season is finally sinking in.
LC Leon Draisiatl, RFA. Absolutely stunning season. Can he drive a scoring line?
LC Ryan Nugent-Hopkins. Shutdown series against the Sharks showed his iron.
RC Mark Letestu. Great utility, can he score 16 again?
LC Jujhar Khaira, RFA. A strong expansion candidate, brings size and rugged play.
LC Joe Gambardella. Strong college career, he could surprise in Bakersfield.
RC Kyle Platzer. He should get a feature role in Bakersfield if they believe in him at all.
L Milan Lucic. He scored 23, played a rugged game and has more to give 5×5.
L Patrick Maroon. His 27 goals last season may be a career season for him.
L Drake Caggiula. He provides skill lines with a different look. Where will he play?
L Benoit Pouliot. He can play, give him another chance with 97?
L Braden Christoffer. AHL energy winger.
L Tyler Benson. Slide rule, no update on his health in months.
R Jordan Eberle. Cap and position may doom his return. 20+ goals like clockwork.
R Jesse Puljujarvi. Oilers badly need a massive spike in year two.
R Anton Slepyshev. I think he'll be a regular, can he score 15? 20?
R Zack Kassian. RFA. He has far more speed than anticipated, could score 10-15.
R Iiro Pakarinen. Most recent signing, he'll try to win 13 or 14F.
R Patrick Russell. Scored only 8 times as rookie pro. Needs to fill the net this year.
R Greg Chase. Final year of entry-level deal ahead, has shown only flashes.
TOO SOON TO KNOW
G Eetu Laurikainen RFA. Not much on the Al Gore about him. He may be selling a dirt bike.
LD Kris Russell. Pierre Lebrun reports he conversation are getting underway.
RD Eric Gryba. PC also said the club would talk to Gryba, may depend on Reinhart.
LD Jordan Oesterle. His speed will get him an NHL chance and he may grab a job.
LD Mark Fraser. He was effective in his role, may return.
LD Dillon Simpson RFA. I think there's room but we'll have to wait and see.
LD David Musil RFA.. Sounds like an NHL contract is first choice, then Europe.
LC Anton Lander. Officially signs with Ak Bars of the KHL. 
LC David Desharnais. Scored a huge goal versus San Jose, unlikely to be back.
LC Jere Sallinen. Signed in Sweden (Orebro HK) after unsuccessful season. 
RC Henrik Samuelsson, RFA. Major disappointment after trade. Future unknown.
RC Zach Pochiro RFA. Remnant of Yakupov deal, unlikely to return.
L Matt Hendricks. In the olden days, this is where we start talking roving minor  league coach.
L Joey Laleggia. I bet the Oilers sign him.
R Tyler Pitlick. I would like to see him back, but Pakarinen's signing confuses issue.
R Justin Fontaine. He is an interesting player, I could see him signing.
R Spencer Foo. Still no official word, but there's good vibrations happening.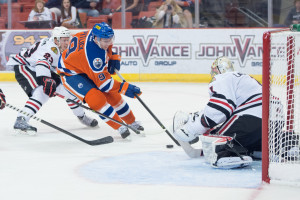 Photo by RobFerguson, all rights reserved
NHL SHOOTERS OVER NINE SHOTS-PER-60 (5×5)
Evander Kane, BUF (12.13)
Brendan Gallagher, MON (12.05)
Patrick Sharp, DAL (10.93)
Tyler Pitlick, EDM (10.69)
Brett Ritchie, DAL (10.40)
Boone Jenner, CBJ (10.06)
James vanRiemsdyk TOR (9.98)
Patrick Eaves, ANA (9.27)
Blake Wheeler, WPG (9.14)
James Neal, NAS (9.04)
Nick Ritchie, ANA (9.03)
This is a list of players I'm interested in, not necessarily those who are available. I'm not sure there are many on this list who the Oilers are able to procure, but if Peter Chiarelli can find a sniper this summer it'll go a long way to helping this roster take that next step.
KEVIN HANCOCK
Whenever I mention Craig Button on this blog, the feedback is very strong from you. Not all negative or positive, but one of the things that comes through is that his rankings can be unsettling. My answer: His is not a consensus list. That's what I like about him! You are getting an expert scout (who identified Jarome Iginla once upon a time) giving you his unvarnished opinion. Folks, that's high value.
I also get asked what I value most about his rankings, and the answer is confirmation. I don't watch these prospects, and even if I do watch them, I'm not looking at the same thing Button would be observing. I'm running math and looking for uniqueness, he's using his eyes and his methods to project players five years down the line and making those projections public. How smart would I be to ignore him?
Let me give you an example. I have Kevin Hancock at No. 74 on my final list, remarking "draft re-entry having a fine offensive season" after having run his numbers (he posted 85 points in 68 games) and understanding he is an older eligible. I know some anecdotal things about him, for instance, he played on a fabulous line for Owen Sound (Nick Suzuki and Jonah Gadjovich) that ripped it up once placed together.
I don't know what I don't know about the player. He might be slow as molasses or maybe he scores garbage goals or maybe he's scandalous defensively. Don't know. Craig Button's ranking has him No. 86, and that informs me about him and how a professional scout projects him. That's why Craig Button's list is unique and important. I'm not telling you to value it more than you do, or at all, but for me this suggests my math is attached to a bona fide prospect.
LOWDOWN WITH LOWETIDE
At 10 this morning, we hit the ground running. TSN1260, scheduled to appear:
Bruce McCurdy, Cult of Hockey

. We'll chat about the all-time No. 1 team (1985 Oilers) and about the RW depth chart.

Ryan Pike, Flames Nation

. The Burke comments, the Flames organization's reaction, and what changes the Flames may make over the summer.

Frank Seravalli, TSN

. My plan is to talk Eberle-to-the-Islanders but we could go any of 100 places.
10-1260 text, @Lowetide on twitter. Talk soon!