We spoke yesterday about the Bakersfield Condors and the need for additional help, especially at center. Aside from the NHL activity we'll see over the next while, we should expect some significant investment in the AHL team. Part of that process involves saying goodbye to some of last year's Condors. Slowly but surely, these men are finding new homes and we have an update on that group today.
ERIC RODGERS EV GF-GA ON ICE 2016-17 (BLUE)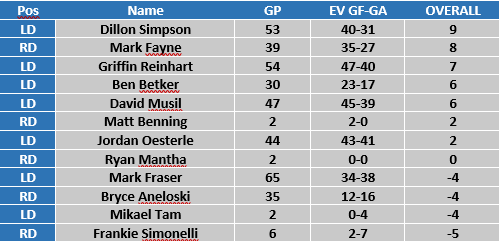 Oilers have signed a plethora of new pro defenders (Caleb Jones, Ethan Bear, Ziyat Paigin, Ryan Mantha, William Lagesson) many of whom will be in Bakersfield for 2017-18. Reinhart, Betker and Fayne could all be back depending on how the summer goes, but one suspects the organization would be interested in having Jordan Oesterle and Dillon Simpson return.
NORFOLK ADMIRALS REPLACEMENT?
The Norfolk Admirals are now affiliated with the Nashville Predators and we have been waiting for news on a new Double-A team for the Edmonton Oilers. The Alaska Aces have ceased operations, Worcester has a new team but the Islanders are the parent team there. Adirondack? We wait. In case you're wondering if the ECHL is important, the answer is yes. It's a proving ground for young players who are blocked by veterans at the AHL level. Some of the men who are now NHL players but needed that Double-A opportunity are Devan Dubnyk and Brandon Davidson.
Oilers prospects who spent time in the ECHL in 2016-17 include Ben Betker, Eetu Laurikanen and Zach Pochiro. There's also a possibility the organization no longer sees value in having an secondary minor league team, to be honest the number of forwards in the system available for AHL/ECHL games is very low. We wait.
DESTINATION UNKNOWN
G Eetu Laurikainen. Signed with JYP of Finland's Sm-Liiga. 
LD Kris Russell.  Many people are saying Edmonton has competition for his services.
RD Eric Gryba. Possible 7D but it would probably be a late signing again.
LD Jordan Oesterle. UFA may have extra value with Sekera inj if they see him as third pair.
LD Mark Fraser. Played third pair in Bakersfield, veteran enforcer/defender.
LD Dillon Simpson RFA. Some of Eric Rodgers numbers (EV GF-GA) favored him.
LD David Musil RFA.. His KHL rights now belong to CSKA Moscow. 
LC Anton Lander. Officially signed with Ak Bars of the KHL. 
LC David Desharnais. Scored a huge goal versus San Jose, unlikely to be back.
LC Jere Sallinen. Signed in Sweden (Orebro HK) after unsuccessful season. 
RC Henrik Samuelsson, RFA. Major disappointment after trade. Future unknown.
RC Zach Pochiro RFA. Remnant of Yakupov deal, unlikely to return.
L Matt Hendricks. In the olden days, this is where we start talking roving minor  league coach.
L Joey Laleggia. RFA, suddenly an important signing.
R Tyler Pitlick. His return may depend on other summer moves by the Oilers.
R Justin Fontaine. Edmonton will need a quality veteran in the AHL, could be him.
Two updates this week, Eetu Laurikainen heading to Jyp of the Sm-Liiga and the KHL rights of David Musil were traded. I have included names like Zack Kassian and Jujhar Khaira below (despite their status as RFA's) in order to get a more realistic view of the roster. Everyone on the list above is less than 100 percent to return in my opinion, your mileage may vary.
CURRENT 50-MAN (38)
G Cam Talbot. No. 1 goalie, will he have a veteran backup in 2017-18?
G Laurent Brossoit. If he's in Edmonton this fall, a lock for backup. Right?
G Nick Ellis. Splendid first year pro, on par with Brossoit if he can sustain it.
G Shane Starrett. Another college goalie with strong resume. First pro season coming up.
G Dylan Wells. Slide rule, he'll spend one more year in junior.
LD Oscar Klefbom. Can he hit 40 points? 25 minutes a night? Quality.
RD Adam Larsson. Consistent defenseman, with an edge.
LD Andrej Sekera. He could be out for five months. A massive loss.
RD Matt Benning. An absolutely stunning addition right where it was needed.
LD Darnell Nurse. Trade whispers? Nah.
LD Griffin Reinhart, RFA. No. 7D if he survives the expansion draft.
RD Mark Fayne. He is in the NHL mix with the Sekera injury.
LD Ziyat Paigin. Wingspan of a Condor, pro experience, shutdown talent.
LD Ben Betker. Big man should get a full AHL season.
RD Ethan Bear. Posted a terrific junior career and should have prominent role in AHL.
LD Caleb Jones. He arrives in pro hockey with good speed and a range of skills.
RD Ryan Mantha. Interesting new arrival. Big man, big shot, good speed.
LD William Lagesson. He'll spend the year in SHL shutting down Swedish forwards.
LC Connor McDavid. He'll have a big June, including his first major award.
LC Leon Draisiatl, RFA. How much $, and for how long? Important signing.
LC Ryan Nugent-Hopkins. Beginning to hear his name in the ether.
RC Mark Letestu. Great utility, can he score 16 again?
LC Jujhar Khaira, RFA. A strong expansion candidate, brings size and rugged play.
LC Joe Gambardella. Strong college career, he could surprise in Bakersfield.
RC Kyle Platzer. He should get a feature role in Bakersfield if they believe in him at all.
L Milan Lucic. A stronger 5×5 performance next year is a must.
L Patrick Maroon. He won the McDavid job, can he keep it and score 30?
L Drake Caggiula. Looked better late in the year and in postseason.
L Benoit Pouliot. Expansion Golden Knights might reach out and grab him.
L Braden Christoffer. AHL energy winger.
L Tyler Benson. Slide rule, finally got an update on him (below).
R Jordan Eberle. Trade value may keep him here, that's not a bad thing.
R Jesse Puljujarvi. One of the major stories for this coming training camp.
R Anton Slepyshev. I think he'll be a regular, can he score 15? 20?
R Zack Kassian. RFA. He has far more speed than anticipated, could score 10-15.
R Iiro Pakarinen. Most recent signing, he'll try to win 13 or 14F.
R Patrick Russell. Scored only 8 times as rookie pro. Needs to fill the net this year.
R Greg Chase. Final year of entry-level deal ahead, has shown only flashes.
The Oilers had a nice article up on some of the prospects (it is here) and another one is on the way today. After I wrote the piece on Benson yesterday, Jim Matheson wrote about him and a couple of sources reached out to me. The news on Benson is positive. We await the second piece from the Oilers today, no doubt commenting on men like Ethan Bear, as well as Benson. Hopefully a medical update on how things are going for him (Matty says he'll be ready for prospects camp in a few weeks). The real test will be this winter, seeing if he can endure the rigors of a long season.
IVAN HLINKA PERFORMANCES
The Oilers would have followed Jesse Puljujarvi from the Ivan Hlinka summer 2015 through draft day, not knowing they would be in the mix to grab him. I always wonder how much that Hlinka tournament impacts a scouting group. If you 'see him good' in summer, it must impact the overall assessment. This year's eligible players who were top scorers at their Hlinka:
RC Alexander Chmelevski, USA (5gp, 5-5-10)
L Michael Pastujov, USA (5gp, 3-6-9)
LC Ryan Poehling, USA (5gp, 4-3-7)
L Linus Nyman, Finland (4gp, 3-4-7)
R Sami Moilanen, Finland (4gp, 4-2-6)
JP was 4gp, 3-2-5 in the 2015 Hlinka, on his way to an astounding international performance that made him one of hockey's most famous draft eligibles for 2016.
OHL PROSPECTS
Brock Otten has his final media poll out for the OHL prospects in this year's NHL draft. I love his work, highly recommend him all year. The folks he has doing the survey and commenting are excellent and this is worthwhile information for Oilers fans. There's a very good chance we see at least one player taken from the OHL (three of 15 under the Chiarelli regime have come from the league) and it could be the first rounder.
KRIS RUSSELL GONE?
Online chatter has Kris Russell getting a substantial offer from another NHL team. Peter Chiarelli needs a RHD for the long term and a LHD for the short term. Many believe Russell can fill either role, but everyone I know agrees that the Oilers would be foolish to get into a bidding war and spend deep and long. Sometimes these rumors come from agents, we are told, so I'm not sure if it really gives us much new information we can rely on. Russell at $3.1M times one worked out, suspect teams are willing to go two or even three. Peter Chiarelli can't afford to tie up a lot of cap on Russell, so prepare yourselves for the news Edmonton didn't get their man if this information is reliable.