NHL teams will have to make do on $75 million this coming season, meaning $2 million extra in walking around money compared to last year.
POSSIBLE OPENING NIGHT ROSTER, CAP IMPACT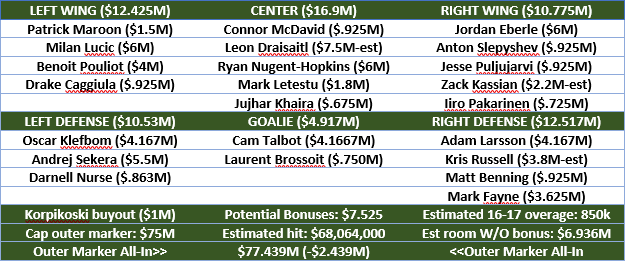 Still some cost uncertainty here, I have estimates on Leon Draisaitl, Kris Russell and Zack Kassian.
I've taken the bonus possibilities out and gathered them up at the end, Edmonton has over $7 million in possible (my thanks to Chris Lewkowicz for walking me through these things) bonuses.
Andrej Sekera is included here obviously he will go on LTIR. Edmonton would have to drive the cap right up to the top end without bonus considerations in order to take full advantage of LTIR cap relief.
I get the feeling we're going to see more free-agent activity among forwards (Patrick Marleau, Sam Gagner, Radim Vrbata) and defensemen (Kris Russell, Cody Franson, Adam Clendening) and we'll pick up that conversation on tomorrow morning's post.
OLD TROLLING GEORGE
Have you been reading George McPhee quotes today? He sounds like the lost Corleone based on recent verbal. Frank Seravalli has the latest here, basically he's the guy driving out to the desert like a bat out of hell in Casino.
.@EdmontonOilers fans haven't been shy about tweeting us for 10 months with who we should take, so we ask again(ducks for cover) #VegasDraft pic.twitter.com/kDcV1bALJA

— Vegas Golden Knights (@GoldenKnights) June 18, 2017
Lordy. This might be the first sports franchise to go with the motto "The call is coming from inside the house!" I have a feeling they might reject the protected list! "More Leon's" they'll say!
MOCK DRAFT (ONE MORE TIME!)
First Round: No. 22 overall—RC Robert Thomas, London Knights (OHL). Speedy forward, creative. I have him ranked inside the top 15 overall, but he has a range of skills and the offense isn't dominant so he will likely slip. Jeff Marek compares him to Bo Horvat, that's a nice player this late in the first round.
Third Round: No. 82 overall (FROM ST. LOUIS—this is payment for Nail Yakupov)—RC Tyler Steenbergen, Swift Current Broncos (WHL). He blossomed this season and ranks inside several top 100 scouting lists. He has emerged as a strong offensive player draft+1 and would represent a fine selection in the third round.
Third Round: No. 84 overall—L Jonah Gadjovich, Owen Sound Attack (OHL). Emerging PF, a big time junior scorer and a volume shooter (275 shots in 60gp, averaging 4.58 per game). Uses his size well and is a load. Speed the only concern, but less of an issue in the third round.
Fourth Round: No. 115 overall—LD Michael Anderson, Waterloo Blackhawks (USHL). Strong, good speed, defense.
Fifth Round: No. 126 overall (FROM Vancouver—this is payment for Phil Larsen)—G Veini Vehvilainen, Jyp (Sm-Liiga). I never give up. He is a good prospect.
Fifth Round: No. 146 overall—R Brett Davis, Kootenay Ice (WHL). Good size, impressive offense for a June 1999.
Sixth Round: No. 177 overall—LC Bram Scheerer, Edina (USHS). He has size and skill, draft and follow.
Seventh Round: No. 208 overall—L Ethan McIndoe, Spokane Chiefs (WHL). Has some elements of a power forward.