The Chamber will tell you Edmonton summer is driven by festivals and walking on sunshine in the river valley. I'll admit we all love the Folk Fest, the Fringe, Heritage Festival, Taste of Edmonton, Cariwest, but what drives this town is rumor. Hockey rumor. Oilers hockey rumor. If I started today and wrote down every rumor from every swinging Dick (and us guys are the worst) it would take me until Christmas to complete the chronicle. The most gossipy gossips who ever gossiped!
Patrick Marleau? He's on the way! Kris Russell? He wants to stay, only a matter of money. In the McDavid era, these crazy rumors have an added gear: There's a chance they're true.
SCOTT CULLEN'S OILERS
I think Scott Cullen may not sleep much because he does 30 (soon to be 31) offseason game plans, one for each team. This year, he has the Oilers:
Adding

L Patrick Marleau

(27 goals via free agency), RD Travis Hamonic (trade for Jordan Eberle, quality second pairing solution), LD Kris Russell (another second pair D, he would play LH side until Andrej Sekera returned),

L Andrew Desjardins

(also free agency, candidate for Matt Hendricks role),

LC Derek Grant

(to replace Anton Lander as 5C, UFA) and

RC-R Patrick Brown

(FA) to push Iiro Pakarinen and others for 14F.
Offloading R Jordan Eberle (for Travis Hamonic), L Jujhar Khaira (expansion draft) and the already established losses of Anton Lander, Matt Hendricks. Cullen has Reinhart replacing Eric Gryba as 7D and Drake Caggiula as 3C.
I find Cullen's annual crystal ball look at the Oilers to be educational. He has the advantage of distance, and indifference (I don't mean that in a bad way) about specific roster players. Scott Cullen sees the roster, believes the club needs a new second pairing, a first-person shooter for the McDavid line, and upgrades on the 4line (with Grant helping in the faceoff circle).
My list (as you know) includes two blue for the second pairing and a C-RW who can riff with Leon as a mirror man. I had a lash at the job back in May, trading Jordan Eberle and Mark Fayne to Florida for Nick Bjugstad and Mark Pysyk, while signing free agents Martin Hanzal (you all loved that idea) and Kris Versteeg (again, home run by me). I'm going to try again as we enter the big week, but let's start with the possible targets out there.
TARGETS, DEFENSE
RD Josh Manson, Anaheim Ducks. A dream solution to 2RHD
RD Travis Hamonic, NY Islanders. The drums are beating loudly.
RD Matt Dumba, Minnesota Wild. Power play option, chaos in his game.
LD Calvin DeHaan, NY Islanders. A fine player.
RD Jason Demers, Florida Panthers. Veteran D visited Edmonton as UFA last summer.
RD Tyson Barrie, Colorado Avalanche. Seems to be in the mix.
LD Kris Russell FREE AGENT. GM and coach like him, good chance he'll return.
RD Kevin Shattenkirk FREE AGENT (80gp, 13-43-56). One year at big coin?
RD Sami  Vatanen, Anaheim Ducks. Talented, inconsistent.
LD Brandon Davidson, Montreal Canadiens. Would love to see him back.
RD Cody Franson FREE AGENT. His fancy stats: Out of the blue and into the black.
RD David Savard, Columbus. Rarely mentioned but an interesting option.
LD Niklas Hjalmarsson, Chicago Blackhawks. Someone said he was available.
LD Ryan Murray, Columbus Blue Jackets. Doesn't seem a fit.
RD Colin Miller, Boston Bruins. If available, interesting option.
LD Brian Campbell FREE AGENT (80gp, 5-12-17). The man can still wheel.
LD Zdeno Chara, Boston Bruins. Played over 23 minutes a game this past season.
RD Michael Stone FREE AGENT (64gp, 3-12-15). Last chance Texaco.
TARGETS, FORWARDS
LC Martin Hanzal FREE AGENT (71gp, 20-19-39). Has to be high priority.
L Patrick Marleau FREE AGENT. (82gp, 27-19-46). New addition.
L James Neal, Nashville Predators. Volume shooter.
LC Brock Nelson, NY Islanders. What is Snow doing?
R Jonathan Marchessault, Florida Panthers. Brilliant player, surprise exposure.
R Radim Vrbata FREE AGENT (81gp, 20-35-55). Scorer.
R Justin Williams FREE AGENT (80gp, 24-24-48). Luxury.
LC Nick Bonino FREE AGENT (80gp, 18-19-37). Two-way C.
C-R Ryan Strome, NY Islanders (69gp, 13-17-30). Rumors.
R Sam Gagner FREE AGENT (81gp, 18-32-50). PP savant.
R-L Thomas Vanek FREE AGENT (68gp, 17-31-48). Offensive option.
R T.J. Oshie FREE AGENT (68gp, 33-23-56).  Not affordable.
R Brett Connolly FREE AGENT (66gp, 15-8-23). Inexpensive scoring on RW.
R Patrick Eaves FREE AGENT (79gp, 32-19-51). Volume shooter!
RC Derek Ryan FREE AGENT (67gp, 11-18-29). Fine utility player.
L Evander Kane, Buffalo Sabres (70gp, 28-15-43). Buy low power forward.
RC Mika Zibanejad, New York Rangers. Averages 46 points per 82gp.
LC Matt Duchene, Colorado Avalanche. Please please please Baby Jesus.
LC Vladimir Sobotka, St. Louis Blues. Signed to a nifty $3.5 million times two.
L Ilya Kovalchuk, New Jersey. Splendid KHL season, he's coming back.
R Pontus Aberg, Nashville Predators. Intriguing youngster.
R Josh Anderson, Columbus Blue Jackets. Scored 17 goals, has size.
R Brett Ritchie, Dallas Stars (78gp, 16-8-24). Shoots the puck a lot.
RC Nathan MacKinnon, Colorado Avalanche. UFA 2023. Would cost the moon.
R Jaromir Jagr FREE AGENT (82gp, 16-30-46). Now 70, still going.
RC Derek Stepan, NY Rangers. He would be higher, cap hit is very big.
R Kris Versteeg FREE AGENT (69gp, 15-22-37). What he brings has value.
R Ales Hemsky FREE AGENT (15gp, 4-3-7). Still brilliantly creative.
LC Dominic Moore FREE AGENT (82gp, 11-14-25). PK and FO option.
R Drew Stafford FREE AGENT (58gp, 8-13-21). Chiarelli type.
LC Brian Boyle FREE AGENT (75gp, 13-12-25). He is on their list.
R Jarome Iginla FREE AGENT (80gp, 14-13-27). He can still shoot the puck.
L Patrick Sharp FREE AGENT. Depending on health and price.
R Tyler Pitlick FREE AGENT (31gp, 8-3-11). Finally emerged, could return
BALANCE PHOTO ALERT!
It is possible we'll see the balance photo this fall, with Peter Chiarelli getting closer to the goal. Scott Cullen identified second pair RHD, sniper for McDavid's line and a more substantial 4line. I'm going to stick to my list.
CHIARELLI SUMMER NEEDS LIST
Negotiate the expansion draft rapids without giving up a valuable piece of the future.
Find a second pairing D with two-way acumen.
Find a stopgap measure to replace Andrej Sekera's minutes until he returns.
Find a C-R who can help the offense and mirror Leon. Ideally a first-person shooter.
Make enough cap room to get everyone in under the number with enough room to spare for the trade deadline.
We're close to crossing off No. 1 on the list, if PC doesn't make a big trade with George Corleone (as in trading Jesse Puljujarvi for Eric Staal) we can safely credit him for negotiating the rapids. Not a high bar, but as we see in Detroit some general managers weren't up to the task. This list has remained the same for some time, only deletion is the McDavid and Draisaitl contracts and they won't be here until July.
ASSETS LIST
Jordan Eberle
Ryan Nugent-Hopkins
Jesse Puljujarvi
No. 22 overall
Caleb Jones
2018 first-round selection
Benoit Pouliot
Anton Slepyshev
Cap Space
Jujhar Khaira
Ethan Bear
Griffin Reinhart
As you know, I am working on a theory that goes like this: After spending significant time shopping Jordan Eberle, general manager Peter Chiarelli moves away from that plan and sets course on solving his issues elsewhere. With that in mind, I set sail on making a deal.
Oilers trade D Mark Fayne, D Caleb Jones and R Jesse Puljujarvi to the Vegas Golden Knights for D Matt Dumba and R Jonathan Marchessault.
Oilers sign college free agent R Spencer Foo.
Oilers sign D Kris Russell to a two-year, $3.8 million deal.
OILERS PROJECTED ROSTER AND CAP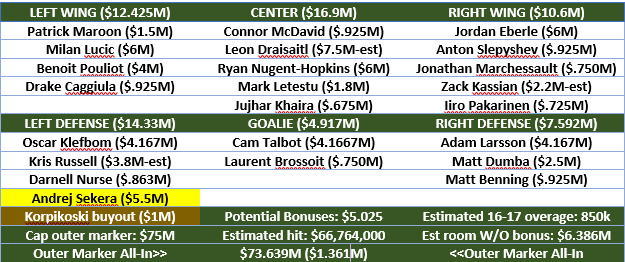 The Oilers get their second pairing in Russell and Dumba, with Sekera coming back mid-season (another blue would have to be signed of course).
The bonuses are less because of the Puljujarvi trade, also impacting the cap.
I am kicking the cap problem down the road but this team has a better chance to win.
If Peter Chiarelli wanted to push that cap up to the point where the LTIR for Sekera could benefit the team, an addition big ticket free agent would be in order. I can't see anyone on a one-year deal who would be willing and have it benefit the team.
Up the middle this team is good, and may even rock when Andrej Sekera gets back.
I mortgaged the future for now. That's the bad news. The good news? I'd hang a balance photo on this roster.
LOWDOWN WITH LOWETIDE
We're back! A full boat and the bases are drunk! TSN1260, beginning at 10, scheduled to appear:
Scott Burnside, ESPN. Expansion draft and how many awards for Connor McDavid this week?
Tom Lynn, Player Agent. George McPhee is acting like a Corleone. What would a good week for him look like?
Jason Gregor, TSN1260. Oilers roster will see changes in the next two weeks, what is Jason looking for?
Sunil Agnihotri, Copper & Blue/The SuperFan. What does Sunil like on that LV possible roster?
10-1260 text, @Lowetide on twitter. Soon!