We're counting down to the expansion and entry drafts and the distant drums keep pounding out the same beat: Jordan Eberle (photo by Rob Ferguson) to Denver or Brooklyn. Jordan Eberle has been a consistent offensive player since arriving in Edmonton fall 2010. Per 82gp, Eberle has scored 64 points, and he had played 80+ games in two of his last three seasons. And yet (whatever he's done) is staring down the barrel of a gun, or at least that's the storyline in our town.
JORDAN EBERLE 2016-17
5×5 points per 60: 1.76 (4th among regular forwards)
5×4 points per 60: 4.47 (4th among regular forwards)
Corsi for 5×5 %: 51.8
Corsi Rel 5×5 %; 2.3
DFF Elite 5×5 %: 50.0
DFF Elite Rel 5×5 %: 2.1
Shots on goal/percentage: 208 shots/9.6%
Boxcars: 82, 20-31-51
(All numbers via Stats.HockeyAnalysis.com and hockey-reference)
Special thanks to GMoney and Woodguy for sharing the DFF's
The numbers are good and I have a feeling the big issue for Peter Chiarelli (and Todd McLellan) was playoff performance. They said all the right things, but both men know you don't get a final eight (like the one we had in spring) every year. Gotta close those chances. If Jordan Eberle's line had scored more in the Anaheim series, well, maybe things end differently (and later). Bet that's part of the internal conversation. Human nature (da da da da da da da da). If Peter Chiarelli can pry Travis Hamonic out of Brooklyn for him, that's a win. Other rumors I have read? Less so.
SNOW DAY
An article yesterday afternoon in New York Newsday gives us a clue about George McPhee's plan of attack for the coming expansion draft. His verbal (so far) has indicated a willingness to acquire bad contracts in exchange for picks and prospects.
Arthur Staple: The deal also includes a third piece going to Vegas. There is a strong possibility that it would be Mikhail Grabovski, who has yet to be cleared to play after suffering a concussion in March of 2016. Grabovski's $5-million cap hit is on the books for one more season for the Islanders, who are already within $4 million and change of the coming season's $75-million salary cap. Source
There are more details in the article, I encourage you to click on the link. One of the other elements is a first-round pick, something the Golden Knights clearly value. If true, that gives you an idea about the asking price for getting a $5 million contract (involving a player who you won't be counting on next season) off your books. It informs us about the asking price for Mark Fayne (who would be in the range) or Benoit Pouliot (the cost might be more dear). I think it best for Peter Chiarelli to look elsewhere to save dollars, and of course both Fayne and Pouliot may end up helping the Oilers in the coming year.
SHANE DOAN?
The Arizona Coyotes and Shane Doan are parting ways, meaning the veteran Jet/Coyote will have a new address (or retire) this fall. If you're asking if he can still play, here's the tale of the tape:
5×5 points per 60: 1.24 (5th among all forwards)
5×4 points per 60: 1.06 (two goals in 113 minutes)
Corsi for 5×5 %: 47.0 (best number among Arizona forwards)
Corsi Rel 5×5 %: 3.2
DFF Elite 5×5 %: 39.2
DFF Elite Rel 5×5 %: 1.5 (34 percent of TOI v. elites)
Shots on goal/percentage: 144 shots/4.2%
Boxcars: 74gp, 6-21-27
(All numbers via Stats.HockeyAnalysis.com and hockey-reference)
Special thanks to GMoney and Woodguy for sharing the DFF's
His rel possession numbers are good, that's a nasty desert team lordy. The goals went away, he was shooting from Laredo and they were going in a year ago. I'm inclined to say he's 40, probably time to sail on down the line. Suspect Doan gets at least a sliver of a chance somewhere and if we're honest (and review the Chiarelli file) it is not beyond the realm of possibility.
JERSEY REVEAL
Today we get a look at the new Oilers jersey. Based on the teases it looks pleasing to me. Navy? Burnt orange? I'll be fine with it as long as there is no weird piping and the neck isn't some bizarre look.
AWARDS!
We'll chat more about this tomorrow, but Connor McDavid will win the Art Ross, and is up for the Hart and the Lindsay. Todd McLellan and Peter Chiarelli are also up for awards. Little attention is being placed on these things, but I'm here to tell you it's a big damned deal. How old were you in 1990? That's the last time an Edmonton Oilers player won a major award. Folks, Moses wandered in the desert for 40 years, so he has the record. The Oilers, who wandered in the hinterland for 26, gave Moses a run for his money. Promised land straight ahead!
DRAFT NOTES
Based on Bob McKenzie's list (remember, this is the consensus industry ranking so there is some connection between the BM list and what will be reality) the Oilers may have access to one or more quality forwards. McKenzie ranks Eeli Tolvanen No. 17, Kim Klostin No. 18, Ryan Poehling No. 19, Robert Thomas No. 21, Josh Norris No. 23, Kailer Yamamoto No. 24 and Isaac Ratcliffe No. 27. I can see Edmonton taking any one of these men at No. 22.
ALEXANDRE TEXIER
McKenzie's top ranked player who does not appear on my list is Alexandre Texier. I had him on my Hinterlands list but not the final 150.
Steve Kournianos:  A lightning quick French teen who plays significant minutes in the French senior league, Texier is a dynamic offensive talent who is mature and can handle playing against older competition. You have to go back to the late 1980's and former St. Louis Blues prospect Philippe Bozon to find a teenager from the French league with this kind of NHL potential. Texier is an excellent skater who can handle the puck and make plays off the rush. Rarely does he look overmatched despite being the youngest player in the circuit. Source

SPENCER FOO
Looks like Detroit is also in the running, along with the Oilers, Philly, Calgary and the Golden Knights. I chuckle when reading online comments like "can't believe they may make room for this college guy by moving Eberle" when the player himself has acknowledged time in the AHL is likely. Folks, signing Spencer Foo would be like adding another 2014 draft pick: A good idea, a long way to go. Seems the young man has a better idea about his skills than a lot of people who post online these days. Huh. Foo's NHLE is 31 points (and he was 22 last season), if you slot him in with the other Oilers prospects: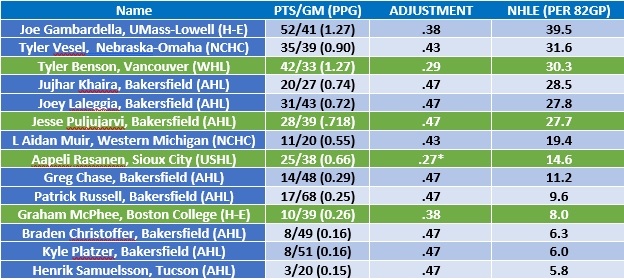 It gives you some idea about where he might rank. I would suggest Jesse Puljujarvi and Anton Slepyshev are clearly ahead of him among RW prospects, and if you consider Drake Caggiula's NHLE was 44 points in his final college season, the actual situation becomes clearer. A fine prospect, hope they sign him, but allow me to suggest that folks who are implying the Oilers plan to replace Eberle with Foo are framing the issue.
@SuperNovs1 @BruceMcCurdy @dustrock @dstaples @Lowetide

2017 Blue Bullet NHL Entry Draft Guide is now available.https://t.co/RduLJ2YoxF

— Blue Bullet Brad (@BlueBullet1981) June 20, 2017
Brad does amazing work, make sure to click on the link and bookmark this page. I bet you refer to it many times over the next few days and weeks. This year's list is fascinating.
LOWDOWN WITH LOWETIDE
Now that we're back, time is tight so we're bringing it this week! Scheduled to appear, TSN1260 beginning at 10 this morning:
Mark Edwards, HockeyProspect.com. The Black Book is out, my summer is officially booked! We'll talk about the best players in this year's draft.
Don Landry, CFL.ca. Rosters are final, some big surprises and areas of weakness that we suspect will need tweaking. Don will guide us through Week One previews.
Scott Cullen, TSN. The Vegas Golden Knights have their talent pool, how good could they be?
Keegan Matheson, MLB.com. Keegan will explain Justin Smoak and the mlb draft.
10-1260 text, @Lowetide on twitter. 90 minutes to go!