After what is being universally described as a quality draft, the Edmonton Oilers organization can now focus on free agency. Which brings us to a question with no clear answer: Will they or won't they?
THE DRAFT
Bob McKenzie publishes the Bible every year just before the draft and this season the Oilers shot lights out. BM's Top 93 + honorable mentions gave draft nuts 100 names to monitor. For many years this blog would rant and rave about walkabout picks, mentioning the McKenzie list by name and asking 'why can't the Oilers just use that as a guide?'. As it turns out, maybe they just needed to shuffle the scouting department.
No. 22 Kailer Yamamoto (BM No. 24)
No. 78 Stuart Skinner (BM No. 71)
No. 84 Dmitri Samorukov (BM No. 76)
No. 115 Ostap Safin (BM No. 51)
No. 146 Kirill Maksimov (BM Honorable Mention)
That's a helluva run, getting five of McKenzie's top 100 players. The success of Edmonton's draft this weekend is reflected in my top 20. The Oilers weren't drafting in the top 5 so were unable to get an impact prospect. Or did they? Kailer Yamamoto is going to be worth following this fall and winter, I think the Oilers got a steal with that pick. I'll have more draft items in the coming days (as you know well, I turn it into a long-term item) but it's finally time to turn our attention back to the NHL team.
THE CURRENT ROSTER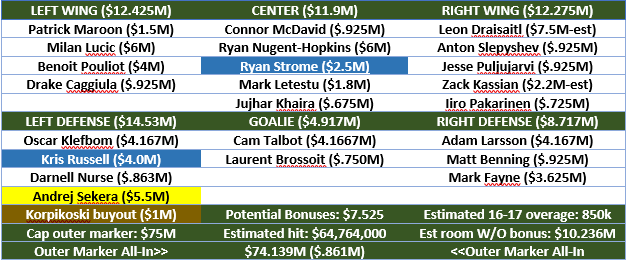 My math is always a moving target, if you see something strange let me know.
I think this shows the Oilers, as currently constructed, are going to spend most of their current cap room on Leon Draisaitl and cap bonuses for the fall. My estimates have about $861,000 as the cushion if my Leon and Kassian numbers are close to correct.
It comes down to the following options: Jesse Puljujarvi's cap bonus of $2.5M being buried; Andrej Sekera being put on LTIR for half a season; trading or buying out Benoit Pouliot and or Mark Fayne; staying quiet in free agency.
I think using half of Sekera's cap number is a no brainer, as he'll be out half the year based on all reports. I further think trading Benoit Pouliot may be more likely now than it was before the draft. Teams may be looking at those free agents available, checking on the price, and contemplating alternative arrangements. Question: Should Peter Chiarelli pursue anyone in free agency? Who? Here is Frank Seravalli's latest list. My lists are below.
TARGETS IN FREE AGENCY (FORWARDS)
As it turned out, Edmonton traded for the fellow I had No. 1 on my list three days ago, let's see if we can find lightning in a bottle at the top in free agency.
LC Joe Thornton FREE AGENT (79gp, 7-43-50)

. Love to see it, seems doubtful.
L Patrick Marleau FREE AGENT. (82gp, 27-19-46). Knows the coach.
LC Martin Hanzal FREE AGENT (71gp, 20-19-39). Has to be high priority.
R Radim Vrbata FREE AGENT (81gp, 20-35-55). Scorer.
R Justin Williams FREE AGENT (80gp, 24-24-48). Luxury.
LC Nick Bonino FREE AGENT (80gp, 18-19-37). Two-way C.
R Sam Gagner FREE AGENT (81gp, 18-32-50). PP savant.
R-L Thomas Vanek FREE AGENT (68gp, 17-31-48). Offensive option.
R Jarome Iginla FREE AGENT (80gp, 14-13-27). He can still shoot the puck.

R Brett Connolly FREE AGENT (66gp, 15-8-23)

. Inexpensive scoring on RW.
RC Derek Ryan FREE AGENT (67gp, 11-18-29). Bob says he's close in Carolina.
R Jaromir Jagr FREE AGENT (82gp, 16-30-46). Now 70, still going.
R Kris Versteeg FREE AGENT (69gp, 15-22-37). What he brings has value.
R Ales Hemsky FREE AGENT (15gp, 4-3-7). Still brilliantly creative.
LC Dominic Moore FREE AGENT (82gp, 11-14-25). PK and FO option.
R Drew Stafford FREE AGENT (58gp, 8-13-21). Chiarelli type.
LC Brian Boyle FREE AGENT (75gp, 13-12-25). He is on their list.
L Patrick Sharp FREE AGENT (48gp, 8-10-18). Depending on health and price.
R Tyler Pitlick FREE AGENT (31gp, 8-3-11). Finally emerged, could return.
I don't have a few of Seravalli's men on my list (Radulov, Weal) not because they have no value but because I think they'll stay out east.
TARGETS IN FREE AGENCY (DEFENSE)
RD Kevin Shattenkirk FREE AGENT (80gp, 13-43-56). One year at big coin?
RD Cody Franson FREE AGENT (68GP, 3-16-19). Out of the blue and into the black.
LD Brian Campbell FREE AGENT (80gp, 5-12-17). The man can still wheel.
RD Michael Stone FREE AGENT (64gp, 3-12-15). Last chance Texaco.

RD Eric Gryba FREE AGENT (40gp, 2-4-6).

Good chance he returns.

LD Jordan Oesterle FREE AGENT (2gp, 0-0-0).

I like him as a 7D option.
I like most of these options and suspect the Oilers will either sign one of them or trade for an option not named Mark Fayne (he is on my roster above). Shattenkirk isn't coming here, I just like the list better with him on it.
TOMORROW MORNING
I'll have a look at the needs list (and what has been done) an updated 50-man and we'll talk about the RFA's and who Edmonton will qualify (they are due tomorrow).
TRADE?
I think so, but it might be at the trade deadline. Balance is not at hand, plus the things needed are not available in free agency. Will Peter Chiarelli sign Martin Hanzal and then move a center? Stay tuned. This thing isn't over, but it seems to me we're going the distance and that may mean the trade deadline.