Are the Oilers rolling up the sidewalk and preparing for summer on the eve of free agency? If you run the numbers (as we did yesterday) this could be a quiet run up to the July 1 frenzy. It's one thing to keep your powder dry, but what do you call it when you've run out of powder? I think the Oilers do have enough walking around money to grab one or two free agents on value deals, but the play here might be waiting until the deadline. If Peter Chiarelli decides it's time to see what Jesse Puljujarvi, Anton Slepysev and Dillon Simpson have to offer, then we could be done. I don't believe it for a moment, doesn't mean I'm right.
CURRENT 50-MAN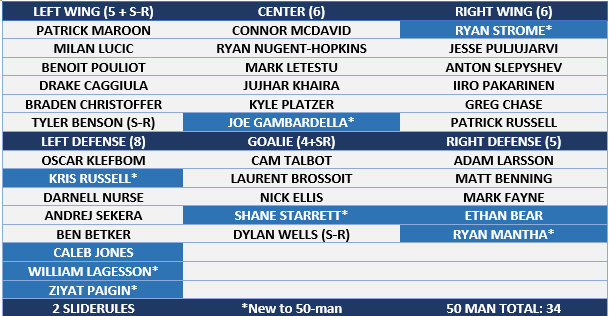 Kris Russell and Ryan Strome were added last week, Jordan Eberle exits the 50-man after turning pro fall 2010.
Two new draft picks turn pro this fall (Caleb Jones and Ethan Bear). Ryan Mantha signed as a CHL free agent, turns pro too. Ziyat Paigin and Joe Gambardella will join them in Bakersfield.
The Oilers have their top 5D now, sixth is Sekera but he can't come out to play for the first half of the season. Mark Fayne is a candidate for the role, I suspect we'll see an addition before training camp. One possibility? Dennis Wideman.
Ryan Strome debuts on RW, but when Leon Draisaitl is signed Strome will be mirror man to LD. Oilers are collecting centers at a rapid clip, Todd McLellan likes to run two per line when the need arises.
RFA AND UFA LIST

Today at 3 our time, the Oilers will have decided on qualifying the seven rfa's listed here.
I think Joey Laleggia, Leon Draisaitl, Zack Kassian and Dillon Simpson will be qualified. At that point, I'll put them back on the 50-man list.
We could also see some of these names signed by the deadline today.
I think Edmonton could sign between zero and three (Gryba, Oesterle, Pitlick) unrestricted players from this list.
SUMMER SHOPPING LIST
Finalize long term deal for Connor McDavid. This is JOB ONE.

Finalize long term deal for Leon Draisaitl. This is JOB TWO. 

Negotiate the expansion draft rapids without giving up a valuable piece of the future

. (Griffin Reinhart).
Find a second pairing RHD with two-way acumen.

Find a stopgap measure to replace Andrej Sekera's minutes.

(Kris Russell)

Find a C-R who can help the offense and mirror Leon. Ideally a first-person shooter.

(Ryan Strome)

Make enough cap room to get everyone in under the number with enough room to spare for the trade deadline.

(Eberle for Strome)
I think the second pairing RHD issue is the big one, has been all summer. I mentioned Dennis Wideman above, but for me Cody Franson one a one-year deal might be the last available logical choice. Might be room for an additional first-person shooter too, as in Patrick Marleau or Jarome Iginla. We'll see who comes in this week to visit.
POSSIBLE ASSETS OUT
Jordan Eberle
Ryan Nugent-Hopkins
Cap Space
Jesse Puljujarvi
Caleb Jones
2018 first-round selection
Benoit Pouliot
Anton Slepyshev
Jujhar Khaira
Ethan Bear
Griffin Reinhart
This is the second summer I've been sweating out a Nuge trade, one of these years it'll happen. I will tell you this: Nuge for an established RHD and signing Martin Hanzal probably gets my balance photo published. I hate hate hate the thought of it but that's what the team needs to have the kind of structure required.
THE DRAFT
We looked at Bob McKenzie's list yesterday placed against Edmonton's draft and it looked very good. Let's compare it to Craig Button:
No. 22 Kailer Yamamoto (CB No. 16)
No. 78 Stuart Skinner (CB No. 80)
No. 84 Dmitri Samorukov (CB No. 53)
No. 115 Ostap Safin (CB No. 82)
No. 146 Kirill Maksimov (CB No. 90)
Yep. Great draft. I was thrilled with Safin and Maksimov's spike late made him a brilliant bet at No. 146, but the more I read about Skinner and Samorukov the more impressed I am about this draft. You could argue they didn't need to trade an extra pick for the goalie and that they could have waited for him to come to them, but I like a general manager with the courage of his convictions. I had Skinner as the No. 12 goalie, Oilers took him as the fifth goalie off the list. They liked him plenty, and according to Bob Green both of the team's goalie gurus were vehement about him. I like that kind of certainty. If you're going to get the guy, get the damned guy. Great draft.
My understanding is Oil would like to bring Gryba back, have had some early discussions. His size/grit will draw some interest from others.

— Ryan Rishaug (@TSNRyanRishaug) June 26, 2017
FUSSY BRITCHES
People ask me from time to time about Tracy Lane (Treenasoil) and I always say the same thing: In 2011, on July 1, she gave me a 20-minute head start on every free agent. Seriously. She would tweet out the name, I would write the article, and by the time msm reported I'd be good to go. Not lying, why would I? Her only mistake that day?
The Edmonton Oilers continue to upgrade their 4line with the addition of C Zenon Konopka via free agency.
I have the post in my drafts pile (the ones that never see the light of day) and wrote it in the middle of the Cam Barker, Eric Belanger, Ben Eager, Darcy Hordichuk posts. Tracy Lane gave them all to me 20 minutes before they broke.
Now, that doesn't mean jack diddly today, and frankly Peter Chiarelli doesn't seem to have an insider he talks to as Oilers general manager. Bob gets inside stuff, but he has connections in lots of places so we can't be sure where the information is coming from. Mark Spector gets scoops but I think he digs and digs and digs to find them (suspect they are not, in fact, gifts from the general manager).
What I'm saying is this: When fussy britches tweets out the Oilers have interest in Patrick Marleau, Sam Gagner, Radim Vrbata, Drew Stafford, Michael Stone, it's fair to regard them as reasonable guesses. Tracy Lane had the goods six years ago, maybe it's true again this summer. At the worst, this is a person throwing names against a wall, which puts him/her about even with us.
Spencer Foo is meeting with his agent, Michael Kaye in Edmonton today and tomorrow and expects to make his decision by mid week.

— Ryan Rishaug (@TSNRyanRishaug) June 26, 2017
RFA'S
LC Leon Draisaitl.

The only thing remaining is money and term, we know he's going to be a central figure in what is to come. His development since draft day has been exceptional and give him credit for increased skating ability. That's a lot of hard work put in by the young man, and he'll get paid.

R Zack Kassian.

I'm sure the deal is close, maybe the club plans on having a media avail to announce 97, Leon and Kassian the same day. Should come in at a  reasonable number, he is a bottom 6F after all.

L Joey Laleggia.

Yes please, qualify the man because the system lacks scoring forwards. It doesn't matter how he got here, only that Laleggia might be the most capable scorer in the minors.

LD Dillon Simpson

. Lots of turnover coming and with so many new defenseman headed to Bakersfield, Simpson could offer stability. He also looked good in a brief callup.
LOWDOWN WITH LOWETIDE
At 10 this morning, TSN1260. Lots of hockey talk, scheduled to appear:
Scott Burnside. Major trades for the Oilers, Islanders, Flames, Rangers, Hawks and Coyotes this weekend.
Corey Graham, TSN1260's pbp man for the Edmonton Oil Kings. We'll talk Kailer Yamamoto and Stuart Skinner.
Jason Gregor, TSN1260. Oilers weekend and the free agency to come.
Sunil Agnihotri, Copper & Blue/The SuperFan. The draft, trading Eberle and signing Russell. Is Sunil happy?
10-1260 text, @Lowetide on twitter. Talk soon!