Peter Chiarelli made a helluva trade to acquire Zack Kassian in 2015 and he followed it up with a terrific contract for the big man today. Kassian signed a three-year deal worth a total of $5.85M, making the cap hit $1.95 million per season. That represents a nice saving off some estimates (I thought it might take $2.2 million) and helps the cap crunch while securing Kassian through the end of the decade.
ZACK KASSIAN 2016-17
5×5 points per 60: 1.74 (5th among regular forwards)
5×4 points per 60: 0.00 (just six minutes on the 5×4)
Corsi for 5×5 %: 47.6
Corsi Rel 5×5 %: -1.7
DFF Elite 5×5 %: 44.4
DFF Elite Rel 5×5 %: -3.9 (30 percent of TOI v. elites)
Shots on goal/percentage: 110 shots/6.4%
Boxcars: 79gp, 7-17-24
(All numbers via Stats.HockeyAnalysis.com and hockey-reference)
Special thanks to GMoney and Woodguy for sharing the DFF's
Kassian scored goals that didn't count a lot this past season, suspect he could have landed with 12-15 with even normal luck. We talk often about value contracts on this blog, I think Kassian's new deal has an excellent chance to be one next season. In fact, I'll list Connor McDavid, Patrick Maroon, Matt Benning and Anton Slepyshev as locks for this category, along with Kassian. That's five. Oilers need Drake Caggiula, Darnell Nurse and or Jesse Puljujarvi to emerge as value deals.
QUALIFYING OFFERS
LC Leon Draisaitl.

A fantastic season in 2016-17 has him in a very good spot for the negotiations and I'm estimating $7.5 million per year if the club and player go long on a deal. The second most valuable player on the roster.

L Joey Laleggia.

His spike in goal-scoring in the AHL is an underrated portion of the Oilers season (prospects division). From Boxing Day forward, he went 43gp, 18-13-31. Moved to wing from defense and kick-started his career.

LD Dillon Simpson

. Another season, another bunch of higher picks passed by Dillon Simpson. He's outlasted all of the 2010 and 2011 draft picks (defense division) save for Oscar Klefbom. Likely an early callup option from Bakersfield.

LC Bogdan Yakimov

. I'd long since taken him off the RFA list, for me has was a forgotten prospect. There are some things to like about him, including a 51.9 faceoff percentage (in about 400 sorties). He went 50gp, 3-8-11 and averaged 10:10 a night (1.30 per 60, all disciplines) and all of his goals were even strength. I think they may have qualified him in order to keep his rights, maybe another team is interested and was hoping he would go free. Yakimov looked like an NHL player to me at his training camps, but I'm no expert.
CURRENT 50-MAN LIST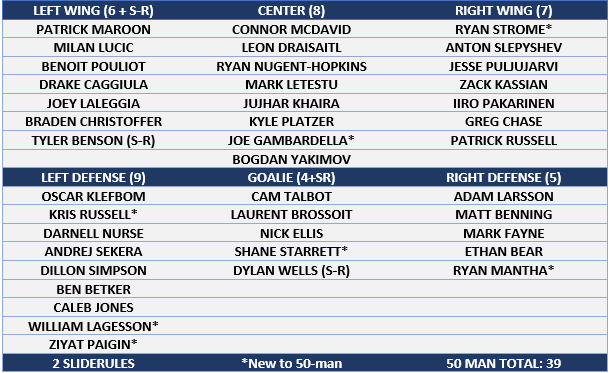 I'm not sure if Yakimov counts on the 50-man if there is no contract, so we'll call it 38 or 39 at this time. Still mountains of room on the list.
With the qualifying of Leon Draisaitl, the roster begins to take shape and we can see the battles on the way. Jesse Puljujarvi, you have a gigantic chance here young man!
Eric Gryba is rumored to be a player of interest for Edmonton, I think we're looking at more than one addition before this time next week.
OILERS FREE AGENTS

Sail on, David Musil. I hope you find a place in the sun.
I would have all kinds of time for Tyler Pitlick and Jordan Oesterle.
As mentioned, Eric Gryba is the most likely player on this list to get an Oilers contract.
Matt Hendricks: You are a man! I'll never forget the night against Florida where Taylor Hall took a very dangerous hit that appeared to target the head. Hendricks stepped up in that moment and later in the game gave a borderline hit of his own to send a message. I'm not a man to go Sean Connery-in-the-Untouchables, but sometimes you need to man up on these things. Matt Hendricks is a game rooster, that I'll tell you from this day to my last one.
Tomorrow: I'll run the numbers with Kassian in the fold and we'll talk about the most recent rumors, including Gryba and Spencer Foo.