The Edmonton Oilers signed defenseman Eric Gryba today, it's a two-year deal with an average cap hit of $900,000. That's a reasonable number for a 7D and the team's success clearly has free agents jumping back into the boat. The term is a little curious, but Gryba isn't 40 and coach Todd McLellan values him. I haven't read the general Oilers fan reaction this afternoon but imagine it's fairly positive compared to the longer deal given out to Kris Russell.
ERIC GRYBA
5×5 points per 60: 0.62 (6th among regular defensemen)
5×4 points per 60: 0.00
Corsi for 5×5 %: 51.8
Corsi Rel 5×5 %: 1.9
DFF Elite 5×5 %: 47.4
DFF Elite Rel 5×5 %: -0.4 (27 percent of TOI v. elites)
Shots on goal/percentage: 45 shots/4.4%
Boxcars: 40gp, 2-4-6
(All numbers via Stats.HockeyAnalysis.com and hockey-reference)
Special thanks to GMoney and Woodguy for sharing the DFF's
This is a good player card for Gryba, and I think you can make a case for bringing him back. Fact is the roster issues on defense do not reside here, but rather higher up the depth chart.
WHAT DOES IT ALL MEAN?
There are a few ways for Peter Chiarelli to handle the defensive depth chart over the rest of the summer:
Sign Cody Franson.
Trade Benoit Pouliot or Mark Fayne, opening up room to trade for a substantial option.
Sign an undervalued free agent like LHD Yohann Auvitu and run four lefties/three righties in the top 7D.
Keep Mark Fayne.
Andrej Sekera is likely to miss 40 games and look out of place for at least 20 more. Whatever the days until Sekera, the current depth chart is not the answer.
CURRENT 50-MAN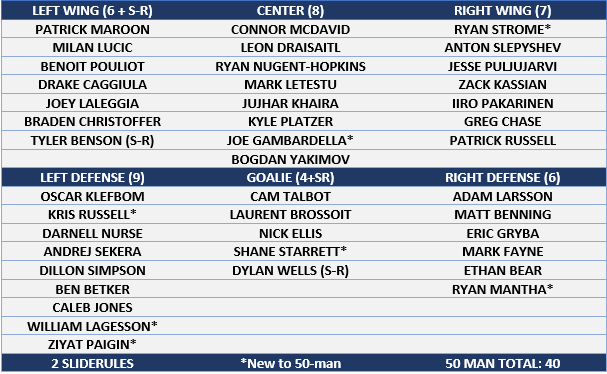 There are now 14 signed defensemen who will play in North America this fall (Lagesson is going to play in Sweden). Sekera's injury cuts that down by one and I do think the Oilers will add at least one NHL defenseman on a one-year contract or expiring deal. I will guess it's Franson although Yohann Auvitu is an interesting option.
With Spencer Foo off to Calgary, we can talk about the RW position. If we don't see any additions through the rest of the summer, count on Leon Draisaitl playing there a lot.
OILERS HEADED TO FREE AGENCY

Pretty much picked clean now, I would still have room for Tyler Pitlick and Jordan Oesterle but we're getting close to free agency.
Edmonton has 40 contracts, meaning a very active period of signing and procurement. My guess is we see some college additions, some players headed for the AHL  on two-way deals and possibly some depth at center. Plus a defenseman for the NHL team (unless Mark Fayne can hide a pair of George Jetson jet boots in his skates).
More on everything tomorrow. Oilers are getting a lot of business done in front of free agency and retain about $6 million (my estimate) in cap room even with the Gryba signing.