THE MCDAVID CONTRACT
If the Ryan Rishaug and Elliotte Friedman tweets are true, the Edmonton Oilers will have Connor McDavid under contract for eight more years (after this one) at $13.125 million per season (cap hit). Please hear my words: This is a victory beyond comprehension for the Edmonton Oilers, and a clear indication from Connor McDavid that he wants to win here. Further, let me say this: Oilers fans who bitch and moan about this cap hit have it all wrong. For a generational talent like Connor McDavid to commit to this team, without waiting to see how things are progressing, without signing a five-year to deal hold that hammer, is absolute music. Music! If you are arguing the counter, please reconsider. Mammoth day. If you complain about cap issues, I will listen. If you complain about cap issues because of this contract, talk to the hand. Mammoth. More down the page.
ARRIVAL
They should arrive in an orderly fashion: Jesse Puljujarvi this fall, Kailer Yamomoto in the fall of 2018. What happens if Yamomoto crashes the training camp party and sets the woods on fire? It's possible, the most recent selection appears to be the more dynamic offensively.
PROSPECT NHLE (FORWARDS)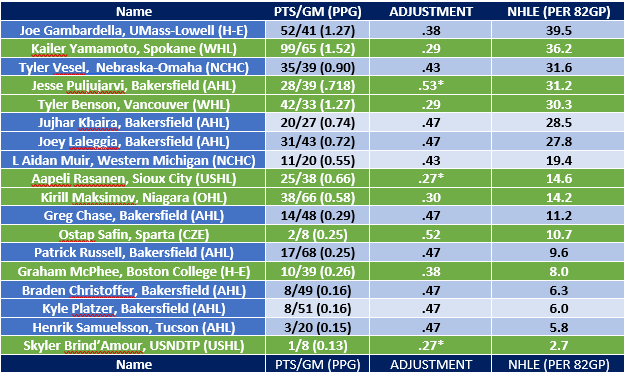 Kailer Yamamoto is 145 days younger than Jesse Puljujarvi and that's not a lot in terms of age difference. It's probably reasonable to think of them as being from the same draft year. I think it's likely Yamamoto becomes the more productive offensive player.
There are three teenage forwards who are trending as future Top 6F: Yamamoto, Puljujarvi and Benson. The quality and depth of Edmonton's talent pool is improving.
I have one more RE post (Cam Talbot) you'll probably see this weekend or early next week, and have already begun my RE ciphering. Men on this list I am projecting to play at least one NHL game in 2017-18 (in order): Gambardella, Yamamoto,  Puljujarvi, Khaira, Laleggia. The Condors are graduating three, one from college and one from the 2017 draft.
PROSPECT NHLE (DEFENSE)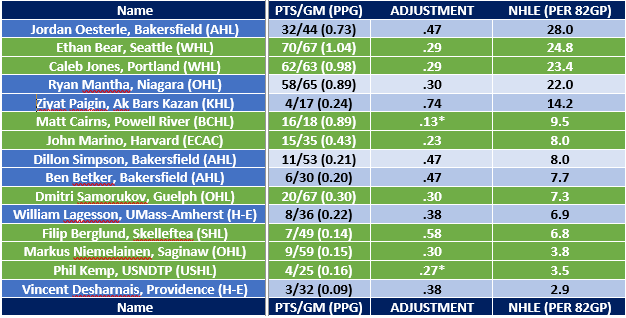 I kept Jordan Oesterle on the list, he would be a great signing but I think the Gryba addition probably puts the chances of him signing to rest.
Ethan Bear, Caleb Jones and Ryan Mantha are promising prospects, wonder who will have the better first year pro? I've heard scouts talk about foot speed, read and reaction, it's all a matter of learning, staying healthy and luck. Ziyat Paigin has the pro experience, maybe he emerges as the early leader.
OILERS ORIENTATION CAMP!
Looks like July 2-5 in Jasper, probable details are here. Expect most of the kids from the 2016 and 2017 drafts, plus a few invites. Here's a guess on the roster.
Goalies: Shane Starrett, Dylan Wells, Stuart Skinner
Left Defense: Markus Niemelainen, Matt Cairns, Dmitri Samorukov
Right Defense: John Marino, Filip Berglund, Vincent Desharnais, Ryan Mantha, Phil Kemp, Sahvan Khaira
Center: Joe Gambardella, Tyler Vesel, Aapeli Rasanen, Skyler Brind'Amour
Left Wing: Tyler Benson, Aidan Muir, Evan Polei, Graham McPhee, Ostap Safin
Right Wing: Kailer Yamamoto, Kirill Maksimov, Vladimir Kuznetsov, Dave Gust,Chad Butcher
Not certain on all of those names, call it an educated guess (I resisted adding Vladimir Tkachev, because it would have been a lie. A fun lie, a cool line, but a lie. Probably).
OILERS CURRENT PROJECTED ROSTER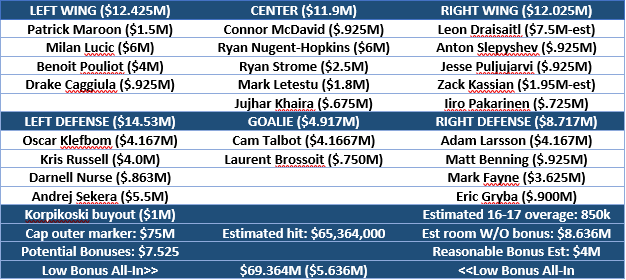 The Gryba signing doesn't change much really, Oilers can send down Fayne and it's basically a cap wash. They still have money to spend and of course Sekera on LTIR may give them room to wheel.
I don't believe the Oilers are done, especially on defense. Most of the people who are sending me dm's think Chiarelli has finished the summer's business. Instead of ripping each other's faces off, perhaps we can agree to disagree and see how this thing turns out.
If the McDavid news is true, and the rumored contract disconnect with Leon Draisaitl's agent is also true, then it might be Leon going and Nuge staying. Not trying to be a bitch about it, but if LD wants $9.5M or 10M, Chiarelli needs to send him to St. Louis for Colton Parayko. RFN. Leon has to slide in behind at about $7.5 million, maybe on a bridge deal.
If the McDavid contract news is true, Peter Chiarelli is right to keep his powder dry. Waiting is difficult, but blowing your brains out in free agency is the wrong way to go.
I am a man in my fifties, and not prone to gigantic moments of adrenaline-filled joy. Connor McDavid signing for eight years has me soaring above the clouds. This is grab your girl by the shoulders and plant one squarely kind of joy! Jesus, Mary & Joseph the Oilers hit the jackpot with this young man.
The Oilers have to move Pouliot before next summer. I'd put him on a feature line and pump to dump.
I still can't believe the McDavid news.
McDavid at full salary and cap this year will cost $3.775 million. If the Oilers can trade Benoit Pouliot ($4 million) and Mark Fayne's contract ($3.625 million) is allowed to expire, the three total up to $11.4 million. It really brings into focus how important the draft plus those college and CHL signings are going to be for the Oilers.
The smart play might be moving from Leon now. I understand how that might seem noxious to you, but the Oilers have put themselves in a spot of bother here. We don't really know enough about Leon as a Stone Alone, best to bridge him I think, maybe quietly shop him to a team like St. Louis.
LOWDOWN WITH LOWETIDE
At 10 this morning, we'll find something to talk about! TSN1260, scheduled to appear:
Darcy McLeod, Because Oilers

. The McDavid contract, the Leon contract, Oilers biggest need.

Steve Kournianos, The Draft Analyst

. Oilers draft, big winners overall.

Kent Wilson, Flames Nation

. Calgary has been making astute moves this summer. How good are they?
10-1260 text, @Lowetide on twitter. See you on the radio!