I had an interesting conversation today, idea being the Oilers were pretty much done. Folks, I'm staring at the 50-man list and seeing 40 names, so that's not it. What is going on here? Well sometimes it helps to see how both pro rosters (Edmonton and Bakersfield) are shaking out.
50-MAN LIST JUNE 28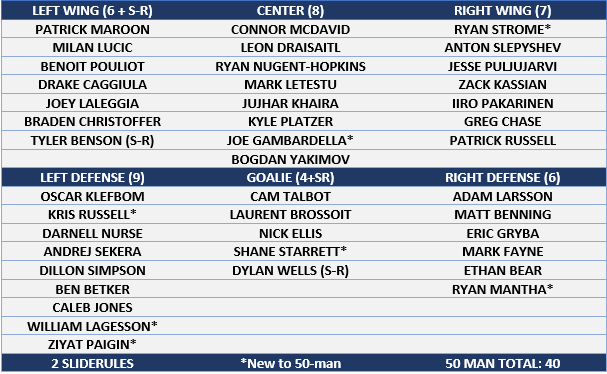 The Oilers often run 47 or 48 deep on the 50-man, meaning we are going to see additions to this group. Who are they? Well, the cap number plus the fact Connor McDavid and Leon Draisaitl don't have contracts tells us we are looking at less expensive options and possible mid-July options. College free agents and CHL grads may get NHL deals this year, too.
PROJECTED OILERS 2017-18

There are my lines and pairings, you may prefer another lineup. I did put Mark Fayne at 7D because that's my guess about how things go. The one addition we could see on July 1 is a RHD, but if the 97-29 deals aren't complete then even that is unlikely.
Amazing to be fairly certain about a roster this early in summer.
If you're mad about quiet free agency, don't be. Free agency is the king of pain.
I have no doubt we'll see some tinkering around the edges, but the extra dollars we have talked about being used on July 1 will have to wait for the completion of the two big contracts.
BAKERSFIELD CONDORS 2017-18
I think this is where we'll see some action during July. College free agents (we talked about Teemu Kivihalme) junior players who are about to turn pro (Giorgio Estephan would be a sublime addition) or Euro players (Bogdan Yakimov is signed, Vladimir Tkachev) could all be part of things. Edmonton badly needs to be aggressive in procurement and there's an opportunity to fill the organizational hat during this summer's free-agent window.
It's also probable we will see an AHL 1C and 1D added as a mentor. Jesse Puljujarvi could end up in the minors, need someone who can play at that level.
RANDY PIE
If it seems like Drais. camp is playing hardball, remember year 1, he was sent down before 40gp, keeping him from earning a year towards UFA

— Ryan Rishaug (@TSNRyanRishaug) June 28, 2017
Ryan Rishaug is killing it during the draft/free agent weeks and this item qualifies as a bombshell. In this morning's post I wrote the following:
If the McDavid news is true, and the rumored contract disconnect with Leon Draisaitl's agent is also true, then it might be Leon going and Nuge staying. If LD wants $9.5M or 10M, Chiarelli needs to send him to St. Louis for Colton Parayko. RFN. Leon has to slide in behind at about $7.5 million, maybe on a bridge deal. Source
I think that's about right, not sure the value Peter Chiarelli places on his big center. I threw $9.5 or $10 million out, that might have been high but who knows? If Leon comes in at $9 million that's an overpay, in my opinion. I'm not suggesting you prepare for imminent departure of the big man, but the closer we get to Saturday might be an idea to check out Rishaug's twitter page. I don't see this lasting into next week one way or another.