My Mom (who I miss terribly) had a few habits that drove me crazy. One of them was her maddening ability to hold back fantastic, mind blowing pieces of information for long periods and then wrap them in boring, everyday conversation. Here is an example that actually occurred:
Phone rings.

Me:

"Hello?"

Mom:

"Hi Honey."

Me:

"Hey Mom, I was thinking about you today. We haven't talked all week!"

Mom:

"Well, I was going to call you last night but I was just too tired."

Me:

"That's okay."

Mom:

"No, I should have, I called your brother and should have called you."

Me:

"Mom, don't worry about it."

Mom:

"I feel bad. I called your brother and didn't call you."

Me:

 (trying to move things along) "Mom, why were you tired?"

Mom:

"Well, it was such a long day yesterday."

Me:

"Why?"

Mom:

"The bus ride was so long."

Me:

"What bus ride?"

Mom:

(slightly irritated) "The bus ride from Lloydminster and back."

Me:

(slightly irritated) "Why were you in Lloydminster?"

Mom:

(now quite irritated and allowing a moment between words) "I was at your Uncle Del's funeral!"

Me:

(excited) "UNCLE DEL IS DEAD??!!?!"

Mom:

(now quite upset) "Yes, I told you about it!"

Me:

(loud and angry) "NO YOU DIDN'T!"

Mom:

"Oh, I was sure I did. Maybe I told your brother."
Honestly. Wonderful wonderful Mom. There were times. If you're an Oilers fan, this week has kind of been like that. Each piece of information is both not terribly helpful and mildly irritating and could end up with Uncle Del dead and someone on a long bus ride.
Important to separate Pouliot's season from his previous established level of ability. He was an effective two-way winger, before his poor season. The only question from my point of view is can he get back to previous level? My answer is yes, Peter Chiarelli's answer is $4 million stones is $4 million stones.
The wonder for me is what might have been. I suggest this often, and the response is "you can't reward Pouliot by putting him on 97's line!" but what if it gave your team the kind of depth needed to win?
Pouliot with McDavid (2.94/60 5×5; 53.6 percent Corsi for percentage)
McDavid with Pouliot (3.36/60 5×5; same Corsi 5×5).
It's all over now, but I think this player can help a team. I often get a lot of resistance when defending Pouliot and Mark Fayne, but let's see this play out. If Pouliot can't find a new NHL home perhaps it is a sign that he is no longer able to play in the NHL. If he does land somewhere and have success, I hope you'll agree that today's move was purely cap driven and that the player himself has real value. That's how I see this transaction.
CURRENT ASSUMED ROSTER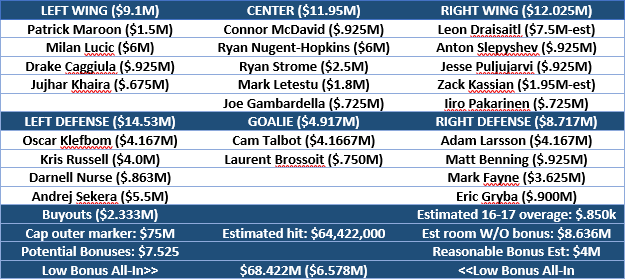 I've used the low bar on bonuses for the final number and added in Joe Gambardella as the roster replacement.
Peter Chiarelli may be making room for a $9.5 million Leon Draisaitl here.
He may also have a trade or free-agent signing to make July 1.
We may have theories but it's absolutely unclear at this time. Those connected to management are implying free agency isn't going to be a big deal and that may well be true. I think it is wise to assume PC is probably not placing all of his cards on the table and that a counter trey could be at work currently. Trust, but verify. And don't get on the bus to Lloydminster!
#OilKing forward Davis Koch will attend Oiler Development Camp in Jasper

— Corey Graham (@CoreyGraham) June 29, 2017
Oilers development camp goes next week and the roster has been announced. At least one name is missing from the rumored group, with a bunch of names we didn't know about. Here are the players who are coming that may be unfamiliar:
G Miroslav Svoboda:

Drafted but not signed by Edmonton, this may be his last visit. Or maybe they sign him later.

LD Mark Auk.

He was at rookie camp a year ago, Michigan Tech LHD, he is 22.

RD Sahvan Khaira:

Huge defender (and Jujhar's brother) went 70gp, 1-16-17 for the Swift Current Broncos. Has one more year in junior.

L Jake Lucchini:

Undersized winger scored 11 goals for Michigan Tech, he is 22.

LC Brandon Saigeon:

Hamilton Bulldogs (OHL) forward is 19 and scored 49 points in 66 games this past season.

RC Steve Owre:

WHL skill center is now finished in junior and at 21 this is a nice opportunity (especially if it turns into a rookie camp invite).  88 points in 71 games.

RC Ethan Szypula

: One of the more promising names on this year's invite list, he went 11-36-47 in 64 games for Owen Sound (OHL).

Brock Otten

: Szypula is not a big guy (5'11, 170ish), but he plays a big man's game.

RC Tyson McLellan

: Todd's son is undersized and his U. Denver numbers (43gp, 5-7-12) are fine for a freshman (he played and that's important).

C Kevin Klima:

Small skill center is 20 years old and scored 36 points in two QMJHL stops this season. He has a twin brother you'll read about in a second and they are both Petr's boys.

R Kelly Klima

: Small skill winger is 20 years old and scored 49 points while with two teams in the QMJHL this year. Petr Klima did play in Edmonton the year these kids were born.

R Davis Koch:

Edmonton Oil Kings winger has improved each season (he is 19) and scored at almost a point-per-game this year. Should be one of the better skill forwards.

R William Graber:

He is 21, 6.03 and had 19 points in 29 games at Dartmouth as a freshman. An older prospect, interesting resume.
R Chad Butcher: Small winger (5.10, 172) was a Penticton invite one year ago. Speed main weapon.
We'll discuss the Oilers prospects who are invited as part of tomorrow morning's blog.