Drake Caggiula is fast and small, and seems to get a lot of chances. Will he cash more next season? Anton Slepyshev has a heavy shot, the Rogers Place boards make a distinct sound when the bullet hits the bone. Jesse Puljujarvi is a giant who can skate and ramble, if he ever finds a way to score goals we'll sing in the sunshine, we'll laugh everyday.
How, pray tell, can we tell which one of these men is going to be 'the one' to play alongside Connor McDavid for the next decade? The answer: We do not know, it has to play out. And this just in: It might be Kailer Yamomoto, or Ryan Strome, or Joel Farabee.
There are indicators. Jesse Puljujarvi has the draft pedigree and the resume. He also has youth, being a teenager and all. Caggiula and Slepyshev have an advantage that comes from being here and being old enough to possibly get first lash at the job. It don't mean a thing if it ain't got that swing.
1983-84 BOSTON BRUINS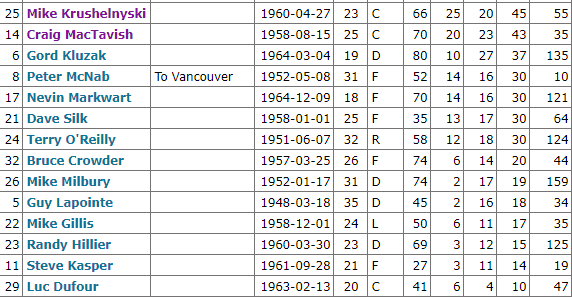 BOSTON 1983
In the fall of 1983 the Boston Bruins had a logjam at center and very little depth on left wing. It is in a very real way similar to what is going on with the Edmonton Oilers currently (strength at center and very weak on right wing) and I thought it might be interesting to see how they handled it.
The Hockey News from October 13, 1983: The left wing situation is crowded with Mike Krushelnyski, Craig MacTavish, Brad Palmer, Mike Gillis, Luc Dufour and rookies Nevin Markwart, Geoff Courtnall and Dave Reid all in the race. Krushelnyski, a reformed center, was the only one assured of a job at left wing. MacTavish (10 goals), Mike Gillis (goalless in 5 games), Dufour (14 goals) and and Palmer (6 goals) fighting for their jobs. 
"When you score 10 goals, as I did last year, you're expendable," said MacTavish. "I did a lot of skating in the summer. When your job is on the line, you have to come to camp in good shape. You can't afford to get yourself in good shape once you get here."
"The only reason they got me in the first place was for my scoring," said Palmer. "But last year it got to the point where I couldn't even score in practice. Hopefully they still believe I can do it." 
One left winger who showed up at camp by surprise was Stan Jonathan, 28. He provided the Bruins with a certain toughness and fisticuffs during six years in Boston. Markwart, who was drafted by the Bruins in the first round, 21st overall, in the 1983 draft. "My major strength is I play really aggressive. I'm not afraid to use my body. I'd like to be bigger, but I'm not."
The Bruins ended up breaking camp with MacTavish, Dufour, Markwart and Krushelnyski on the roster, and here's how each of their careers progressed:
Mike Krushelnyski

became a pretty famous player. Among his 801 NHL games from fall 1983 to the end of his career were a ton with Gretzky, in Edmonton and then Los Angeles. He was a very good hockey player into the 90s, and scored 25 goals in 83-84.

Craig MacTavish

had a very fine NHL career, playing in 946 NHL games from fall 1983 onward. He popped 20 goals in 83-84 which was his final year with the Bruins.

Brad Palmer's

NHL career was over. He spent 83-84 in the AHL and then to Finland and Austria, and was done by summer 1990.

Mike Gillis

played the 83-84 season with the Bruins as an extra man, scoring only 6 goals. He would be heard from again by the NHL, but not as a player.

Luc Dufour

split the 83-84 season between the AHL and the NHL. He would be dealt the following October to Quebec but didn't play much there either.

Nevin Markwart

did make the NHL at age 19, but it probably hurt his long term development. He had 30 points in 83-84 as a rookie, but that was his career high.

Geoff Courtnall

played 5 games with the big club at the end of the 83-84 season, but wouldn't make the grade for real until 84-85 (at 22). He had a fine NHL career, but not in Boston (which is pretty much a theme here).

Dave Reid

played 8 games for the Bruins and then made the NHL midway through the following season. He had a long career as an effective role player and was on the 1999 Dallas team.
EDMONTON 2017
This fall, if Peter Chiarelli doesn't add any veteran help up front, we're going to see a bunch of youngsters getting 600 at-bats. This is bad. Why? Well, some of these fellows will work out and others will not and we simply don't know who's who.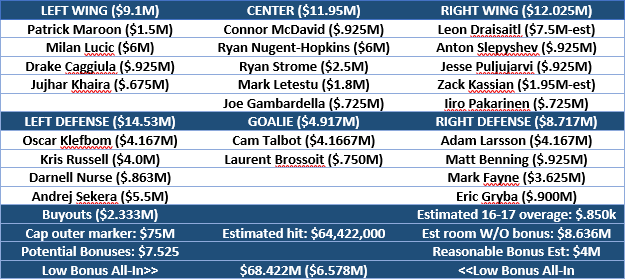 Caggiula, Khaira, Slepyshev, Puljujarvi, Pakarinen and I've listed Joe Gambardella. That's a lot of inexperience. Who the hell is going to penalty kill?
Ryan Strome may end up being 1RW.
Peter Chiarelli is going to add and it might be a LW like Patrick Marleau. The reason I mention it is this: LW-C's could be the match and then the right wingers could slide up and down based on the youngster finding chem with McDavid.
Marleau-McDavid-Strome; Lucic-Draisaitl-Slepyshev; Maroon-Nuge-Puljujarvi; Caggiula-Letestu-Kassian.
CURRENT 50-MAN LIST (39, 2SR)
G Cam Talbot. No. 1 goalie, his health and high performance is vital for success.
G Laurent Brossoit. If the Oilers stay quiet in free agency, he has backup job.
G Nick Ellis. Splendid first year pro, on par with Brossoit if he can sustain it.
G Shane Starrett. Another college goalie with strong resume. First pro season coming up.
G Dylan Wells. Slide rule, he'll spend one more year in junior.
LD Oscar Klefbom. Can he hit 40 points? 25 minutes a night? Quality.
RD Adam Larsson. Consistent defenseman, with an edge.
LD Andrej Sekera. Big part of this team will be out for months. Huge issue.

LD Kris Russell.

Returning with a big four-year deal and a ticket for second pairing.
RD Matt Benning. Outstanding rookie, can he do it again?
LD Darnell Nurse. Will be relied on more with Sekera out.

RD Eric Gryba

. Back for two more years as 7D.

RD Mark Fayne

. As of right now, he makes the team.
LD Dillon Simpson. He is in a callup spot currently. Important for Bakersfield.
LD Ziyat Paigin. Wingspan of a Condor. We may see him in 2017-18.
LD Ben Betker. Big man should get a full AHL season.
RD Ethan Bear. A player to watch in Bakersfield, could get NHL cup of coffee.
LD Caleb Jones. Fastest and most mobile of the new pro defensemen.
RD Ryan Mantha. Big man, big shot, good speed. Duplicates Bear's skill set.
LD William Lagesson. He'll spend the year in SHL shutting down Swedish forwards.
LC Connor McDavid. He may be getting new linemates.
LC Leon Draisiatl, RFA. His contract likely holds up free-agent activity tomorrow.
LC Ryan Nugent-Hopkins. I think there's a chance he gets dealt this summer.
RC Mark Letestu. Great utility, can he score 16 again?
LC Jujhar Khaira. A lock for the roster, C or L?
LC Joe Gambardella. As of this instant, he has a chance to make the team.
RC Kyle Platzer. We'll know by Christmas if the Oilers have any plan for him.
LC Bogdan Yakimov, RFA. Genuinely shocked they qualified him.
L Milan Lucic. He scored 23, played a rugged game and has more to give 5×5.
L Patrick Maroon. His 27 goals last season may be a career season for him.
L Drake Caggiula. He provides skill lines with a different look. Where will he play?
L Joey Laleggia, RFA. If PC is done, Laleggia has an outside chance to make the Oilers.
L Braden Christoffer. AHL energy winger.
L Tyler Benson. Slide rule, appears to be healthy and ready to go.
R Ryan Strome. He'll be mirror man to Leon, could emerge as 97's RW.
R Jesse Puljujarvi. Looks like he'll get the push this fall. Important he have success.
R Anton Slepyshev. I think he'll be a regular, can he score 15?
R Zack Kassian. He has far more speed than anticipated, could score 10-15.
R Iiro Pakarinen. Bubble player but the coach likes him plenty.
R Patrick Russell. Scored only 8 times as rookie pro. Needs to fill the net this year.
R Greg Chase. Final year of entry-level deal ahead, has shown only flashes.
We're going to see a lot of additions over the coming weeks. Many will be AHL-calibre talents but there should be room for at least one significant add for the NHL roster. Buying out Pouliot to remain idle makes less than zero sense to me.
PERSONAL OPINION
Even if you hand Leon Draisaitl a contract with $9.5 million as the cap, Edmonton should have $5-6 million to spend in free agency. I've compiled lists all down the line here leading up to tomorrow, basing them on what's out there and what Edmonton might be interested in. Thought I would give you my list (in order) of the available free agents.
R Radim Vrbata (81gp, 20-35-55). Scorer.
RD Christian Folin (51gp, 2-6-8). Young, available, skilled.
RD Cody Franson (68GP, 3-16-19). One-year deal? I would do it.
C-L Brandon Pirri  (60gp, 8-10-18). Low-cost scorer.
LC Dominic Moore  (82gp, 11-14-25). PK and FO option.
RD Michael Stone (64gp, 3-12-15). Still not completely sold, will cost a lot.
R P-A Parenteau  (67gp, 13-15-28). Can still score.
LD Yohann Auvitu (25gp, 2-2-4). He looks like a player.
LC Mikhail Grigorenko (75gp, 10-13-23). Good faceoff man, young, had utility.
R Tyler Pitlick  (31gp, 8-3-11). Finally emerged, could return.
R Alex Chiasson  (81gp, 12-12-24). Has some value.
Vrbata is a very good fit on a one-year deal and could end up  filling the net alongside Connor McDavid. If Peter Chiarelli bought out Benoit Pouliot to sign Vrbata, you won't hear me complain. I suspect he is aiming higher (Marleau) but that isn't necessary.
I actually like Yohann Auvitu most among the blue, but he's a lefty. Folin is a bet, not a sure thing, but he's a reasonable bet. Cody Franson is more of a sure thing and I would be pleased to see him as an Oilers addition tomorrow.
Brandon Pirri is like cup-of-soup for scorers. It may not be a banquet but it does the trick and is surprisingly satisfying. Parenteau has slow boots or he would be higher, Stone I'm just not sure of, Grigorenko has always intrigued me and his season had some good things inside. Pitlick I have always liked but suspect he's gone and Chiasson is a Chiarelli player so I kept him. I didn't have Jordan Oesterle on the list but like him plenty. It'll be Patrick Marleau and or Drew Stafford.
LOWDOWN WITH LOWETIDE
At 10 this morning, TSN1260. Scheduled to appear:
Steve Lansky, BigMouthSports.

The McDavid and Draisaitl contracts.

Simon Boisvert, Prospect Insider.

Oilers at the draft, what should PC do in free agency?

Matt Iwanyk, TSN1260.

What should be done with the Pouliot cash, Eskimos in Week 2.

Paul Almeida, SSE.

Free-agency preview, tee up SSE tomorrow.
10-1260 text, @Lowetide on twitter. Can't wait!