The Edmonton Oilers added some depth for the NHL roster and stocked the Bakersfield Condors today in the first day of 2017 free agency. General manager Peter Chiarelli spoke about other moves ahead, but as has been the case for some time the dual contracts of Connor McDavid and Leon Draisaitl remain a priority. For now, there are new Condors to discuss and some of these men may find their way to the NHL this winter.
NEW CONDORS
R Ty Rattie

: The most promising of today's signings, Ryan Rishaug had the details ($700k NHL, $275 AHL) on the one-year deal. I can see this working out, as the Oilers finally have a dearth of average sized wingers with skill.

LD Ryan Stanton

: He should also be in the mix for NHL time, Mark Spector has the contract at $700k NHL, $300k AHL and $400k guaranteed. He is a defensive defender who turns 28 later in the month. Rugged and has good size (6.02, 196).

R Mitch Callahan

. I have written about him many times, he has skill and plays an aggressive game (undersized). He has been in the AHL for six seasons and scored 43 points in 66 games for Grand Rapids in 2016-17. Had an impressive playoff run (16 points in 19 games). He has signed a two-year deal with the team. I came to like him because of his consistency with the Grand Rapids team, a club I have compared to Oilers farm teams over the years.

LD Keegan Lowe.

The Oilers have employed most of the 2012-13 Edmonton Oil Kings defense (Reinhart, Lowe, Musil, Gernat), with Lowe replacing David Musil on the Condors roster. Has two NHL games and plays a rugged style reminiscent of his father back in the day.

G Edward Pasquale

. AHL veteran goalie is 26 and has played in the AHL since 2010. His save percentages have hovered around .920 for the last several seasons and he is 6.02, 215. I don't know much about him, but if you were making a list of things to look for in an AHL goalie he seems to fit the bill.

R Brian Ferlin

. He is another tough RW who has had some concussion issues over the last few seasons.

Kirk Luedeke

: He's a big-bodied winger who has some untapped offensive tools (he was Kuraly's USHL teammate with the Indiana Ice), but needs more time to work that out in the AHL- the B's can't really afford to keep him around based on the talent and experience levels of others fighting for the same position on the team. Source

LC Grayson Downing

.

The one center in the group (the Condors need centers, I am beginning to wonder if Bogdan Yakimov is in fact coming over). He is 25, comes from NCAA (New Hampshire) and has skill. His AHL numbers as a rookie were impressive, he fell off this past season. He is 6.0, 195.
POSSIBLE CONDORS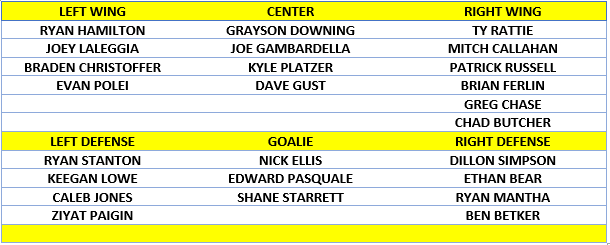 Ferlin is probably destined to become a fan favorite, as he has had a difficult road in the last couple of years but remains dedicated to the game. Mark Divver of The Providence Journal has the details here.